Social media monitoring or listening is the best way to collect information and insight about what is being said about you or your product on the internet. It is the practice of examining what is being said about someone or something by social media users.
Using social media monitoring tools, you can track keywords, hashtags, mentions, etc., for a specific user. The search engine search you can do yourself is not always enough. That is why there are many monitoring tools with different functionalities to help you find data not available through regular search. Social media monitoring is one of the best ways to know what people are talking about you or your product.
1. Google Alerts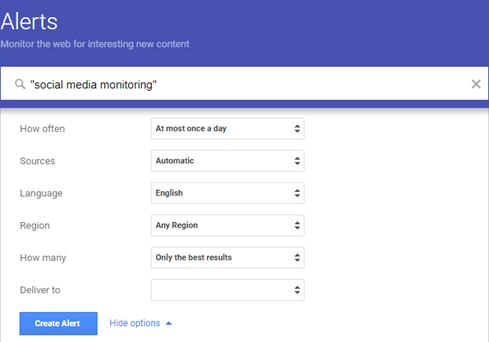 Shortly said, Google Alerts is a notification service that sends emails summarizing search activity around search terms. Although looking basic, Google Alerts allows you to set an alert for any keyword of your interest. It lets you see where your keywords are being mentioned.
Several parameters can be set to personalize alerts like sources, language, occurrences, region, etc. Google Alerts offer RSS feeds for each subscription for you to see recent activity from websites. Plus, automatic email notifications are sent when an alert is triggered.
2. Mention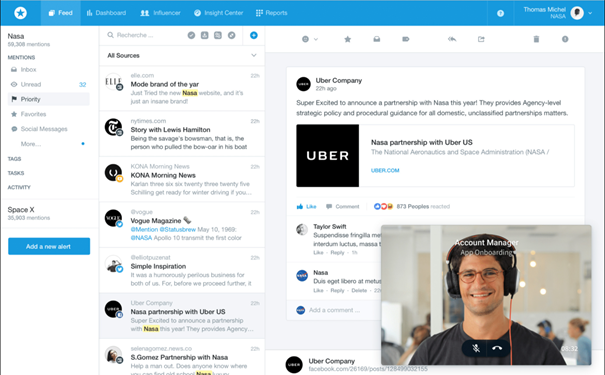 As the name says, Mention is a social media monitoring tool that monitors when you mention a keyword of your interest across the web and social media. There is an option to choose what social media you want to monitor when setting up your monitoring project. Then you can choose from a list which mentions you would like to follow.
As mentioned on their official site, you can pin-point important conversations through the web, listen and uncover trends in conversations, and connect with your audience across social media.
3. Mentionmapp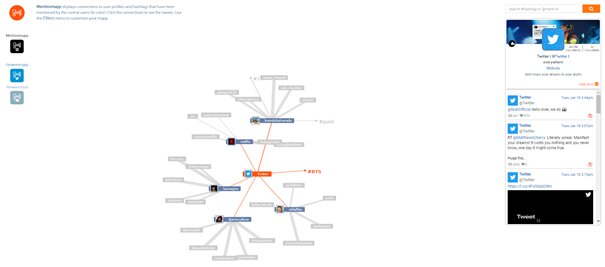 Mentionmapp works with Twitter; to be more precise, it connects to your Twitter API and checks what is going on in your Twitter network. It gathers statistics like who mentions you the most, retweets you the most, etc. It is a visual and interactive tool you can click through and see a visual representation of connections between your interactions.
In addition, you can build critical relationships and find new hashtags and followers by analyzing this data. All you have to do is enter your Twitter handle or hashtag to search through your interactions. This way, you can find important conversations and contributors to those conversations. Plus, this tool is always free.
4. Nexalogy

Nexalogy is another visual tool that stands out with its interactive timelines, geolocation-based heat maps, cluster maps with common patterns of a topic, plus all the usual features like keyword analysis. It also lets you discover conversations on social networks and extract actionable insights.
This tool is free with no hidden fees, requirements, etc. It is suitable for a personal, professional, team, business, and enterprise use. A few more functionalities include interest maps for examining emerging concepts and discussions, social graphs, Twitter volume, top concepts, most active people based on hashtags or search terms, top links being shared by people you follow for search terms, etc.
With Nexalogy, you will be able to discover the right audience, discover early-stage PR crises, follow hot topics, understand potential issues, etc.
5. Talkwalker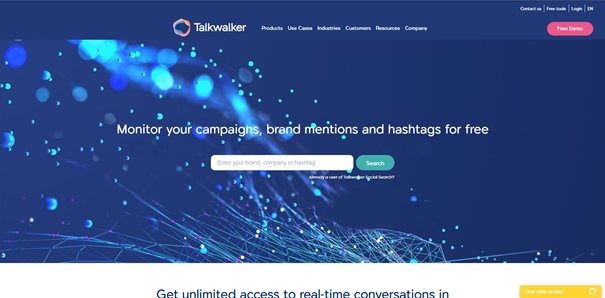 Based on the website's headline, Talkwalker is the number one consumer intelligence acceleration platform. It offers 50+ filters to monitor conversations across 150 million data sources. Easily analyze reach, comments, and engagement. Some use cases include brand management, campaign strategy, competitive intelligence, content marketing, customer experience, market research, trend analysis, etc.
Billions of signals are created every second. Talkwalker has developed an AI-powered platform that can process billions of these signals each second and compile a visual representation for the user.
The guarantee from Talkwalker is that you will see true business value after one week with the use of their tool. Finally, Talkwalker Alerts follow your digital footprint across the internet and Twitter, and its social search monitors every conversation about your brand, hashtags, and competition on social media.
Conclusion
Here are some tips before concluding this article: monitor all languages your target audience speaks in, upgrade your strategy while monitoring, identify possible partners among influencers, set alerts for any activity interesting to you, share your results.
Remember your options and understand the importance of social media monitoring regarding your market research. This kind of monitoring is often dismissed, but, as we said earlier, it is one of the best ways to keep track of your presence and reputation on the internet and what your customers want and say about you or your product. Actively managing your reputation using these tools will always keep you ahead of your competition.