SEO stands for "Search Engine Optimization." It is used to improve your site's visibility on search engines, positioning it at the top of related search results. SEO will adjust your Meta title and Meta description, reviving your website contents with keywords and will build backlinks with other websites. All this will significantly improve the number of people visiting and using your website.
1. The SEO Framework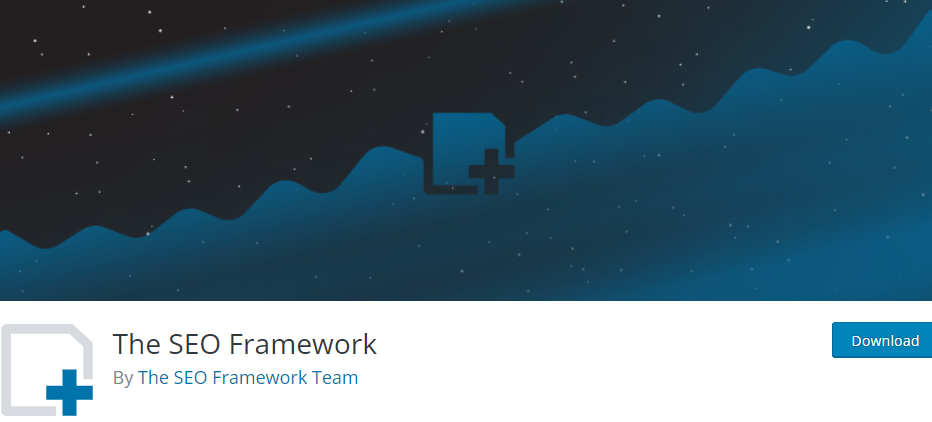 The SEO Framework plugin is both feature-complete and follows all guidelines and rules required by each engine. It completely integrates with your WordPress site, and it is one of the fastest SEO plugins with a complete set of features. It also rationally generates all meta tags, which are vital for SEO, and by analyzing the environment of your WordPress site, generate them in any language.
Moreover, it is preconfigured and will rationally optimize all your pages. There is no need to be an SEO expert; this plugin has a Setup guide to see how to optimize it even further if needed. Color-coded guidelines on the overview page will propose improvements to be made on your page while you poise mouse above them.
Also, The SEO Framework will automatically generate titles and descriptions and rank your website individually according to Google's guidelines. It will automatically notify Google and all linked search networks if any changes are made within your website regarding its sitemap, and it's a built-in feature.
With this plugin, social sharing of your content and posts will be easy, making your posts stand out. It protects you from mistakes like it will automatically stop duplication of content with strict canonical rules. Finally, The SEO Framework uses WordPress API whenever possible, enabling this plugin to integrate with other plugins that share the same practice.
2. SEOPress, on-site SEO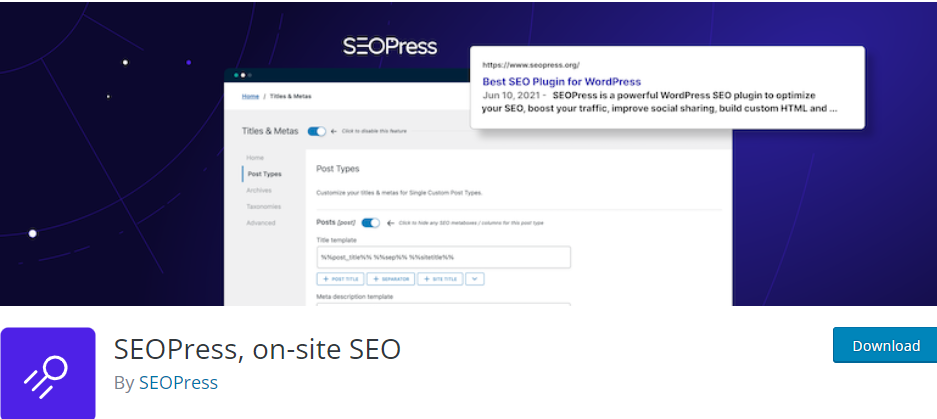 SEOPress, on-site SEO, is a WordPress SEO plugin that will expand your traffic, powerfully optimize your SEO, build custom HTML and XML Sitemaps, raise your social sharing, manage 301 redirections, etc. It is a universal SEO meta box meaning that you can edit your SEO metadata from either page builder or theme builder. Features that you get with this plugin are numerous.
With the installation wizard, you will quickly set up your site. Unlimited keywords in Content analysis for writing optimized content and Mobile/Desktop Google Preview will show you how your posts, once completed, will look in Google search results. For increasing conversation, there is Facebook and Twitter Social Preview of your posts. You will have Open Graph and Twitter Cards (great for FB, LinkedIn, Instagram, Twitter, Pinterest …).
Plus, Image SEO automatically sets up image title/alt/caption description and Import/Export settings from site to site. And among many other features, you will get Google Analytics and Matomo for remarketing, cross-domain tracking, downloads tracking, IP anonymization, etc.
3. Yoast SEO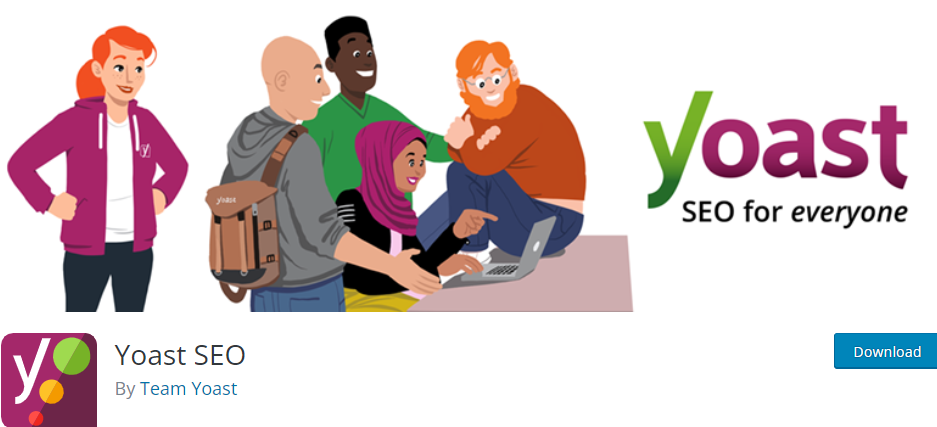 Yoast SEO is a WordPress SEO plugin that has been used and developed since 2008, and millions of websites currently use this plugin around the world. It is stated to be "SEO for Everyone" and can be used for a local coffee shop up to the most significant sites out there.
Yoast SEO features are designed to ensure that users and search engines will receive maximum from your site. These features include technical SEO improvements that are automated, including meta tags and canonical URLs. Google will quickly read the structure of your site with advanced XML sitemaps of this plugin. Meta description and Title template for steady fragments in the search results are included.
Faster loading times of your complete website, full control for positioning of site breadcrumbs, so with this, the search engines and users will know its position. Finally, you will have SEO analyses, a tool for writing content understood by both humans and search engines—full language support for 17 languages and a Google preview that is usable on mobile devices too.
4. Rank Math SEO – Best SEO Plugin For WordPress To Increase Your SEO Traffic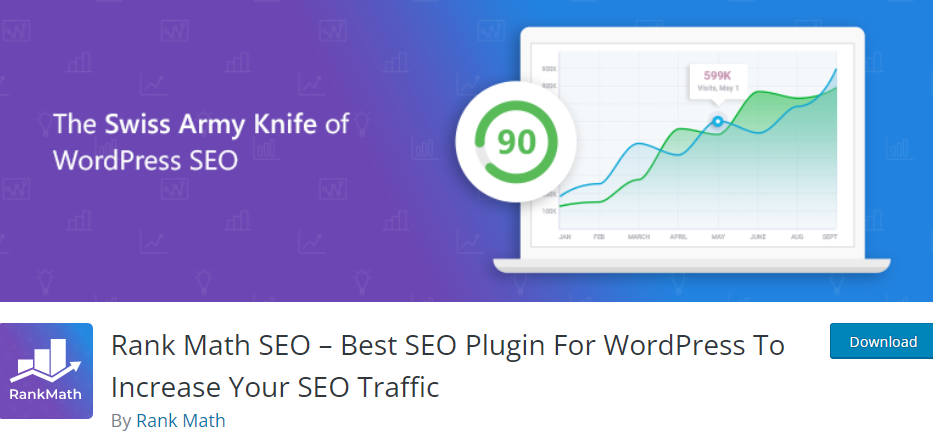 Rank Math SEO – Best SEO Plugin For WordPress To Increase Your SEO Traffic offers a consistent traffic source with continuous optimization of your posts. It comes with Setup Wizard that is easy to follow and has a step-by-step installation guide. Also, it provides 16+ types of Schema Markups and allows you to optimize posts with a few clicks.
In addition, Rank Math SEO – Best SEO Plugin For WordPress To Increase Your SEO Traffic has unlimited focus keywords per post (5 by default and can be increased by adding its' filter). With one click, you can install the Google Analytics script and exclude that Logged-in users. Rank Math SEO – Best SEO Plugin For WordPress To Increase Your SEO Traffic has optimal default settings, most fitting any website, but they can be changed if needed.
Rank Math SEO – Best SEO Plugin For WordPress To Increase Your SEO Traffic has lightweight code, and it loads fast and keeps your website fast. You can add every icon on Social Images and have an SEO Analysis tool to execute an SEO audit of your website. Smart Redirection Manager, 404 Monitor, and SEO Optimized Breadcrumbs can be displayed on all websites, even ones that don't support its coding.
Conclusion
SEO will push up your site towards the top of the search results on Google or other search engines, and by that, traffic on your site will improve, you will have more users, and by all this, have more revenue gained in the end. Having a good SEO will make this all possible.