Are you looking for the best table plugins for WordPress? WordPress is the world's most popular Content Management System (CMS) used by millions of websites. Part of the reason for this popularity is its user-friendliness and flexibility.
However, despite more than 12 years of consistent development, the CMS still has its own shortcomings. A case in point is the fact that tables are not yet a native functionality of WordPress. The CMS does not have a built-in table creation function.
Best Table Plugins for WordPress
When presenting information on posts and pages using WordPress, you may need to do this in a more organized and presentable manner using tables. Beyond paragraphs, lists and bullets, tables are important in presenting infographic content that is pleasing to the readers' eyes. You need tables in all fields such as e-commerce, business, sports, education, science, and non-profits and many more.
It is therefore surprising that table-creation is not a native functionality for the most popular CMS. Fortunately, there is a way around this. You can create perfect tables in WordPress using plugins.
Now there're many free and premium WordPress table plugins on the market. It can be confusing for beginners to select the best plugin for your WordPress site.
Comparison Chart of Best WordPress Table Plugins
Below table made from DIV TABLE:
So the easiest way to cut through the confusion is to compare your requirements with the features of the available plugins. To make this task easier for you, we are going to present to you the 5 best table plugins for WordPress that you can use with ease.
Read also:
---
1. TablePress – Easily Create Tables in WordPress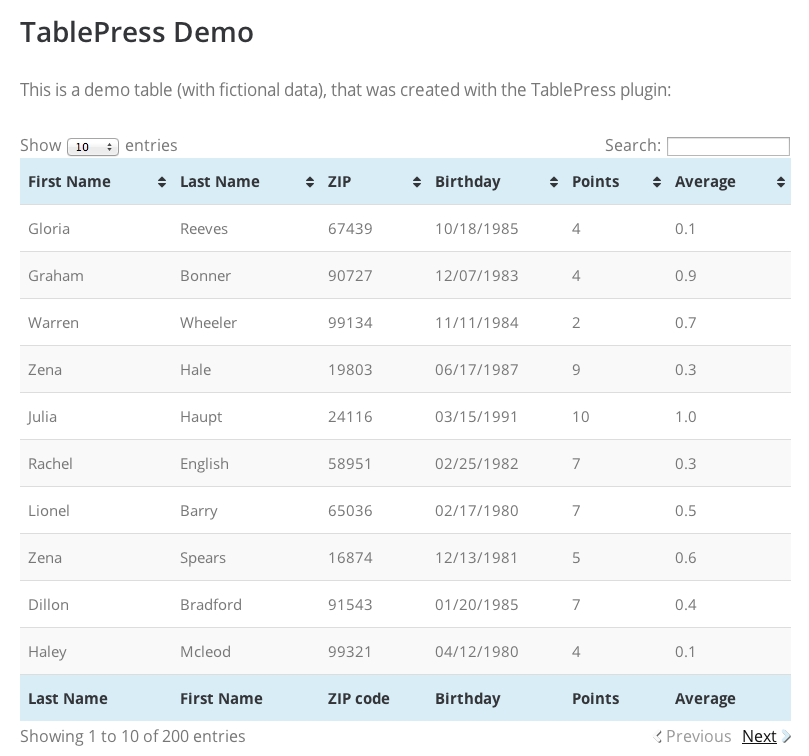 TablePress is the most popular free table plugin for WordPress today. With more than 800,000+ Active Installations, the plugin is surely a must-have. To create beautiful tables that you may like, you do not need any line of code.
However, to embed these tables on your text widgets, posts, and pages, you need to use shortcodes. You can use this plugin for any type of information that you want to present. Additionally, you can use custom CSS and even configure where you want the tables displayed through the plugin configuration settings.
If you wish, you can import or export your tables in Excel, CSV, HTML, and JSON formats. What more? There are TablePress extensions for you to make your experience even better.
TablePress Pros:
Multilingual support
Use of template tag to show tables anywhere you like
You can use any data, be it links, images, texts, JavaScript or any other
Table Press Cons:
Time-consuming
Not as responsive
Limited in customizations
---
2. Ninja Tables – Table Plugin for WordPress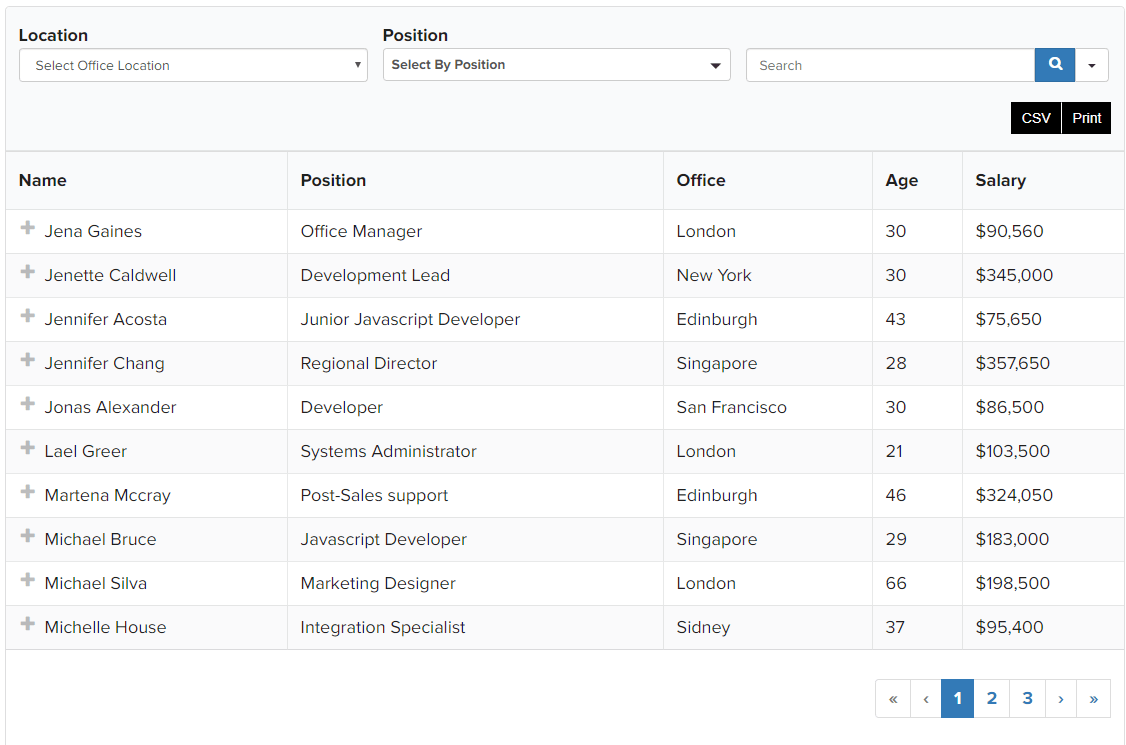 Ninja Tables is another good choice for building a table with a user-friendly layout easy to use settings, and enticing front-end. With 30,000+ Active Installations, Ninja Tables is both a free and premium WordPress table plugin.
It comes with a drag and drops table builder that you can use quickly rearrange columns and rows. It will give you the experience of making tables with any possible ways you can think of.
Pricing –
The plugin offers you free as well as a premium option. The pro version of the plugin surely offers you a lot more options than the free version. The pro version of the plugin starts with $39 that gives you a single site license. The other plan will cost you $79 that can activate up to 20 websites. It also has Unlimited Site License that will cost you 199$
Some Ninja Table Features include –
Integration with WooCommerce
Hover rows
FrontEnd Table Editing
Compact Table
RTL Support
Semantic UI Table Styles
---
3. Data Tables Generator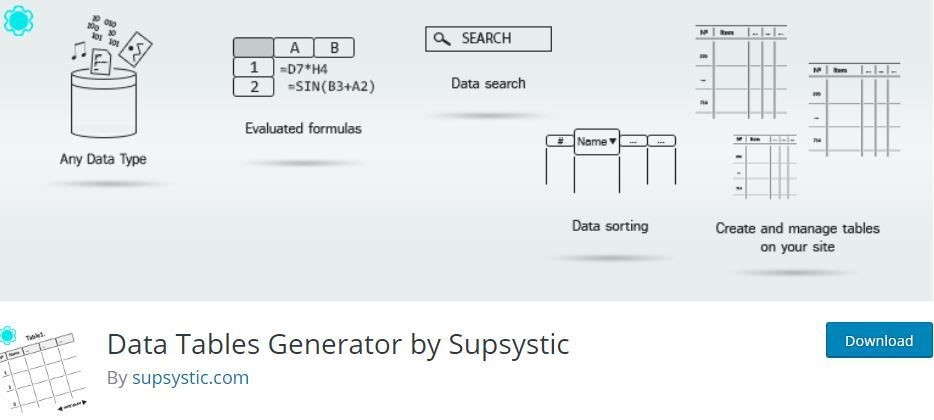 Data Tables Generator is a free responsive table plugin for WordPress. With this plugin, you can generate beautiful tables and manage them from the admin panel. The plugin allows diagrams, graphs and charts, pagination, filtering and sorting among other exciting features.
With more than 30,000 active installations and constant five-star ratings, the plugin is popular and magnificent.
Data Tables Generator Pros
Frontend table editing, table exports, and imports in CSV, PDF, Excel, Google sheets
Formulas and HTML tables support
WooCommerce integrations
Many customizations
Easy searching options among others
Data Tables Cons
It has limited support when it comes to large tables.
---
4. Ultimate Tables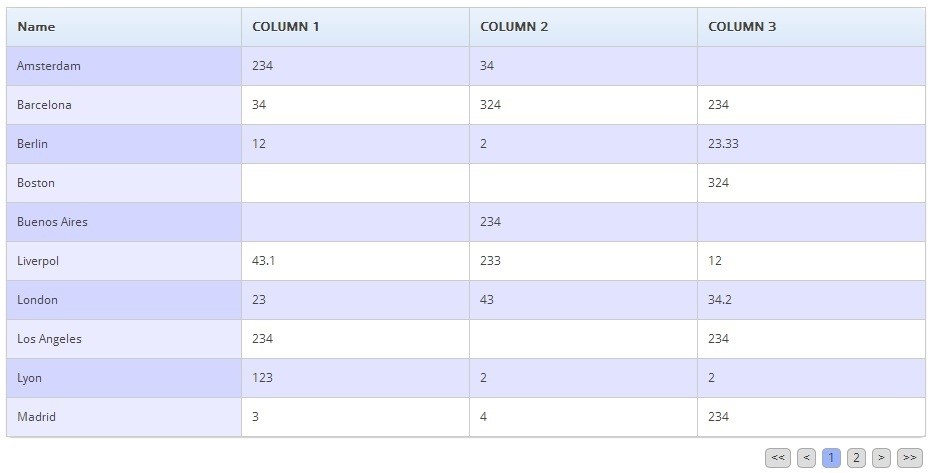 Ultimate Tables is another free table plugin for WordPress. It has a paltry 10,000 active installations and an average four-star rating. But this should not fool you to thinking that it is inferior compared to others. Unless you are looking to create very large tables and data sets, the plugin is one of the best table plugins for WordPress today.  The plugin allows you to create and manage tables from the admin section. You can then insert the tables into your posts, pages, articles and even the Ultimate Tables widget provided.
Ultimate Tables Pros
Create and edit different tables and insert them in multiples.
Provides three designs to choose from
Beautiful styling
Easy to use
Provides shortcodes to insert tables where you like
Search box and pagination options.
Ordering alphanumerically
Ultimate Tables Cons
No import or export features
Tables generated are not as responsive
No support for large data sets
---
5. wpDataTables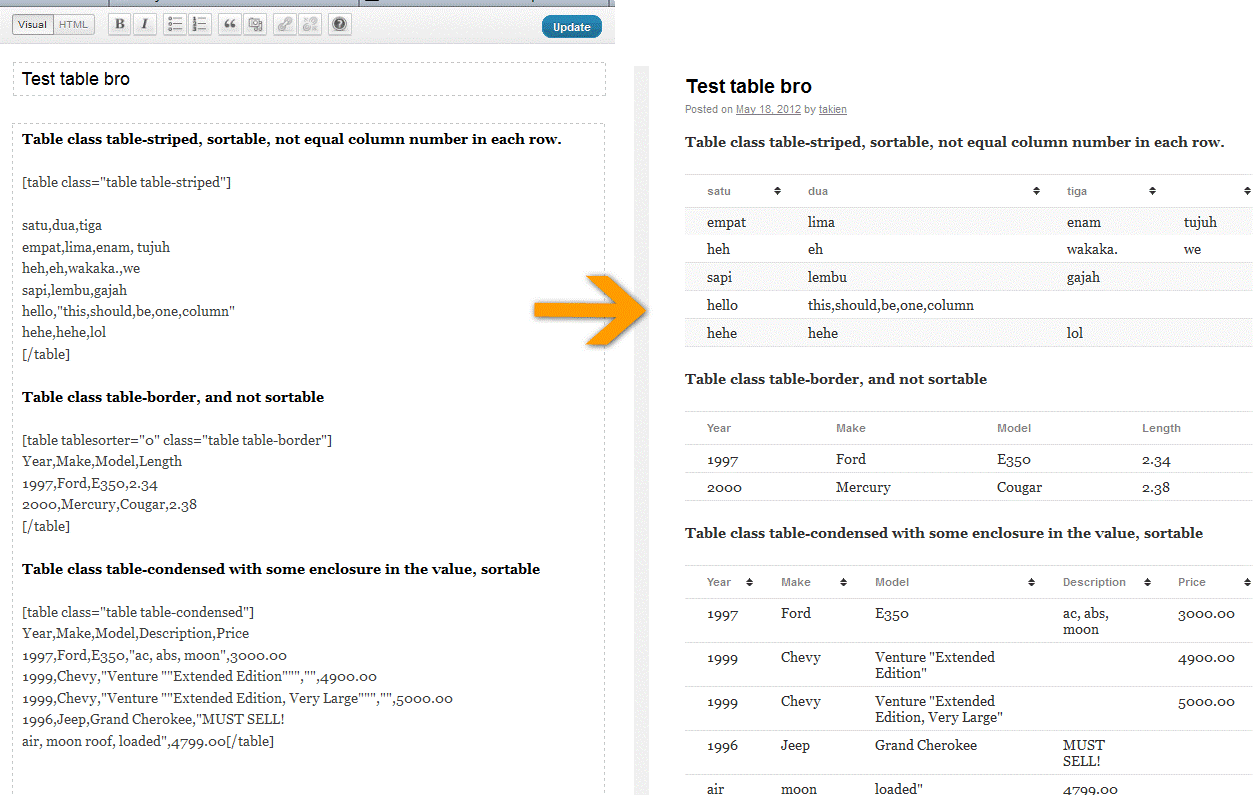 wpDataTables is a unique free table plugin for WordPress. It is one of the most popular and the single-most unique in this list. Why? This is because it does not work like all others. It is the only plugin that lets you insert tables using your visual WordPress editor.  The plugin has more than 20,000 active installations and an average of 4.6-star rating.
To use this plugin to insert tables on your editor, you need your data and to use [table] code. Once you insert this shortcode, you can then use commas for columns and spaces for rows. The plugin allows you to sort, use custom CSS and import CSV.
wpDataTables Pros
Nice table designs using Twitter CSS bootstrap
True to its name of being easy to use
Displays tables wherever you want
Two skins of blue and white
wpDataTables Cons
Not as responsive
Has limited customizations
Only CSV import
Provides no searching options
---
6. Table Maker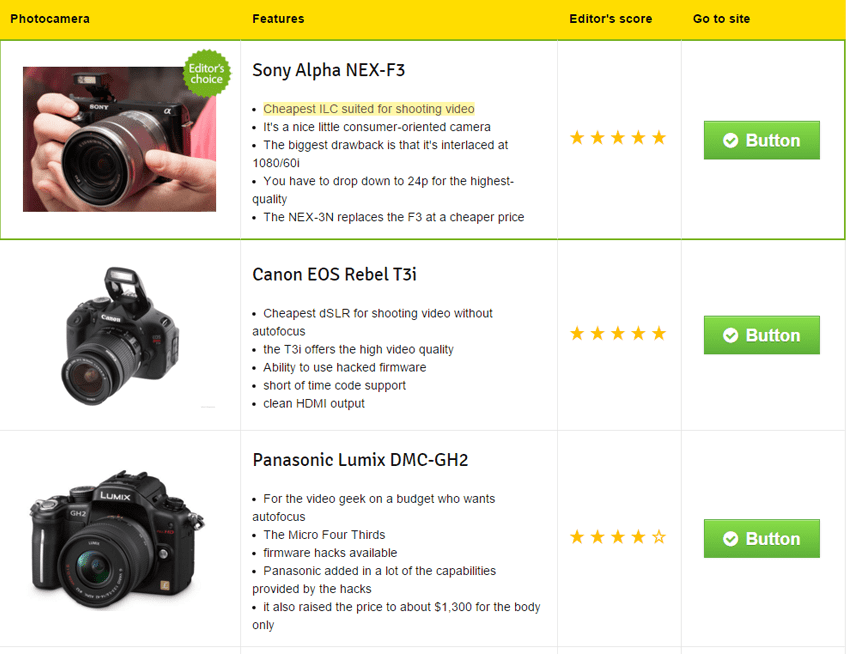 Table Maker is a free and responsive WordPress plugin for tables. The plugin allows you to display product information and specifications as well as compare details in a simple and straightforward manner. It provides a way through which you can create and display awesome tables for your readers. With over 20,000 active installations, you know you are not the one using this great plugin. With this plugin, you can use shortcodes to display your tables wherever you want.
Table Maker Pros
Header color selecting options
Simple design
Responsive and customizable stacks
Provides icons
Use of lines for columns and rows
Options for alignments
Upload and use images on your tables
Export and import XML and CSV formats
Table Maker Cons
Conclusion:
WordPress may be the best and most popular CMS in the market today. But it has its own limitations. Luckily, developers are working day and night to fix the limitations by creating features and packaging them in plugin forms.
In this case, what WordPress does not offer in native functions, plugins come in to fix. Table creation is lacking as a native feature. That is why we have provided the 5 best table plugins for WordPress. All 6 are free. If you need additional and paid table plugins, keep tabs right here.
We hope this list helped you find the best WordPress table plugin for your needs.