I've been learning on Udemy for almost three years and I was always curious, is there any way to download Udemy the videos/course for offline use that I already subscribe (No piracy)
No wonder, you would like to download Udemy course for offline use or planning to keep them for future references.
Luckily I found some ways to do this 😉
Udemy is one of the most popular websites for online courses. The platform offers various courses taught by leading experts. One can select the course of their choice from over 55,000 courses in all sorts of different topics.
As from Udemy, complete courses are not downloadable from a computer. they do this out of concern for piracy. But they do allow instructors to enable downloading of their lectures, however, if they wish.
To see if an instructor has enabled downloading for a lecture, move your cursor to the gear icon at the bottom right of the lecture player.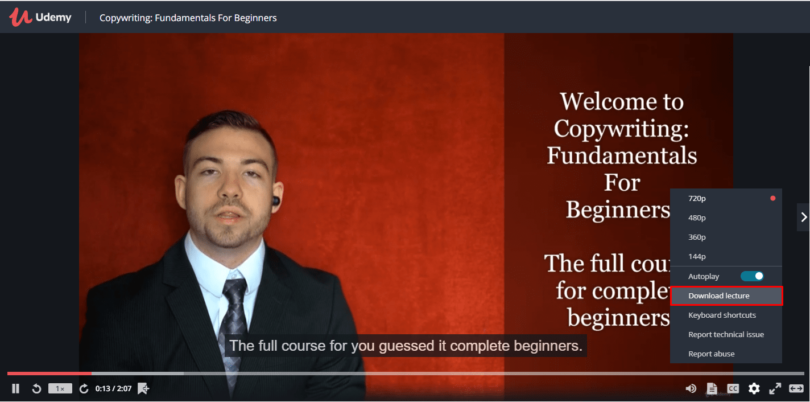 If Download lecture is not grayed out, then you will be able to download it to your computer, by clicking on those two words.
So let's check without further talk, how you can download Udemy videos.
Here are some ways to Download Udemy Videos
Before proceeding any further, you should know these methods are not designed to download officially paid Udemy courses for free.
It simply detects the subscriptions you've already made to Udemy via your web browser. This means you only able to download courses that you subscribed
1. Download Udemy Video Using Allavsoft:

The benefits of owning Allavsoft's software are many, not just you can download Udemy videos from it but also It can download videos and subtitles from many sites such as YouTube, Spotify, Vimeo, Kissasian, Lynda, Soundcloud, Facebook, etc. or you can say it can download videos from any video-audio streaming sites.
Also, with this piece of software, you can download videos and subtitles from Udemy to MP4, MP3, AVI, MOV, M4A, AAC with just a few clicks. The fact that you'll like, this software supports adding multiple video URLs and batch downloading and converting multiple videos at the same time.
And when downloading web video files, this wonderful Video Downloader will automatically detect advertisements and do not download them.
Also, you'll get a built-in video player in Allavsoft to preview and playback the downloaded video files.
Features: 
It can download files in these formats – MP4, MP3, AVI, MOV, M4A, AAC
It can batch download videos, music files, and subtitles.
Supports adding multiple video URLs and batch downloading
Plus It is easy to use, just follow a few simples to download online original videos and music files to a computer: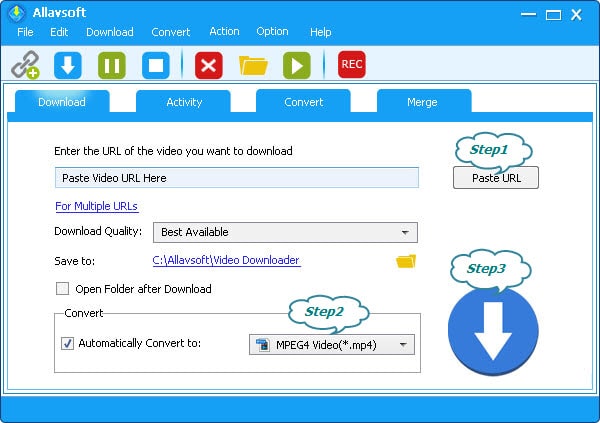 Step 1: Copy and paste the video or music link to Allavosft.
Step 2: Click the Download button.
And three steps to convert online videos and music files to any video or audio format: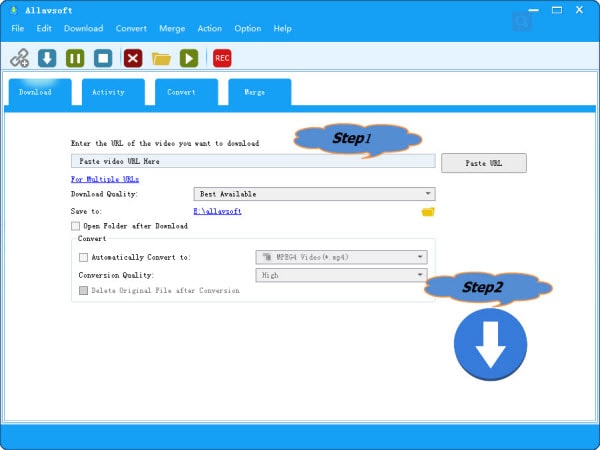 Step 1: Copy and paste the video or music link to Allavsoft
Step 2: Check before Automatically Convert to select the desired video format like MP4, AVI, WMV, MPG, MKV, MOV, VOB, RMVB, FLV, etc from General Video or select MP3, WAV, M4A, FLAC, AAC, AIFF, WMA, OGG, etc from the General Audio category.
Step 3: Click the Download button.
As simple as that.
---
2. Download Udemy Videos Using Udeler:
To download the Udemy courses, you're going to need a software called Udeler.
Udeler is an Open-Source and cross-platform downloader app with which you can download your Udemy course video playlists to your PC. It is written in Electron to have a minimalist, intuitive, and uniform User Interface across Linux, Mac, and Windows OSes.
So Download Udeler from this link. Once you download, install the software on your pc
As soon as you open the app you are welcomed with a login screen to enter Udemy account credentials.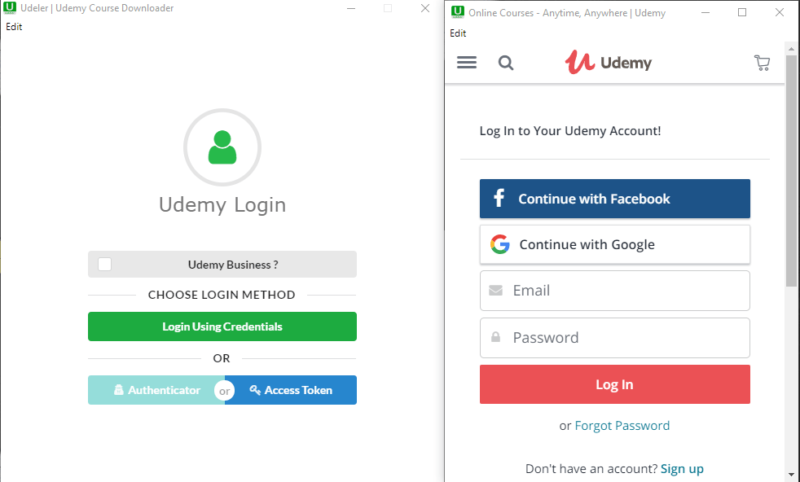 To proceed further, login to your Udemy account. If you always log in from Google then maybe you won't get login as it says "You are trying to sign in from a browser or app that doesn't allow us to keep your account secure. Try using a different browser"
So login by Email and password but you have to change the password by going into Udemy account first.
Okay, once you log in you can see a list of all your subscribed courses that you can download.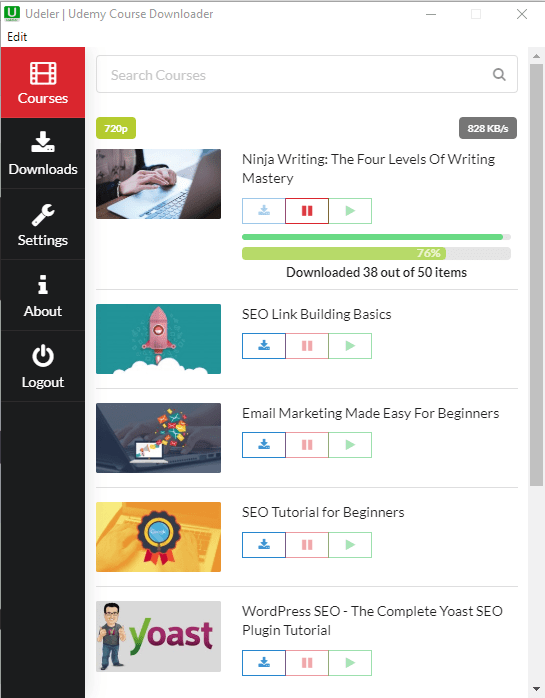 From this window, you can select the video quality, download path and also able to skip the starting and ending part from downloading.
Simple way, No hassle.
3. Download Udemy Videos using Firefox Extention
If you would like to download using the built-in option from the browser, then this extension will be handy.
Ant Downloader is a free extension that is exclusively made for Mozilla Firefox so you can't use this with another web browser.
With this extension not only you able to download Udemy videos but you can also easily download YouTube, Facebook videos, Dailymotion videos too.
Like the above method, this method is legit too. You'll have to subscribe to the course that you want to download.
But it won't ask you for Udemy credentials like Udeler. It just caches video location and gives a download link while streaming video.
To proceed, first of all, add Ant extension to you firefox Browser by going to this firefox extension page.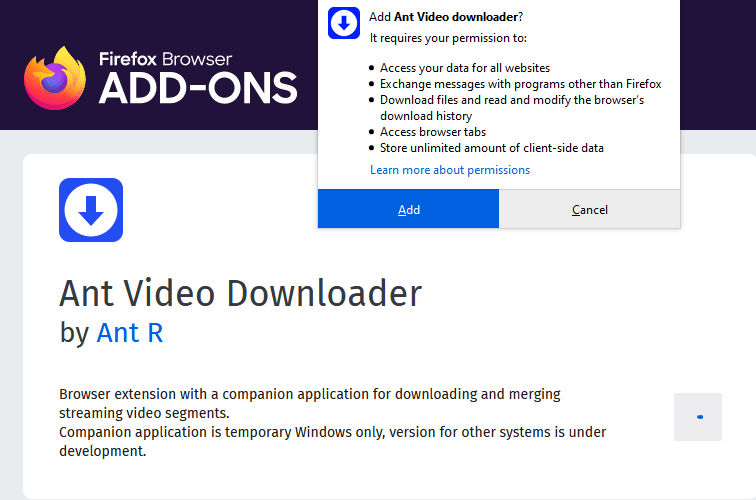 Once you have done, you'll notice that in your browser's toolbar, there is a blue download icon.
If you click on that icon, you'll be shown Video not found if you're not streaming any video.
Also, one thing needs to be done to work this tool. You need to install its Native plugin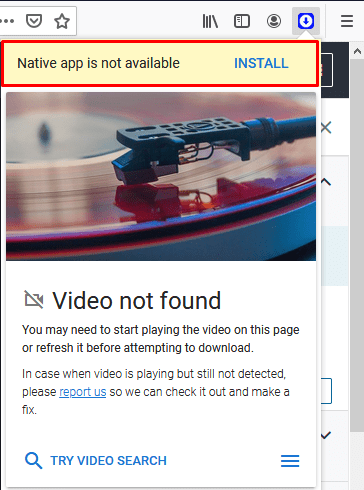 So click on the Install button to install its Native app (app extension will be .msi).
Once you installed, start streaming Udemy video and you will get video's download link.
4. Download Udemy Videos using Built-In Download Option

As I told you just in beginning to this article. Udemy offers a default download feature on their site but it's on to the creator to enables the option or not.
If the Download lecture button is grayed out, that means the instructor didn't allow the downloading of the lecture. But you can try requesting the instructor for permission to download the video.
Conclusion
Now, these are some ways to download Udemy videos that you paid for. Of course, there would be more methods but I found this 2 and other built-in one option are handier and easier.
If you have any better solution to download online courses from Udemy legitly, let us know by leaving a comment.