Let us first define what web hosting is. It is an online service that allows users to publish a website or a web application on the internet. It means you rent space on a real, physical server where your website files and data can be stored. A server is a physical machine that runs without any interruption meaning your website is available for anyone to access through the browser.
The web host is responsible for maintaining and keeping the said server up and running, protecting it, and transferring your website content from the server to user browsers. When publishing a website, one of the first things is finding and contacting a web hosting provider that will give you space on a server for your website data, including files, assets, and databases.
There are multiple different types of web hosting. We will list them and shortly explain what each one is used for to decide which is best suited for your needs. Most web hosting providers offer many or all of these hosting services, so you can choose depending on your needs, whether you want to build a blog or a large online business.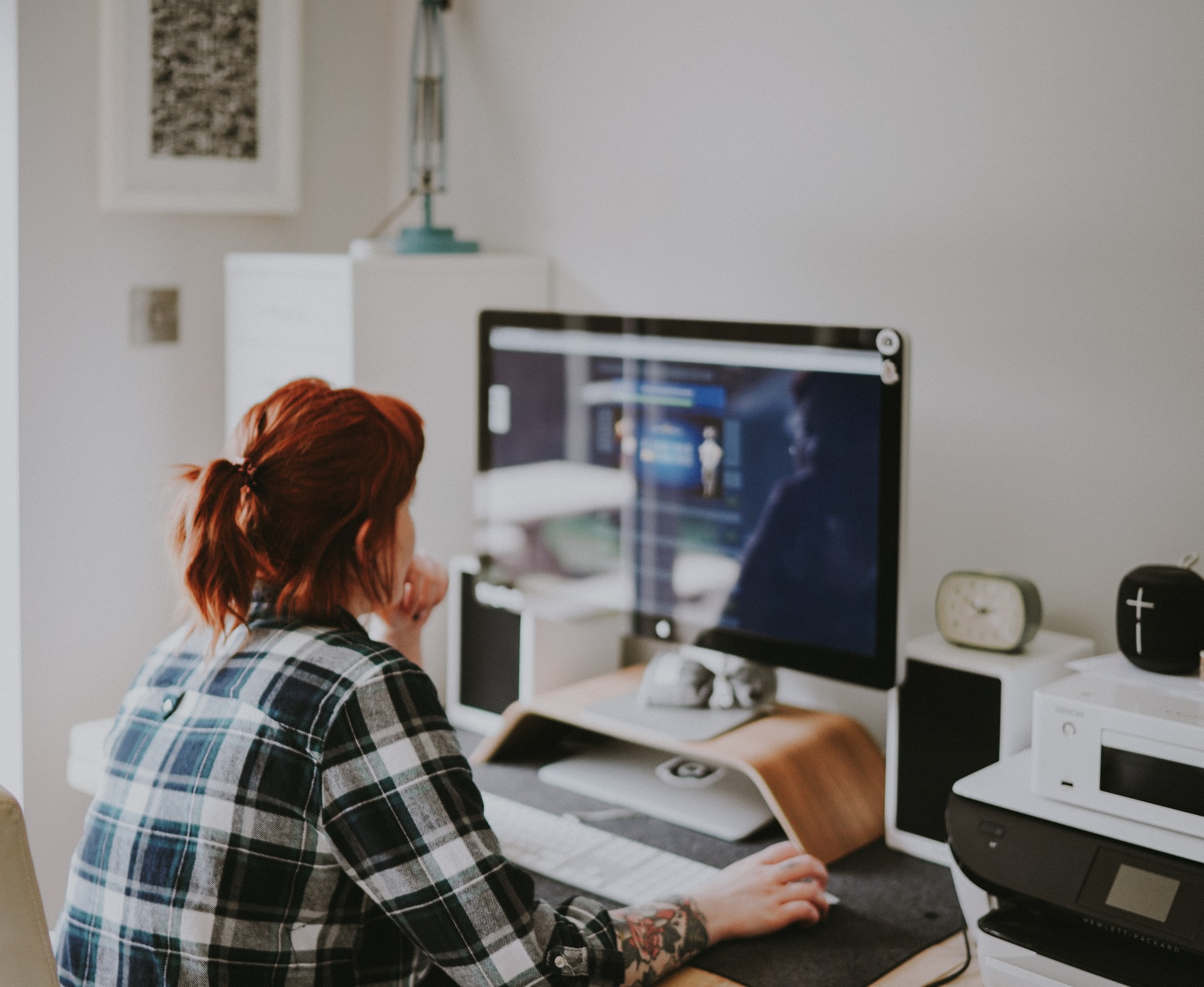 Shared hosting. This type of hosting is most often used for simple websites and users that do not have many needs. Here, you share one server and its resources, such as memory, computing power, disk space, etc., with other clients.
Reseller hosting. Reseller hosting provides clients with the option to become web hosting providers themselves. Resellers often provide technical support to their clients and offer many of the same services they are buying from the "parent" web hosting provider. By using this type of hosting, you can choose whichever type of the listed hosting types you want to sell to your clients.
VPS (Virtual Private Server) hosting. VPS hosting is optimal for medium-sized businesses with growing traffic on their websites. Even though it is still provided with resources on the same server as other clients, with VPS hosting, a client is allocated a separate partition on that server. It includes having dedicated server space and reserved system resources and memory.
Cloud hosting. Cloud hosting is the most reliable solution in the current market. In this case, the provider gives the client a cluster of servers, and the files and resources are replicated on each server. If there is a problem on one of the servers or a delay in processing, the traffic is automatically routed to another server in the cluster, providing clients with little to no downtime, optimal for very busy websites.
WordPress hosting. This type of hosting is a form of shared hosting tailored for WordPress website owners. In this case, websites come with pre-installed crucial plugins, such as caching or security. Since the configuration of self-hosted WordPress sites is very optimized, load times are faster, and problems are fewer.
Dedicated hosting. As the name implies, clients receive their physical server dedicated solely to their website. With this comes the flexibility in managing your website. The technical support side of things is the benefit of getting dedicated hosting instead of having an on-site server. Your provider will take care of all things support-related. Large businesses with heavy traffic will benefit from this type of hosting.
Now that we are familiar with the definition of web hosting let's talk about one of the best web hosting providers on the market, HostArmada.They are an independently funded and privately owned company with many innovative ideas, providing fast, secure, and reliable service. Emphasizing customer satisfaction, every service goes through ten levels of QA before release.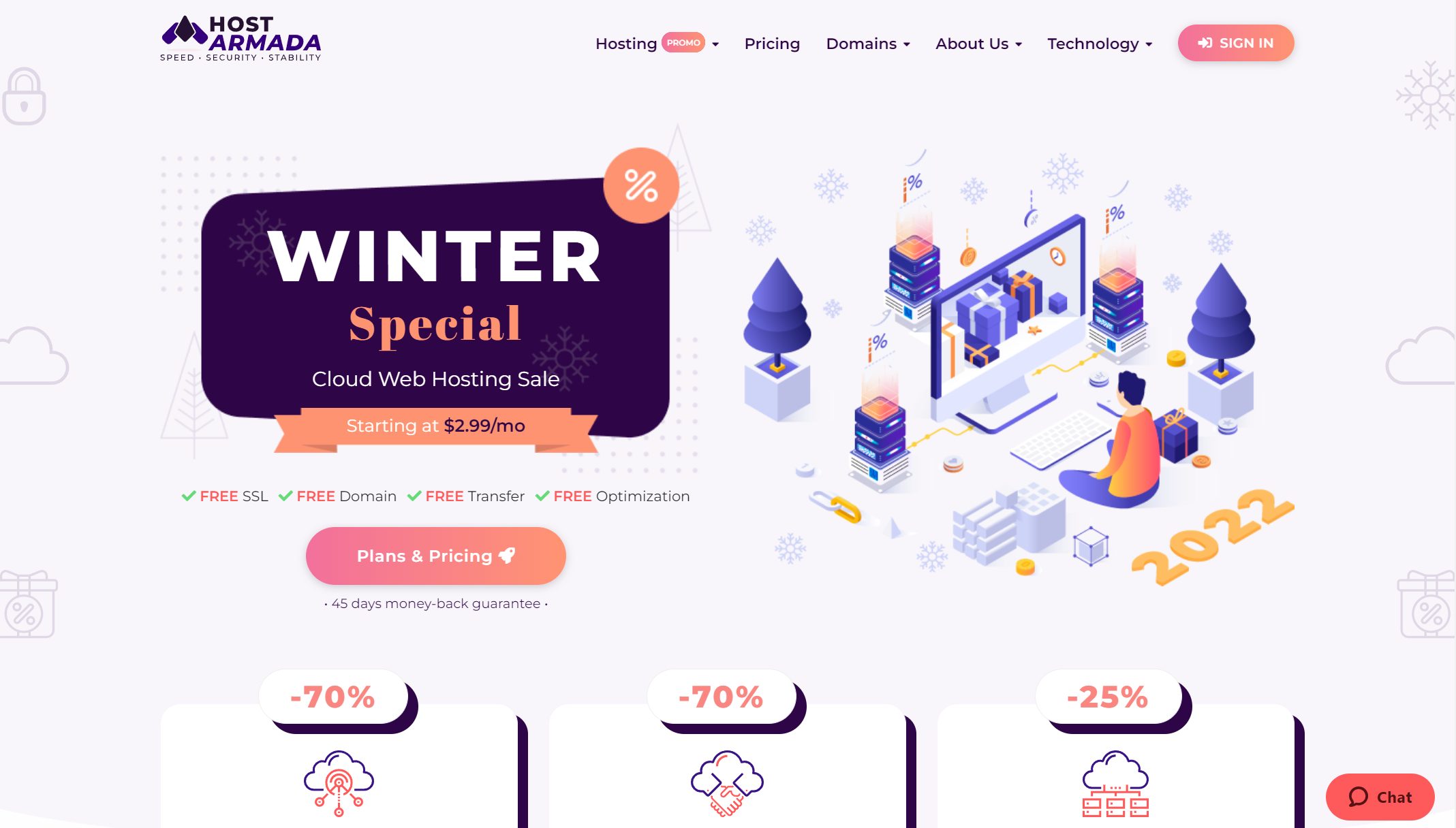 Bear with us while we dig into the abundance of features and offerings by HostArmada. Their packages come with reliability guarantees, no cancellation fees in case you decide their services are not for you, and no additional costs.
Pay only what you have used, free one-time website migration service, 45 days moneyback guarantee for in-depth testing all of the services, 99.9% uptime guarantee for all websites, client dashboard, service, domain, and ticket management.
HostArmada provides the following types of hosting:
Cloud WordPress Hosting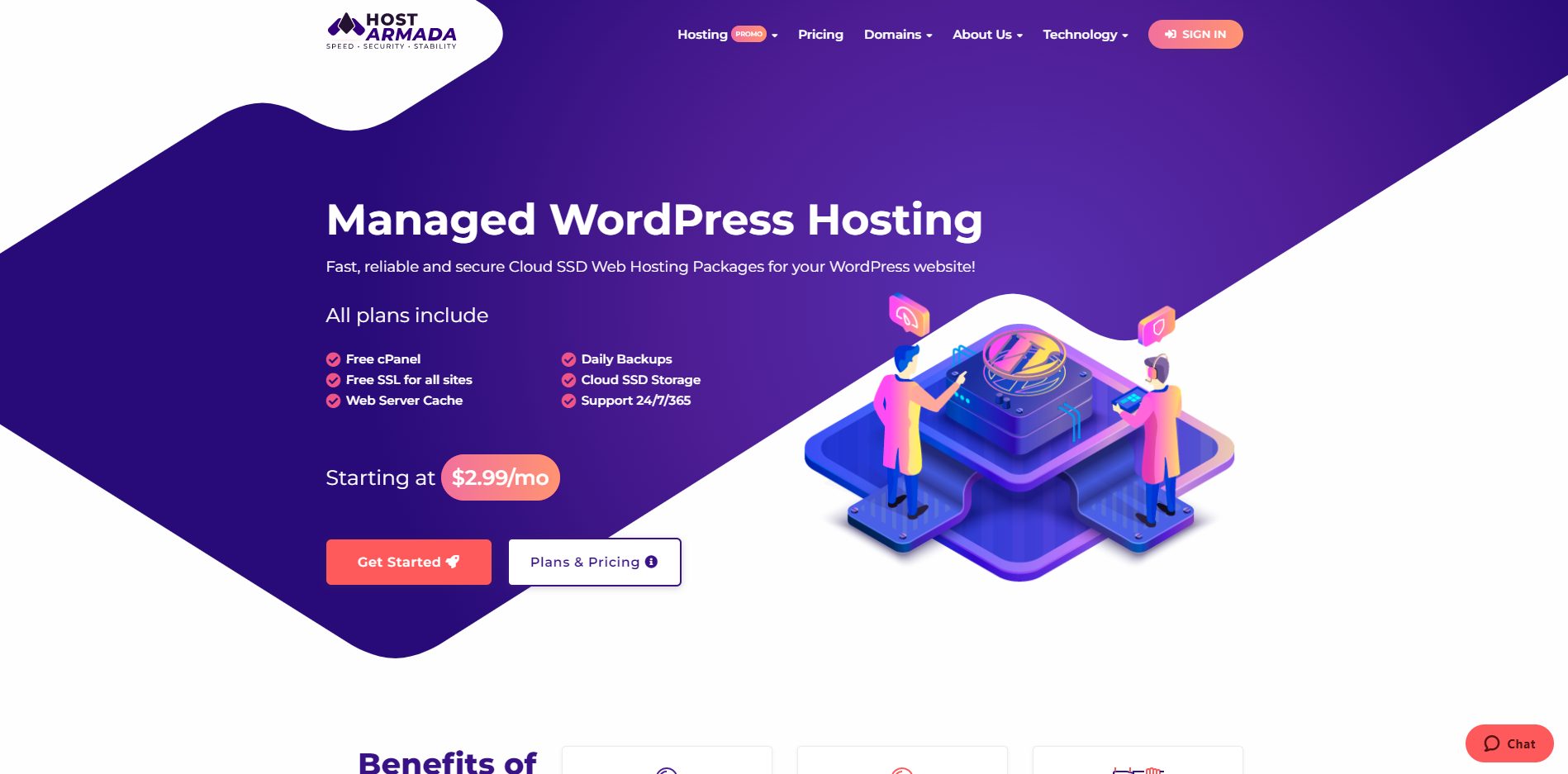 HostArmada provides fast, reliable, and secure Cloud SSD web hosting packages for WordPress websites. All plans include free cPanel, free SSL for all sites, web server cache, daily backups, cloud SSD storage, and 24/7 support. There is also a low number of clients per server, which allows for a low server load and optimal performance.
Plus, Cloud SSD technology provides an optimal uptime of 99.9% and guarantees fast read/write times. Other features include a 1-click WordPress installer, managed web hosting service, easy to pilot service with cPanel, tight WordPress security, etc.
Prices are suited for everyone's pocket, starting at $2,99/month for the Start Dock package up to $3.89/month, $4,49/month for Web Warp package up to $5.39/month, and $5.39/month for the Speed Reaper package up to $6.29/month. These prices depend on the payment interval.
Cloud Shared Hosting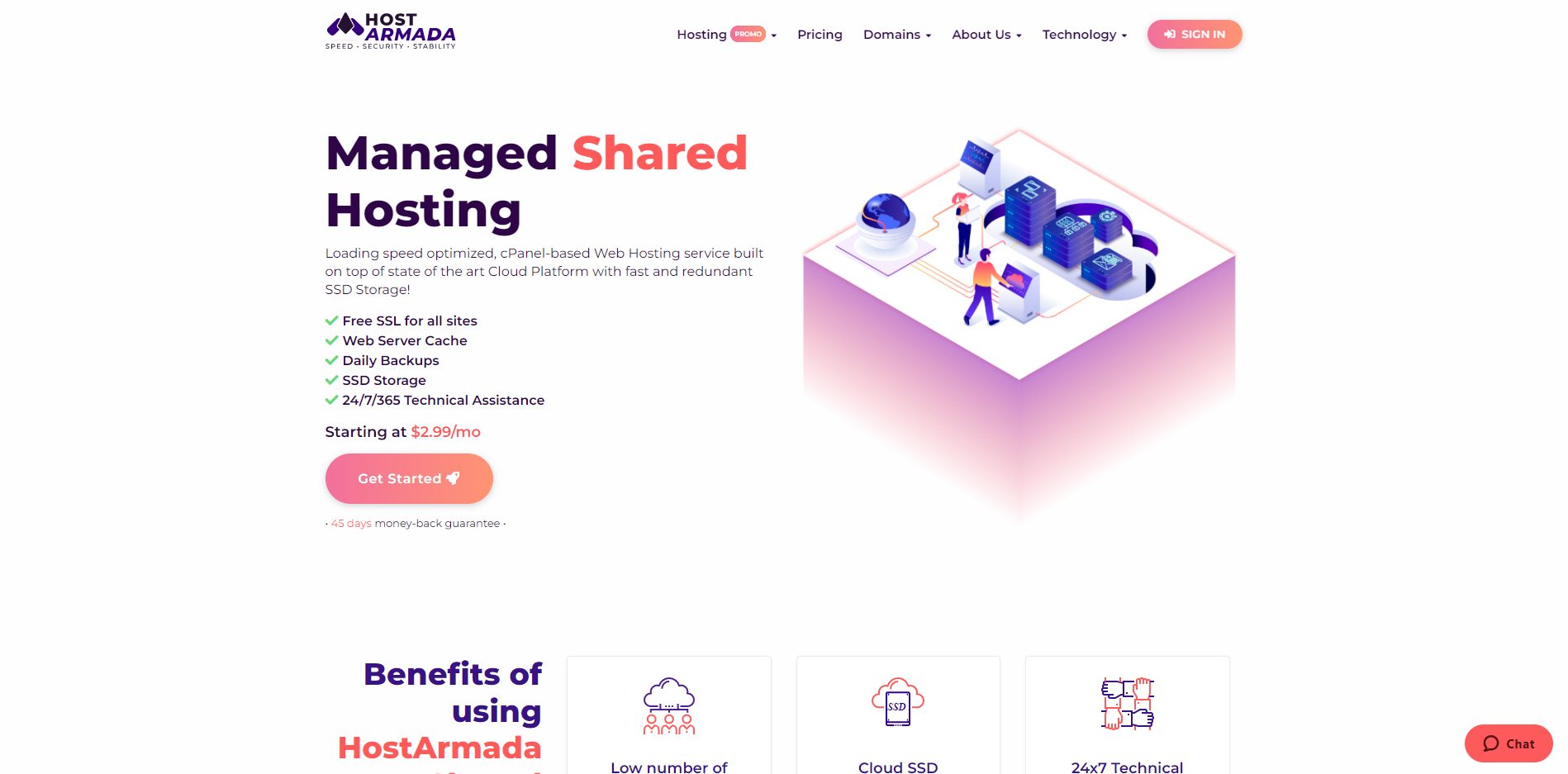 As in testing is specially optimized for the most popular open-source scripts like OpenCart, PrestaShop, Drupal, WordPress, Magneto, Joomla, WooCommerce, etc.
With each open-source installation, clients are provided with application installation, transfer, visual theme install, updates, module installation, and application updates. As in the previous package, many features are similar, including a low number of clients per server, cloud SSD technology, and 24/7 tech support.
Cloud Reseller Hosting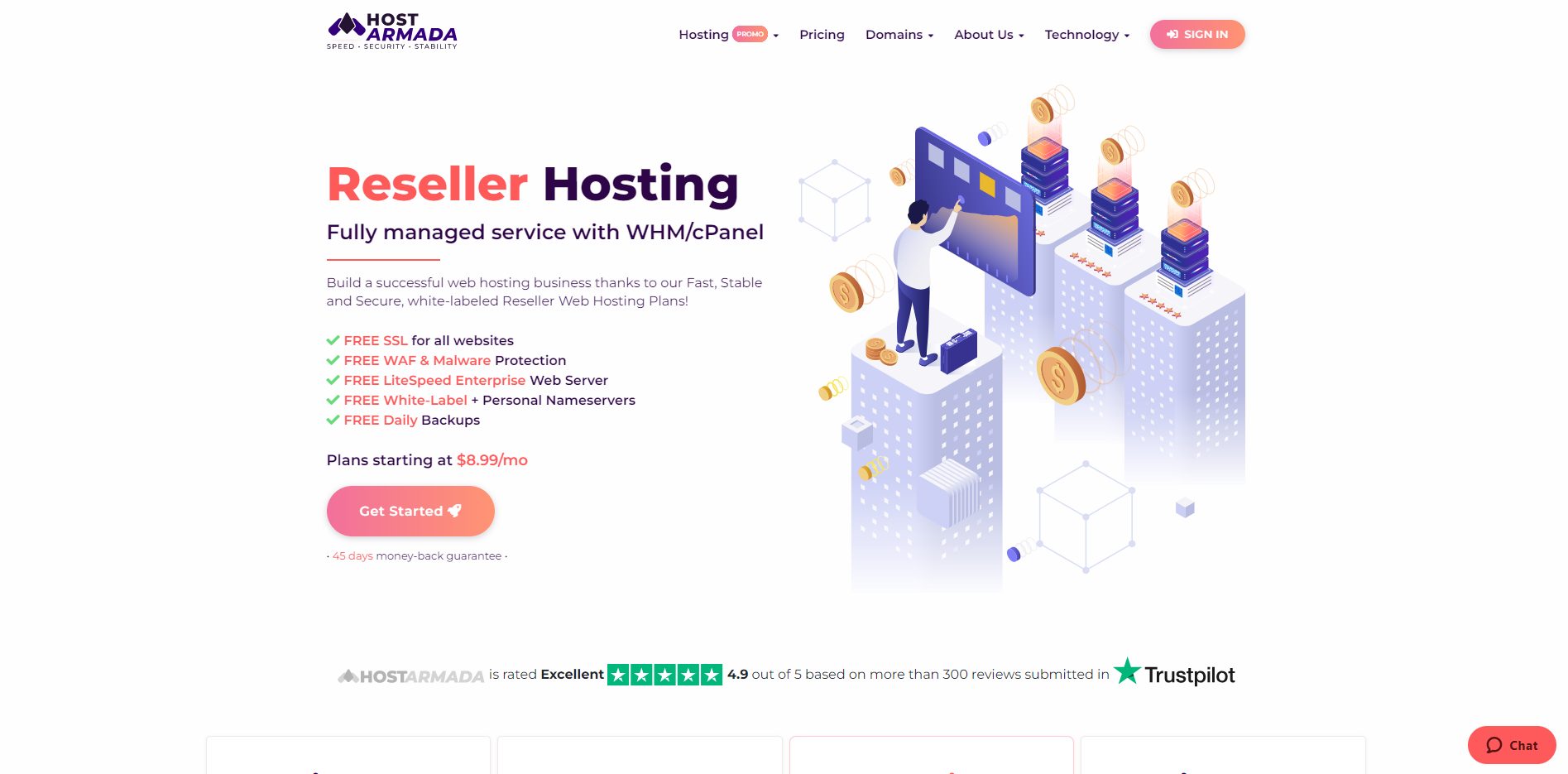 This hosting option is a new offering from HostArmada and offers a fully managed service with WHM/CPanel. The package comes with free SSL for all websites, free WAF and Malware protection, free LiteSpeed Enterprise web server, free White-Label, personal nameservers, free daily backups, static and dynamic content caching, DDoS protection, etc.
Package prices vary depending on the storage capacity, the number of cPanel accounts, traffic throughput, and other system factors, and they start at $8.99/month up to $20.99/month.
Cloud VPS (Virtual Private Server) Hosting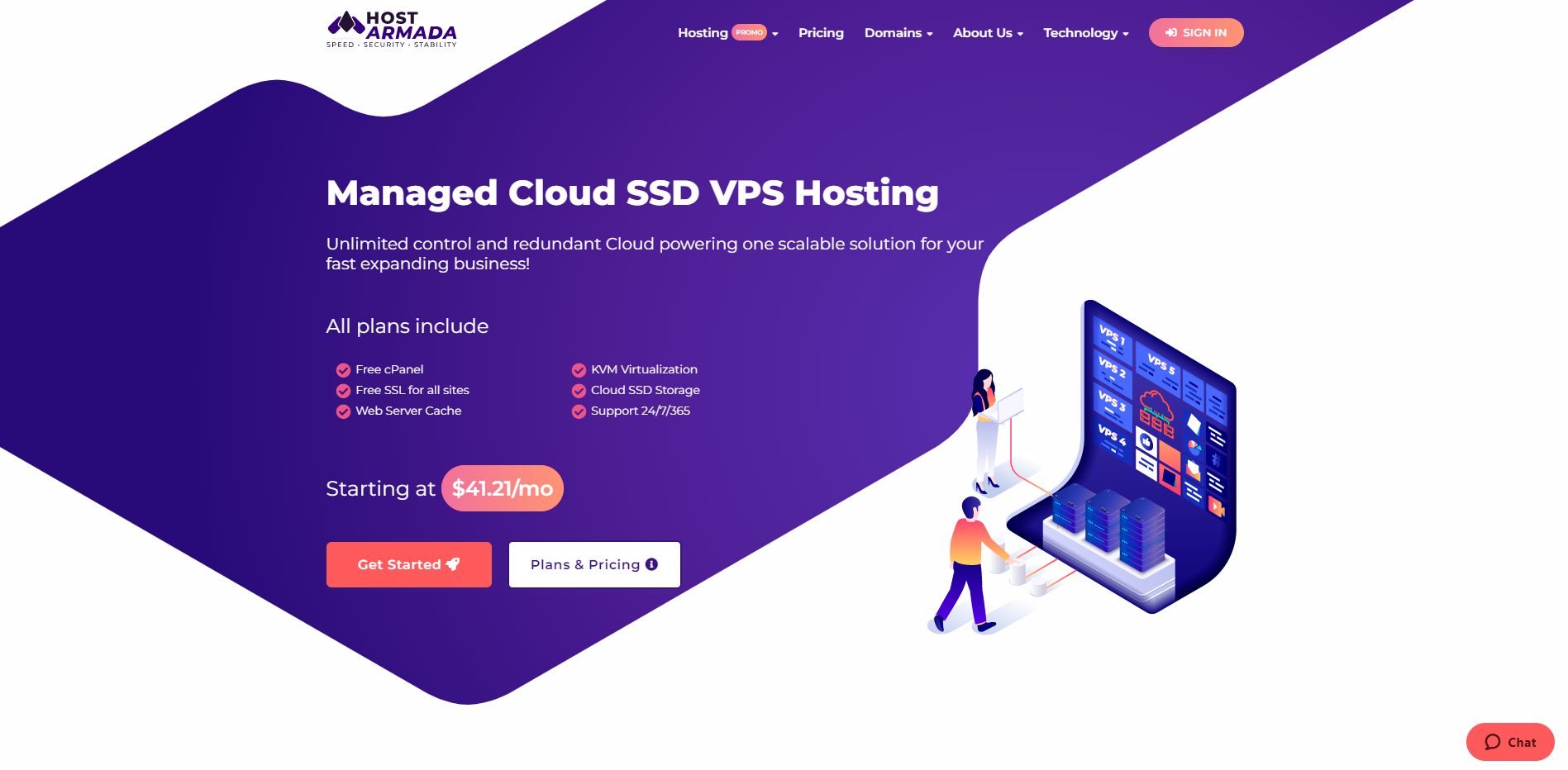 VPS  hosting gives clients unlimited control and redundant cloud powering a single scalable solution for their business. Besides the regular features, VPS hosting provides full root-level access on-demand, Nginx web server cache, etc. Except for the regular packages, custom plans are available depending on a client's needs with more CPU, RAM, and SSD storage with deliverable specs of up to 192GB of RAM, 32 CPU cores, and 3840GB of SSD storage per server.
There are custom packages with up to 300GB of RAM per server for those needing high-memory hosting plans. Pricing for regular packages starts at $41.21/month, up to $101.21/month, depending on server configuration.
Dedicated CPU Server Hosting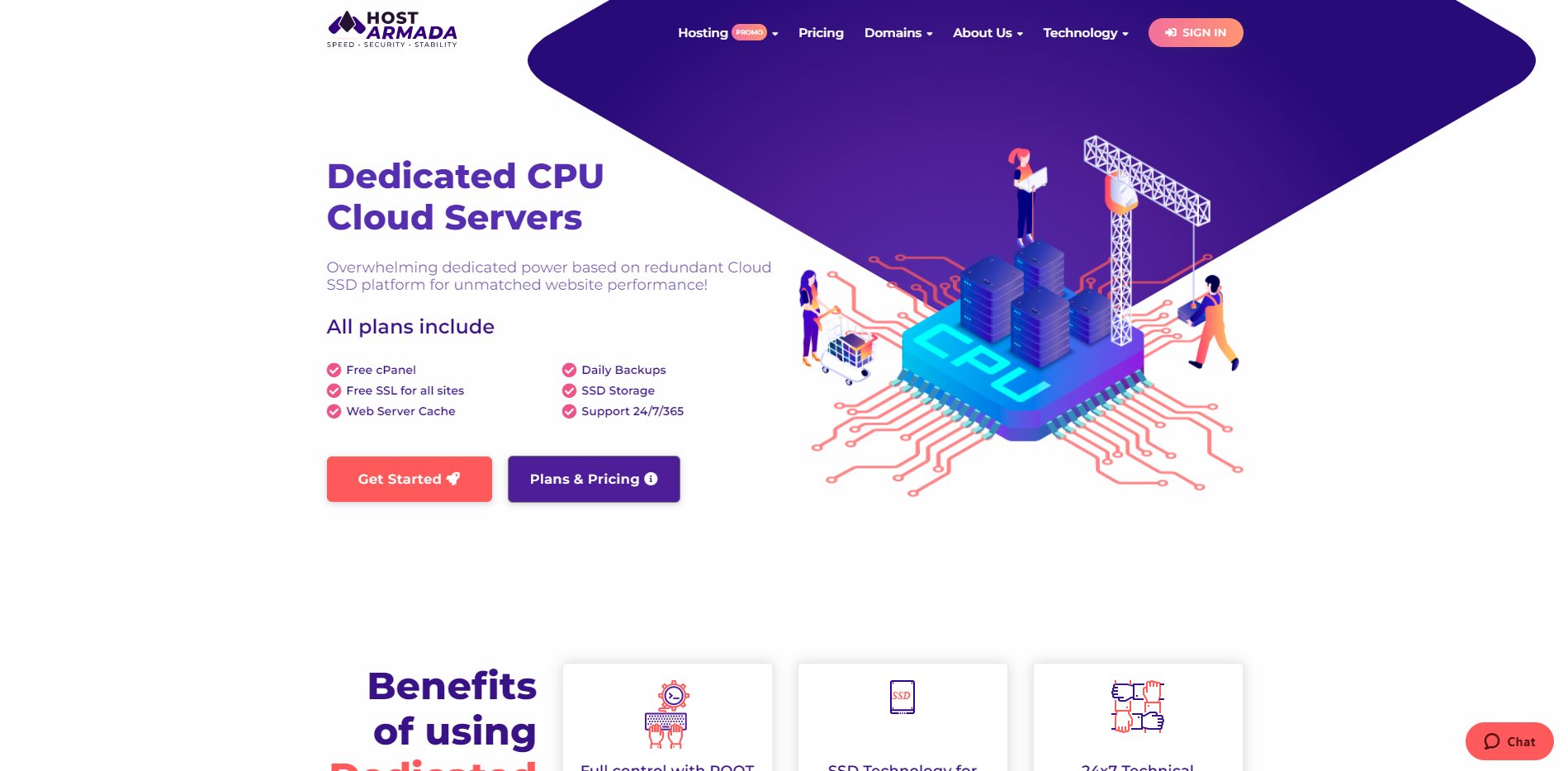 Redundant cloud SSD platform allows for unmatched website performance. There are unlimited management capabilities from environment maintenance to the installation of complex services available with the package.
As with the previous package, custom packages are available for clients with more demanding websites. Regular packages start at $111.75/month and go up to $246.75/month.
Opensource Hosting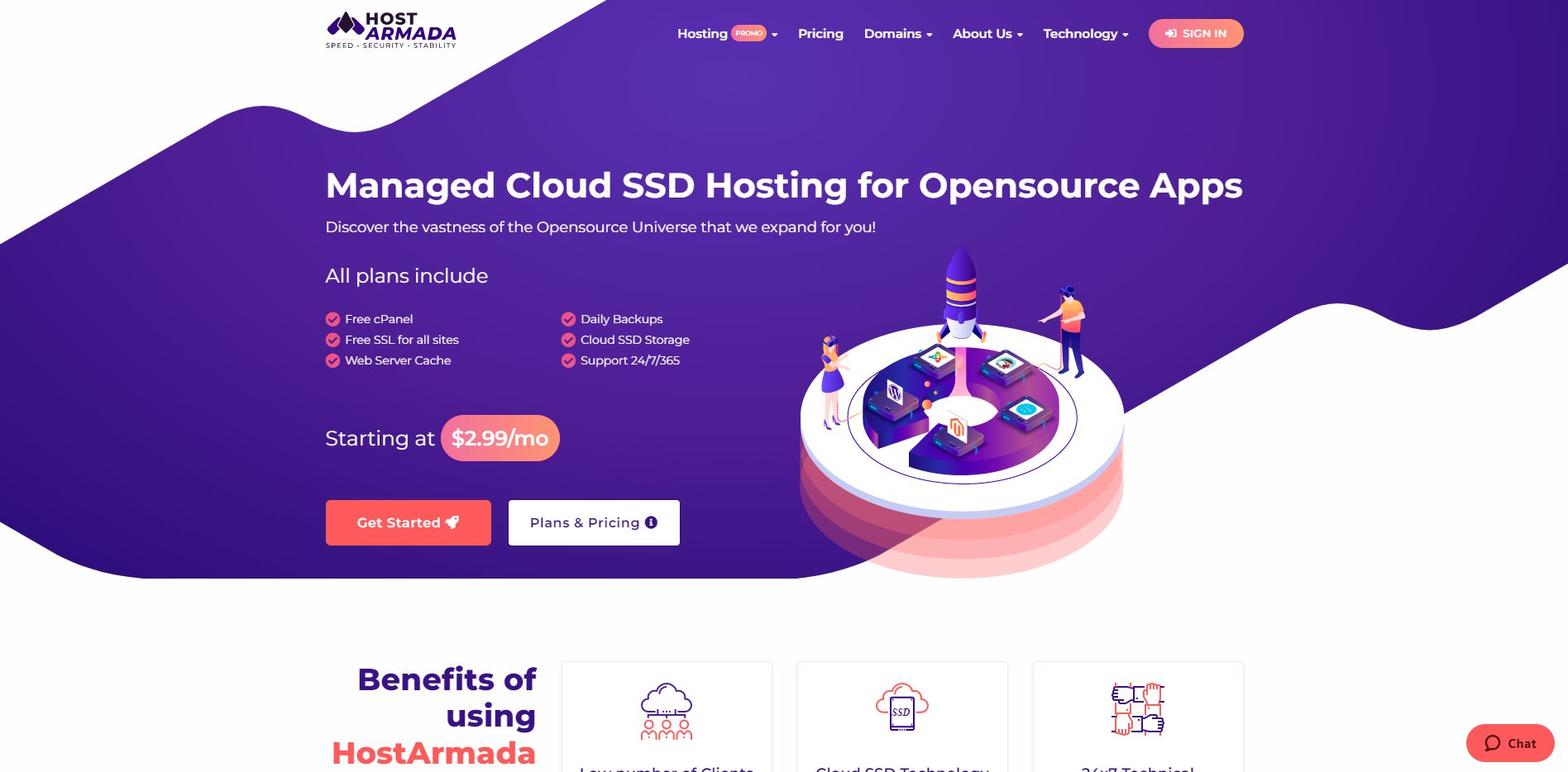 The Opensource hosting package is an open-source web hosting service with great features to kickstart any new open-source project.
Features are pretty much the same as the Shared hosting package, with optimizations based on open-source scripts and projects. Prices are the same as with the WordPress hosting packages.
Development Hosting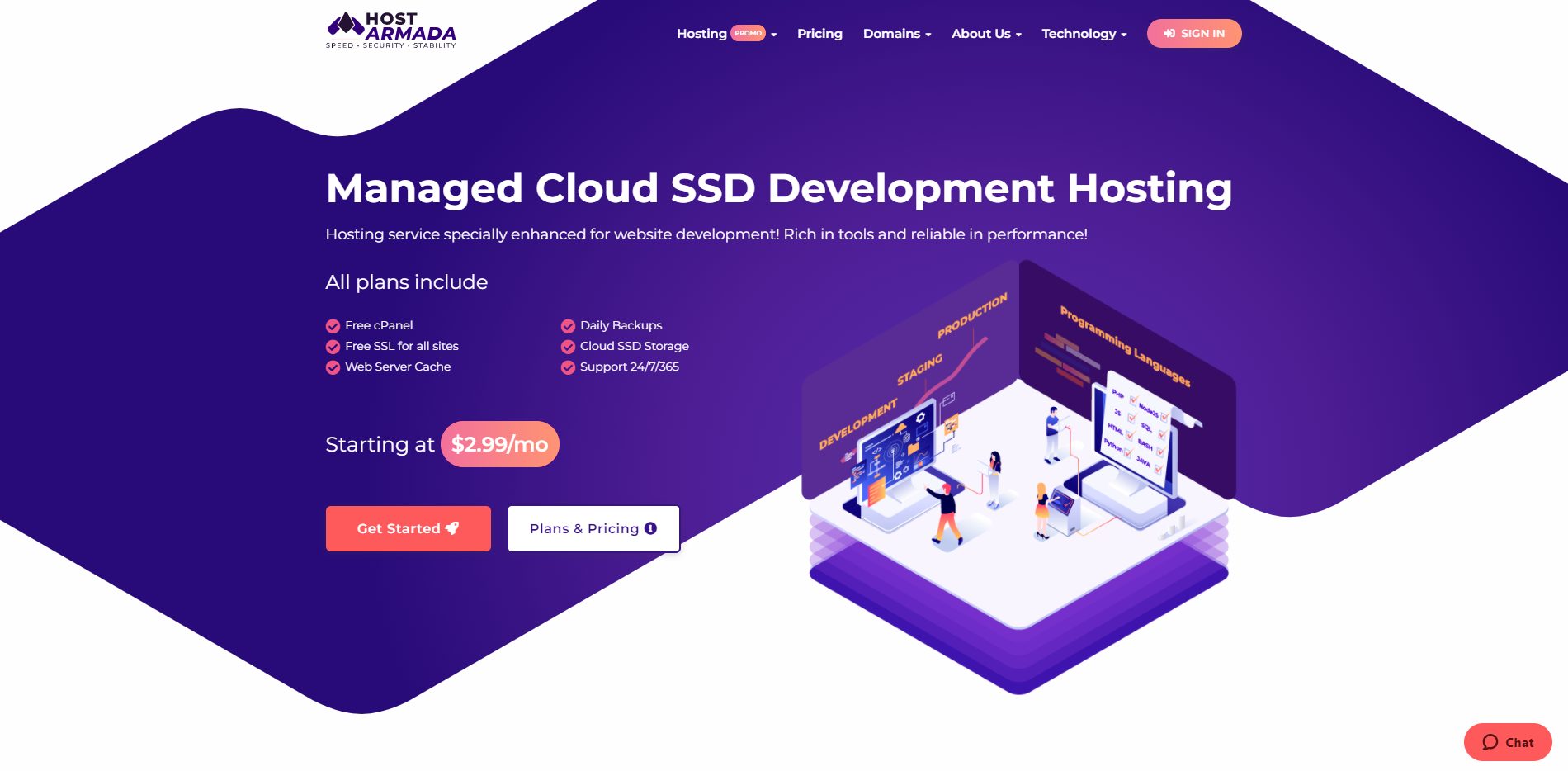 This package is oriented to website development, with an abundance of tools and reliability in performance. Features include SSH access for advanced developers, which provides a command-line-like interaction with the web hosting service.
Dev tools include PHP dev tools for those who want to utilize the resource management capabilities of PHP, NodeJS dev tools with the integration of the most used NodeJS tools. These Python dev tools support a wide range of modules for seamless integration with other SQL dev tools for handling SQL databases with the latest MySQL service tier.
In addition to web hosting services, HostArmada provides the option to register domains with them and transfer domains from other providers, easing the domain management flow. The network of geographically selected data centers provides fast connectivity at all times.
Competitive speed enhances SEO ranking, conversion, time spent on the website, etc. Premium security is achieved by using state-of-the-art security components with market-leading support.
Keep in mind that all of the mentioned prices are promotional when writing this article and are subject to change in the future. Renewal prices do not include these promotions and will be charged at the regular price. You can check all details regarding pricing here.
Conclusion
Having a website enables businesses to reach millions of worldwide users, and choosing the right web hosting provider will make that process simple and easy for you. HostArmada offers plenty of features and services to make it a worthwhile option.
They crush the competition with their guaranteed services on the highest level with affordable and competitive prices. Loading speeds are impressive in every package, even in the shared hosting options, which are often very slow and disregarded by other competitors.
Even though being a relatively new company, HostArmada offers some of the best bang for buck services and is most definitely worth considering as a web hosting service for you.