Nokke is the WordPress Elementor supported theme, developed by DeoThemes. It is one of the best premium Elementor themes in the market. Using this theme, you can make any website from Agency to Online Store, Portfolio to Real Estate, and it comes in both free and pro plans.
In addition to a theme, you need to have excellent hosting for your website. One thing that sets WPMU DEV's hosting platform apart, is that as well as having all the hosting features you'd expect – it also comes built-in with 7 pro WP plugins – covering performance, security, backups, and more. Get 20% off any of their plans here.
The Nokke theme uses the Elementor as a page builder plugin. As you know, Elementor is an all-time favorite drag-and-drop page builder over any other out there. Nokke comes up with so many features and premium plugins, making it a lot easier to make a website. You can easily create your website in just a few clicks by using their built-in templates and widgets. Nokke premium also offers Elementor Pro add-ons.

Some of the features of this theme are similar to any other paid themes like responsiveness, clean code, SEO-Friendly, easy to customize, drag-and-drop supported. However, Nokke provides some of the essential features that most themes lack. Let's see these features but first, see how to install this theme.
Nokke Theme Installation
Like any other premium WordPress theme, Nokke is also similar in installation. You have to go to Appearance -> Themes -> Add New -> Search 'Nokke' for the free version and install the theme. After that, you can activate that. If you purchase its premium version, you have to upload the files you are given to you after purchase.
Navigate to Appearance -> Themes -> Add New -> Upload themes. After that, you can install and activate the theme. As you are installing its pro version, you will be given built-in templates and demo templates as well. Choose the best suitable template that best matches your brand business to make your full website in 1 click.
Features
Nokke Elementor WordPress theme offers some of the best and unique features that enhance the functionality for the best user experience. Now, let's look into these features and find out how they will be effective for our business.
Premium Elementor Add-Ons
Elementor comes up with free and paid plans. You have a basic type of add-ons with basic customization options in the free plans. If you want to go advanced, then you need a premium plan. It costs you $49/year for one website. Thanks to the Nokke WordPress theme, you don't need to pay an extra amount of money for Elementor.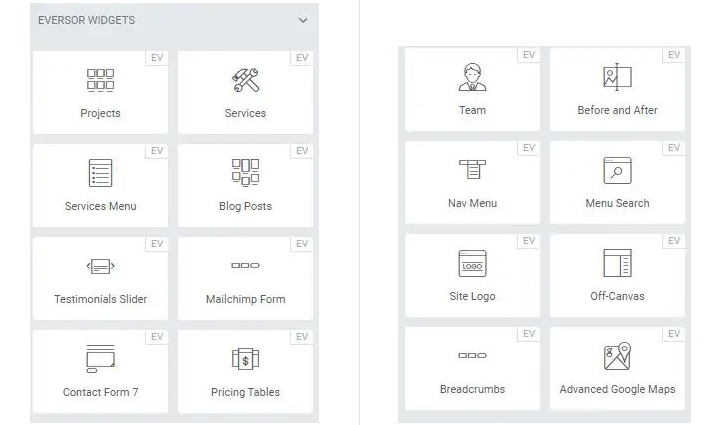 In addition, Nokke provides some of the premium add-ons, especially for WooCommerce. You also have access to other premium add-ons with full customization options. This way, Nokke not only provides features but also saves your money.
GDPR Notification Bar
If you have ever worked with WordPress, you may know that you need to install a plugin separately for Cookie notifications. However, with the Nokke theme, you don't need to install an extra cookie plugin.
All you need to do is to open the theme customizer. To activate the GDPR notification, navigate to Appearance -> Customize -> GDPR, and here you can edit the link and message and the button text.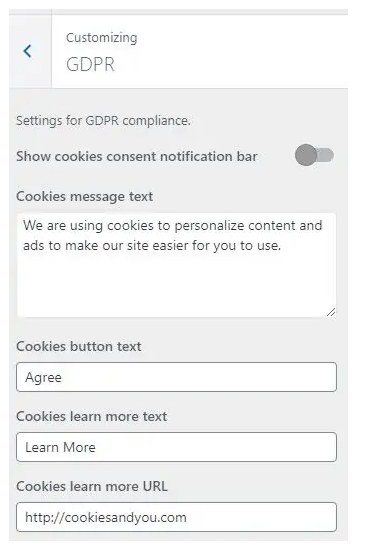 Advanced Custom Fields(ACF) Pro Plugin
ACF plugin is a premium plugin available both in free and pro plans. With the Nokke Elementor WordPress theme, you will get ACF Pro free of cost. Oh Really? Yes, you have full access to ACF premium and its premium features.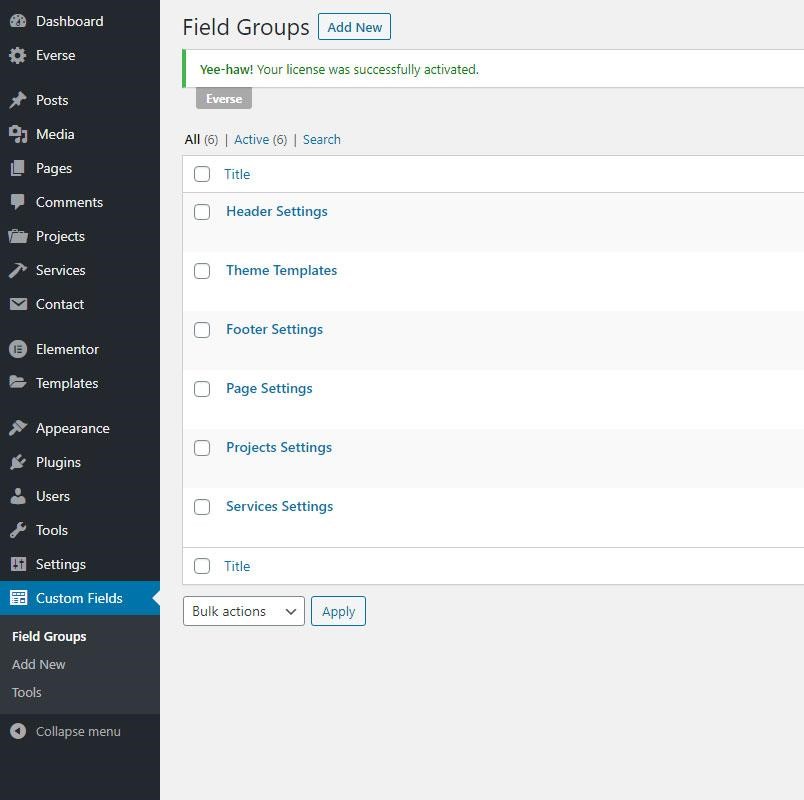 With the Custom Fields Pro, you can add custom fields anywhere on your website for displaying dynamic content. This plugin combines work with Nokke Core, the main plugin for the theme. So, install both the plugins and enjoy the best experience with the Nokke theme.
Slider Revolution Plugin
If you purchase the Slider Revolution plugin, it costs you $85/year. But what if I say you will get free of cost with this plugin. Surprised? It's natural. Yes, you will get pro access to Slider Revolution if you get a premium Nokke theme which is much cheaper than the plugin alone. That's insane!
Slider Revolution is used to make custom sliders, carousels with the features-rich visual editor. You will also have complete access to built-in premium templates of different sliders.
Nokke Custom Blog Types
The Nokke theme gives full access to blog page styling. You can create a native blog, Elementor blog, and the native one is basic. If you require general styling with necessary customization only, you can only use a native WordPress blog.
However, if you need more customization, go with the Elementor Widget blogs. To add the Elementor blog widget, you first need to create a new page, open it with Elementor and import the blog widget. You'll find the blog template in the theme folder that you received after purchasing the theme.
Click on the Add new button in the center of the page and then click on the import on the top-right corner. Upload the blog widget and insert it using the Insert button. Your new and stylish custom blog type is ready to customize.
Adobe Fonts Integration
Adobe fonts integration is a special feature for making an extra attractive site with custom fonts. Adobe Fonts integration allows you to use custom fonts from your Adobe projects.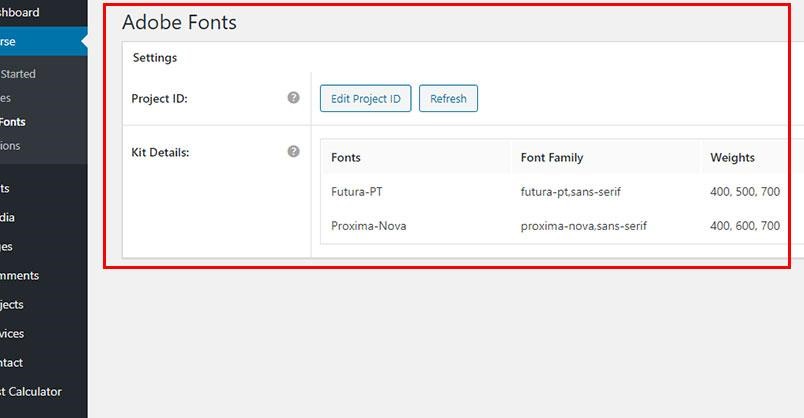 You connect your Adobe account to your WordPress website, and all the custom fonts are on your screen. Navigate to Nokke -> Adobe Fonts, and there you can paste your Adobe Project ID. And you are ready to use your custom fonts.
Translation Ready Theme
Some people prefer to use the WordPress website for their local businesses. Interacting your local language with your potential user is an excellent marketing tool. In some Elementor Premium themes, it isn't easy to translate the theme because the theme code is mainly supported in English.
In Nokke's case, don't worry about multilingual languages. You can translate Nokke into any other language you are looking for. For translation, you need a plugin. Thus, WPML is a great and widely used plugin out there for multilingual purposes. This WordPress theme is perfectly compatible with WPML.
Nokke Page Layouts
This theme offers different page layouts for your website. Choose the best suitable layout and create your website depending on your website niche. You can also select every page layout individually.
Similarly, you can choose posts as well. These changes override the global settings. So, you don't need to worry too much about the code and SEO.
Nokke Built-In Templates
Are you feeling tired of making your website from scratch? Don't worry! Nokke by DeoThemes does it for you. Nokke Elementor theme offers six different readymade templates for now. These are all fully customizable. You will get templates for the Agency site, Online store, Portfolio site, Demo site, etc.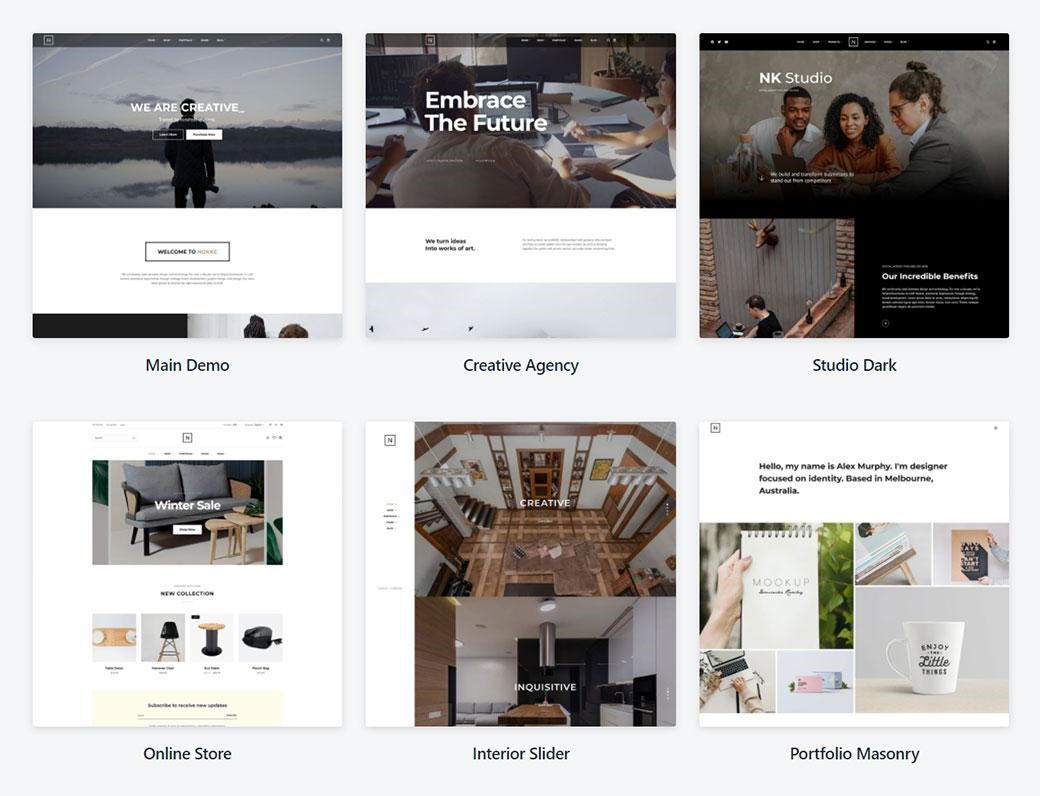 What if your website niche is something different? No big deal! You can adapt any of the templates in your site niche in just a few minutes. With the featured-rich add-ons of Elementor and complete customization in your hand, you can make any website quickly.
Nokke Header & Footer
You can create a beautiful header and footer. Nokke allows full customization options to the header and footer and a vertical header or more than one header. Many different header and footer templates help choose the best out of them and help you to create a fully branded website.
Pricing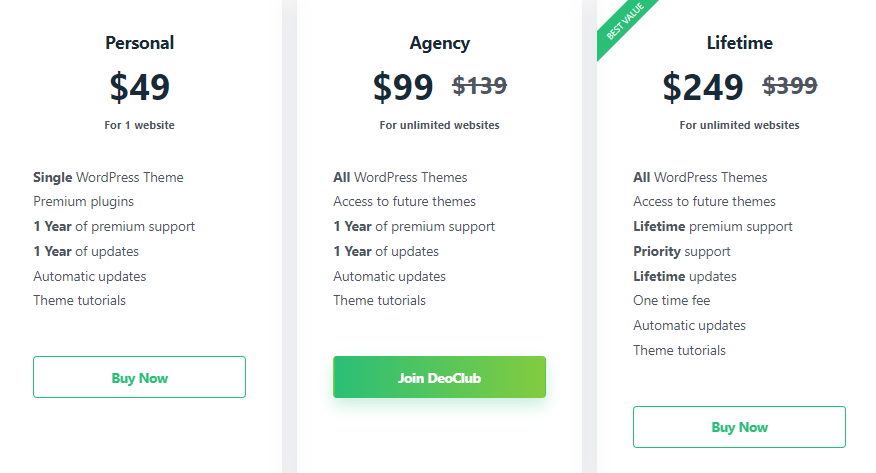 Most premium themes charge more money even if their features are limited. Thanks to DeoThemes developers, the pricing plan is reasonable. You'll get the Personal Plan for just $49/year for one website. The Agency plan charges only $99/year for an unlimited website. The Lifetime plan is yours for just $249 for a lifetime for the unlimited website.
Access to All Other Themes
As the Nokke Elementor WordPress theme is developed by DeoThemes, you can also find their other themes with the same pricing options. But if I tell you that you have access to all different premium WordPress themes with Agency and Lifetime plans. What's your reaction? Hilarious! Right?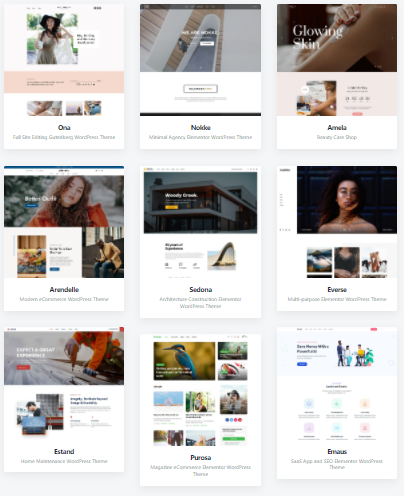 DeoThemes give all their users a bonus offer to use all the themes they have developed and developed in the future. You have to purchase one with the Agency or Lifetime plan, and all themes are yours.
WooCommerce Advanced Features
The Nokke theme is specially designed for e-commerce brands. You can get the built-in temple on the online shop and create your WooCommerce website in just one click. There are also Elementor Premium Widgets for WooCommerce.  If you are looking to make the WooCommerce website from scratch, you can do it with Elementor premium add-ons.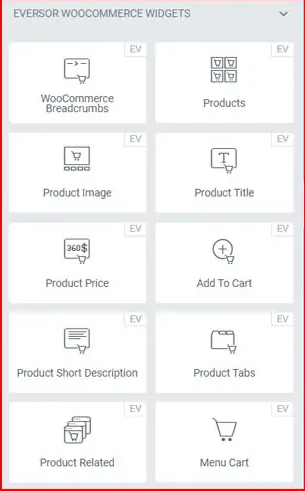 There is a section with the name Eversor WooCommerce Widgets. There is all you need for any online store. From product title to description, product price to images, product price to review, related products, all are here in the form of premium widgets.
Conclusion
It's a lot easier to make a website using WordPress. But as I said, one thing comes, another thing goes. The same applies to WordPress. With WordPress and its different plugins, you can make the website easily. But it affects your website speed-time and ultimately your website SEO.
Thanks to Nokke, you don't need to install and integrate extra plugins to your website; all the critical functionalities are appropriately combined to use the theme better. You can create your website using this multilingual WordPress theme, whatever your website niche.