If you have a website full of content, it's imperative to have all of it in some order. The organization is the key because there is no point in having a website full of the exciting content of no one can find the specific part they were looking for.
If a website is unorganized and all over the place, visitors will find it hard, or maybe even impossible, to navigate, which can create the same problem for the website owner. The easiest way to solve this is to install one of the menu plugins for WordPress.
There's a variety of free and paid plugins that have all been designed to give users more options for their website's menu and make their website easier to use for its visitors. In addition, WPMU DEV's all-in-one WordPress platform combines multiple tools and licenses into one – allowing you to save money and streamline your development workflow. Get 20% off any of their plans.
1. Max Mega Menu

Max Mega Menu is the most popular free menu plugin available for WordPress. If you're looking to customize your website menu without having to pay for a plugin, Max Mega Menu is the way to go. After you've downloaded this plugin, you can start adding all sorts of widgets to your website menu to make it more functional for its visitors.
Max Mega Menu won't disappoint you if you're looking for some control over how your menu will look. You can use plenty of free features to rearrange your menu content and layout easily and modify the appearance, text, colors, and all other visual settings.
Other features you can add to your site navigation areas include hover triggers, flyouts, and fading menus. You have complete control over those animations and styling features to ensure they're working how you want them to work. Also, you're in charge of how your menus are displayed on mobile phones and other devices.
2. UberMenu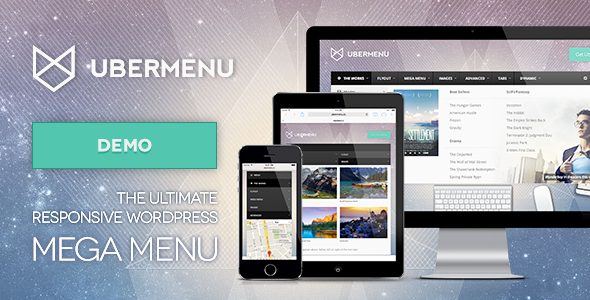 UberMenu is one of the best WordPress menu plugins. It was carefully developed filled with a range of excellent features that can help anyone organize their website.
It contains many pre-built menus you can choose from, but if none of them are in your style, there are a lot of features that will help you customize it however you want. It's effortless to use and allows everyone to quickly make an excellent website menu.
Features:
Built-in, individual layout controls for every item on the menu
Fully responsive and also has a touch interface which unifies user's experience with mobile OSes
UberMenu lets you use visual references to help your visitors navigate your website quickly
Includes a lot of pre-made skins and a live preview of your menu style
UberMenu enables you to add any widget, HTML, or a short code to your menu
Organization of all of your submenus into tabs
3. Superfly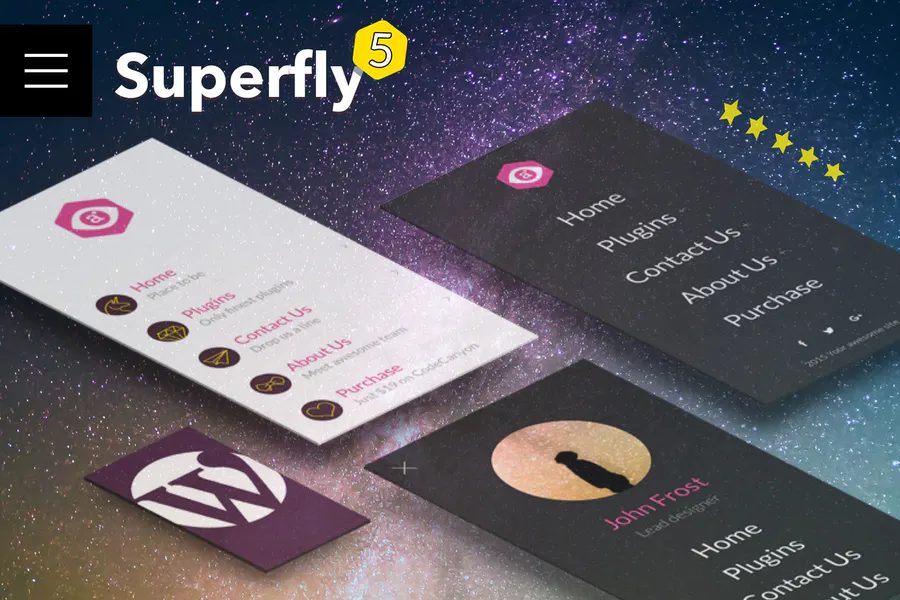 Superfly is also one of the most popular responsive menu plugins for WordPress. It generates space-efficient vertical navigation or icon toolbar of your choice. It can be used as single navigation or a part of your main menu.
Moreover, it's packed with exciting features which can help you create the ideal menu for your website. You can make multiple level menus through Superfly settings, each displayed in an extra flyout panel. You can also show a contact form and make it easier for your visitors to contact you from other social media platforms.
The best thing about Superfly is that you can generate a space-efficient vertical navigation menu that will make your website super easy to use, and it will look organized. Everything is mobile responsive, so your smartphone visitors can see the same menu as your desktop visitors.
Conclusion
Don't waste your visitor's time. Make a fantastic, interactive menu for your website and grow your business. A great website is one of the critical elements of a prosperous business, and an organized menu is an essential part of the website itself. There is a plugin for everything on WordPress, and all of these plugins will help you create the best version of the website you want.