It is no secret that nowadays, social media plays a massive role in the succession of any business. People are more likely to search your business on Facebook and Instagram, especially Millenials and Gen z. No matter how big your business is, newbies must establish a solid social media presence. That's how you can reach the organic audience you need to flourish.
However, you need to take care of tons of platforms, and managing them can be a nightmare if you do not know how to do it.  Imagine just going to log in to every platform, write a post for each of them, schedule them, and so on. Would it be time-consuming, right?
That's where social media management platforms come to save the day! We are in for a quick but informative ride!
But before we proceed, a quick recommendation. WPMU DEV is an all-in-one WordPress platform that combines multiple tools and licenses into one – allowing you to save money and streamline your development workflow. Get 20% off any of their plans.
1. Zoho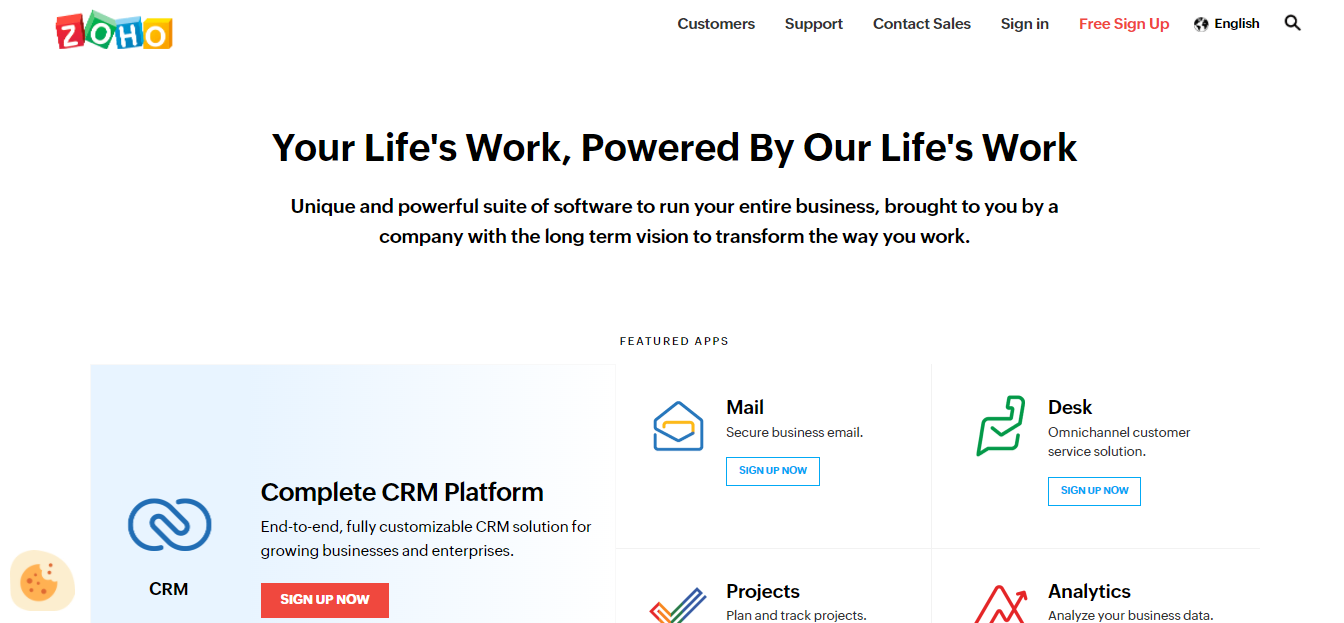 The first tool on our list is Zoho. This one is an all-in-one tool that will help you manage emails, projects, webinars, and social media platforms right then and there. It is trusted by more than a 70million people worldwide, so there must be something special about it!
Integrating it with all huge social media networks is possible, so do not worry about that. However, the thing is that if you do not want the complete all-in-one management, you can only buy the management software separately.
2. MeetEdgar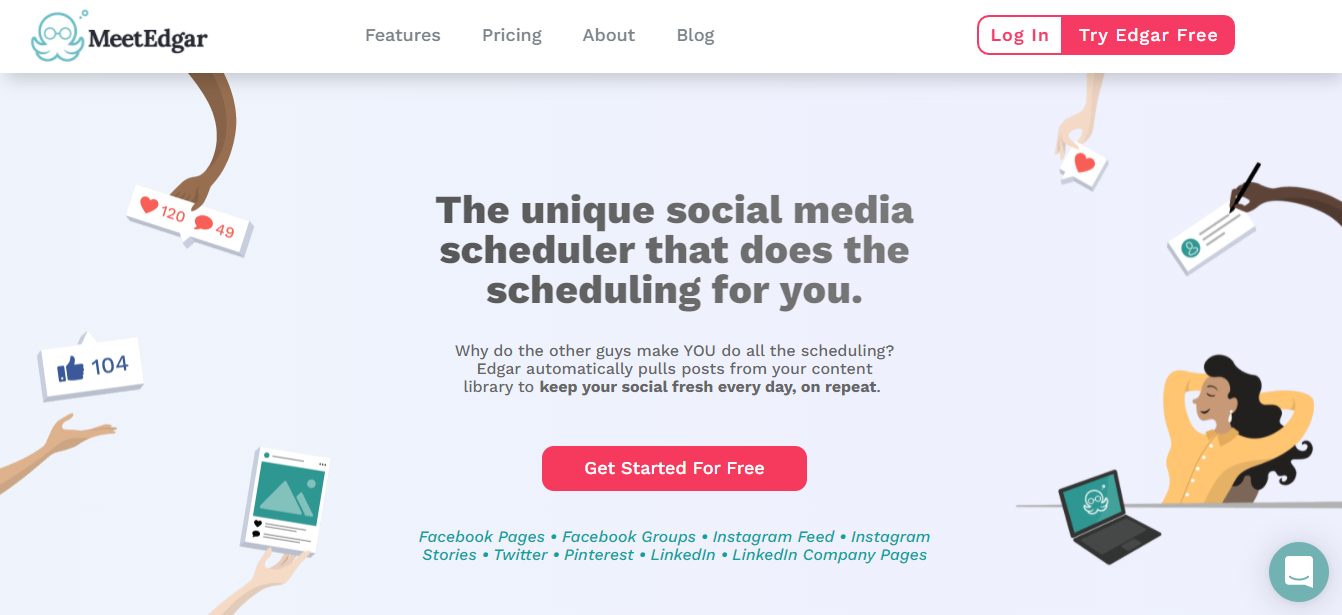 MeetEdgar is our second pick for this list, and you need to meet this particular guy for sure! This one is a perfect tool for automation and scheduling features. MeetEdgar stands out due to its automation and scheduling features. They even offer continuous posting, which means they will automatically curate and reshare relevant posts on your social media accounts.
It also lets you generate your posts by using an extension for your browser, and it helps with setting up category-based scheduling. MeetEdgar will help you save time, effort, and continuous posting on your platforms that will result in significant engagement to your audience.
3. EngageBay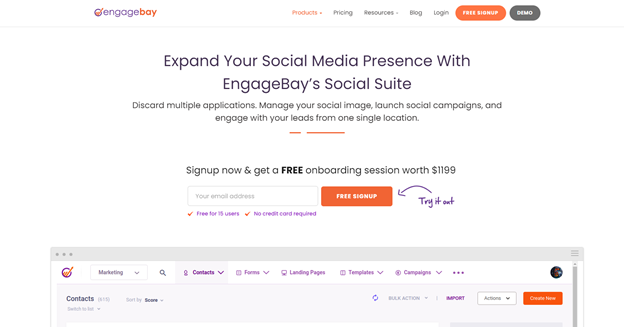 EngageBay – an all-in-one marketing, sales, and customer support software that comes with integrated CRM for free. This software solution strives to combine multiple tools related to the customer journey into one comprehensive package.
Included in this is social media management. EngageBay's 'Social Suite' helps you manage multiple social media platforms such as Facebook, Instagram, Twitter, and LinkedIn from a single window. It allows you to interact with the audience, answer queries, resolve issues, launch promotions, keep them engaged. All in all, it is a great way to build your presence.
With EngageBay and its option to add Streams, you can track your Twitter mentions and retweets, Facebook posts and tags, and Instagram posts.
It also has a Scheduler feature that allows you to time your posts and tweets for maximized reach intelligently. You can schedule numerous posts across different platforms with ease. Plus, you can automate your customer acquisition strategy by capturing leads and adding them straight to your CRM database.
Lastly, using a process called social listening, you can also see what your audience is searching for.
All in all, with EngageBay, you will stay on top of your social presence.
4. Loomly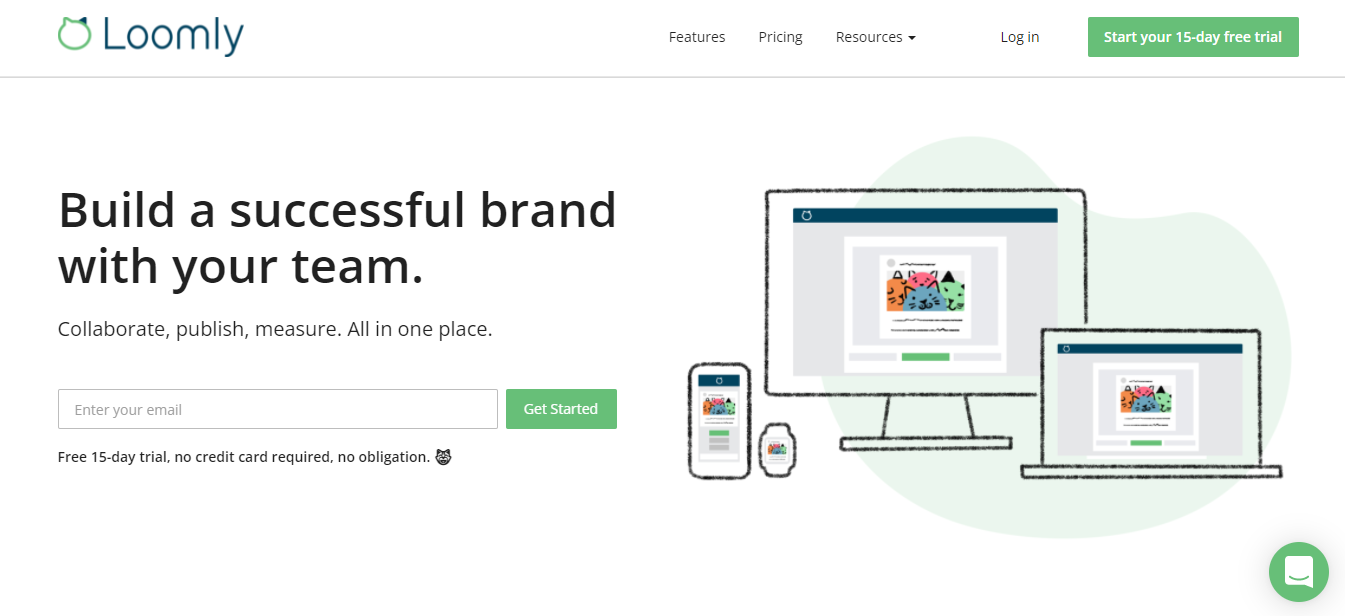 The third tool that we have for you is by the name of Loomly. This little helper is an excellent platform for massive team collaborations. You can team up to 26 people, which is more than enough for any business.
Their plans include essential features such as post preview, targeting, analytics, and automated publishing. You will be able to manage and share all your socials in one place, and it comes with real-time optimization of posts.
5. Buffer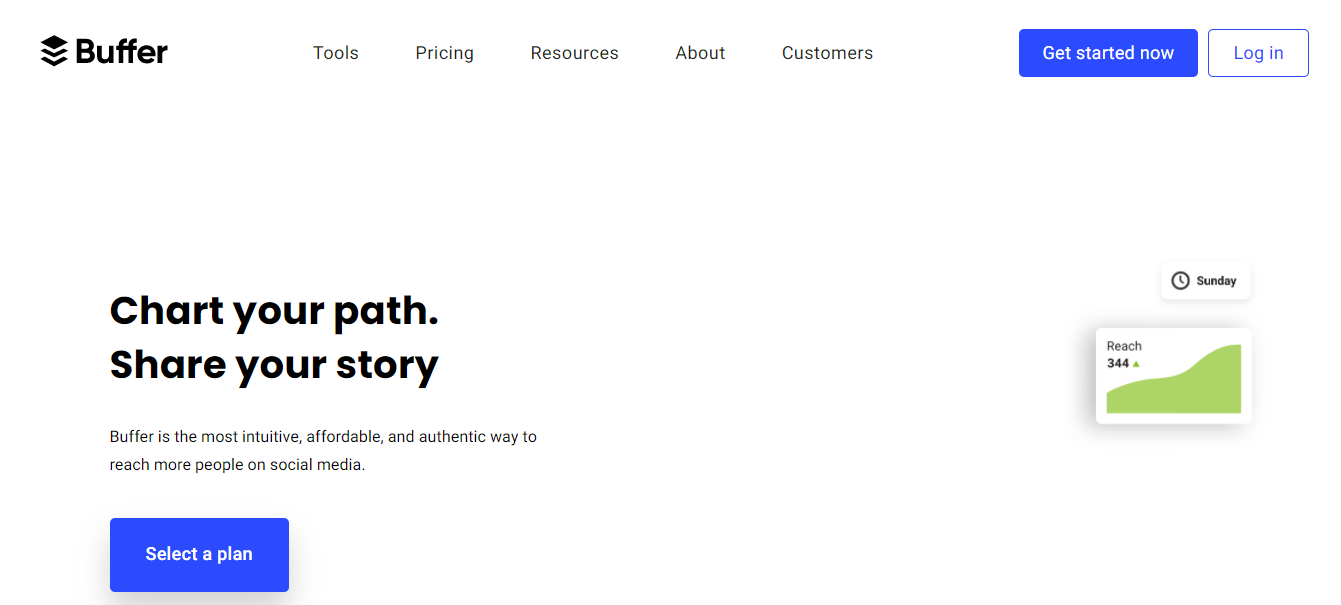 Buffer places at the fourth spot on this list. It is one of the most affordable tools that start at just $5 per month, excellent for any small business. The only bad thing about this one is that it doesn't have many integrations available.
Still, it has all the important ones such as Instagram, Twitter, LinkedIn, Meta(Facebook), and Pinterest for a small business. Besides, it has a 14 days trial where you can access three social channels and schedule up to 10 posts and see how the tool performs.
6. SocialPilot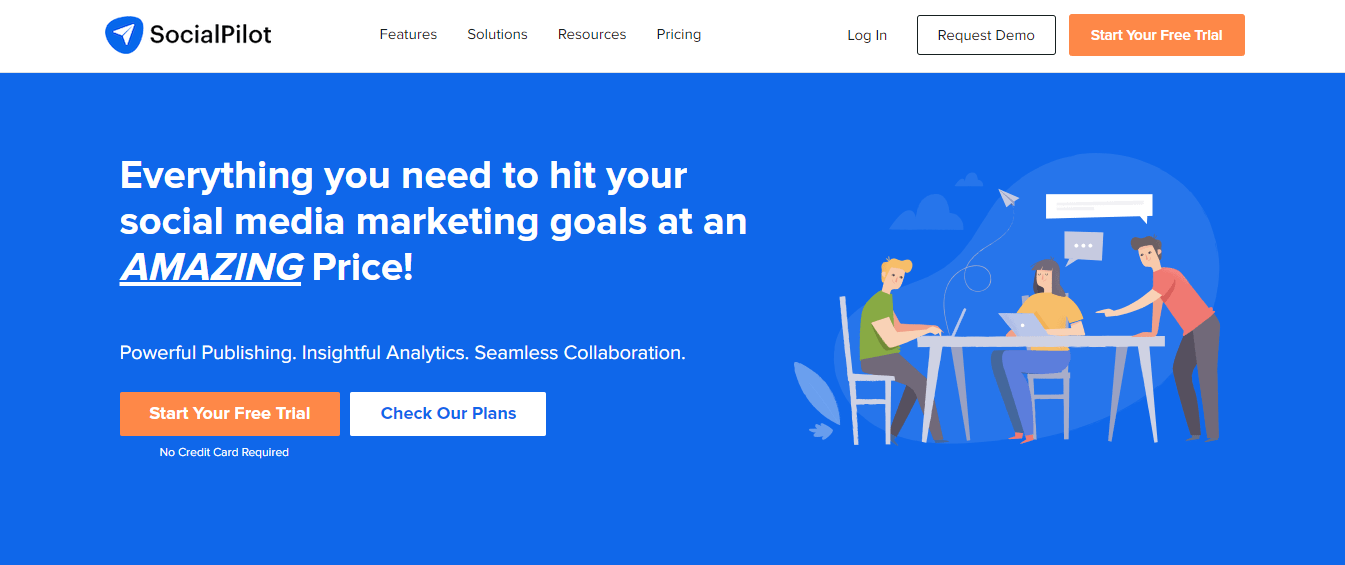 The last tool on this list is SocialPilot. We saved this for last because this one is perfect only for Small Teams. By that, we mean to team up to 3 people.
It has a lot of plans available, but all of them come with features such as bulk scheduling, unlimited scheduling, browser extension, and customer support. Of course, you get to have more users, overlook more accounts, manage meta ad accounts, and some unique features with higher plans.
Final Words
In the end, we can say that managing more than one platform can be an absolute nightmare. These kinds of tools will quickly become one of your favorite ones ever! That, of course, you can avoid having a social media tool.
Schedule, automate, track, see what is happening across all platforms, promote your Morocco event, and boost your engagement without any trouble! Think of these tools as your project management solutions for social media. It will help you for sure, so don't hesitate to try it out and see it for yourselves!