We know that you care about making your users' experiences better. If you want to help yourself and Google to focus on specific information on your website and the number of views of your website, you are in the right place. In just a few clicks, you can improve your connection with your users on your website.
We are sure you are wondering what exactly do you need for it right now? External links are one of the elements you require for it. External linking is the simple term for when another website refers to your website. Consider external links to influence search engine results more than other connections.
The great thing is that it is possible to modify each link separately. However, average sites have thousands of links on them, and it is almost impossible to change the settings of each link manually. That is why we bring you the answer to How to Modify External Links in WordPress?  
WP Links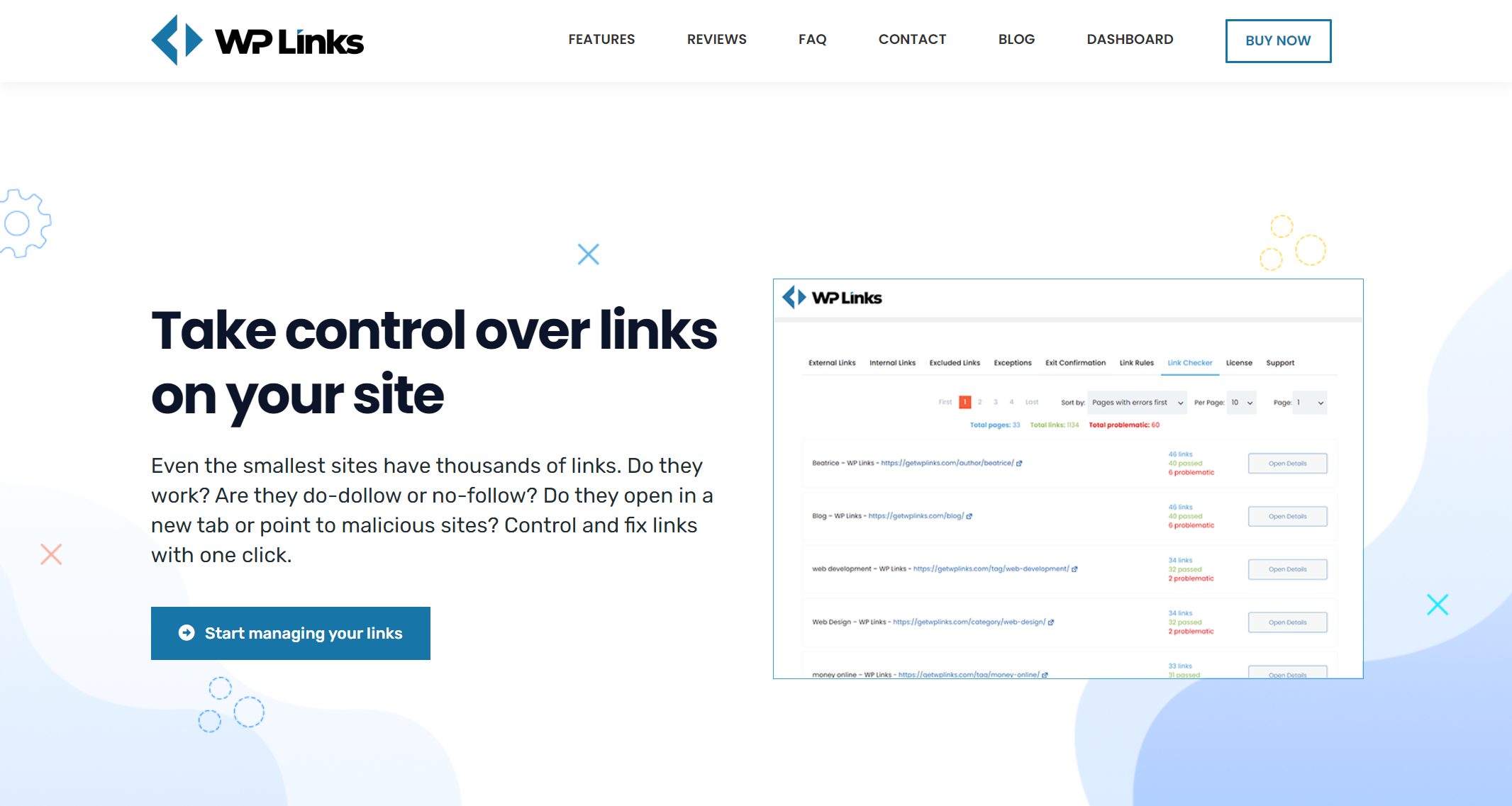 This extremely simple-to-use plugin is here to assist you with all the above. From the user experience to the external links on your website, everything that is important you will find there.
But it does not stop there. You will benefit from WP Links in various ways, which you can learn more about below. With this fantastic plugin, we hope to have whetted your curiosity just a little bit.
External Links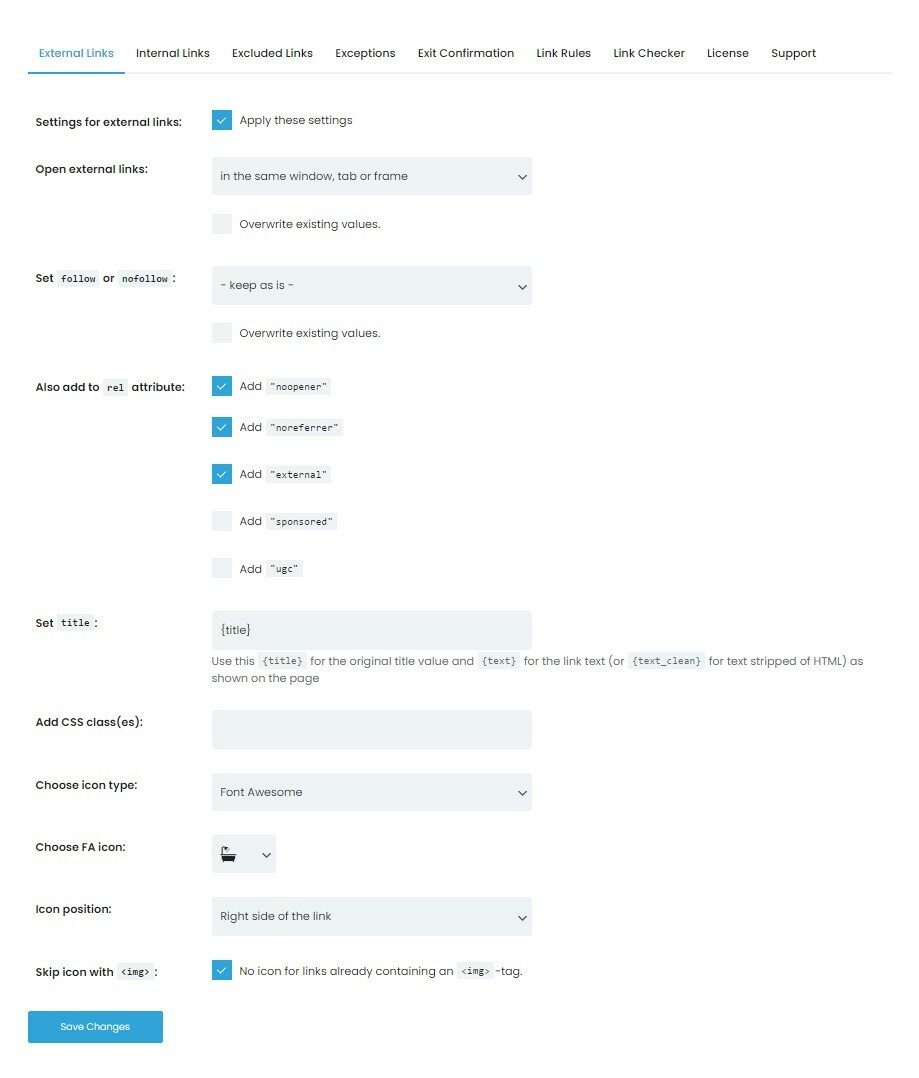 Initially, the external links feature includes a single dashboard where almost all your trademarks, licenses, domains, and payments are grouped inside one location—because of this, using this option will provide you with a huge amount of time and save your frustration if you need to organize things.
The biggest problem is the sheer volume of links they might have to deal with simultaneously. However, you can choose whether you want all options applied to all links or only to the specific ones you want. It is great because you have complete control over everything on your website, and we are sure that is exactly what you are looking for.
You can add different rel attributes to links and more than one. In addition, you can put titles for links, add CSS classes, and choose special types of icons or FA icons and their position. This feature offers everything and will certainly be a bit overwhelming at first, but you need all of this to set up external links.
Exit Confirmation Tab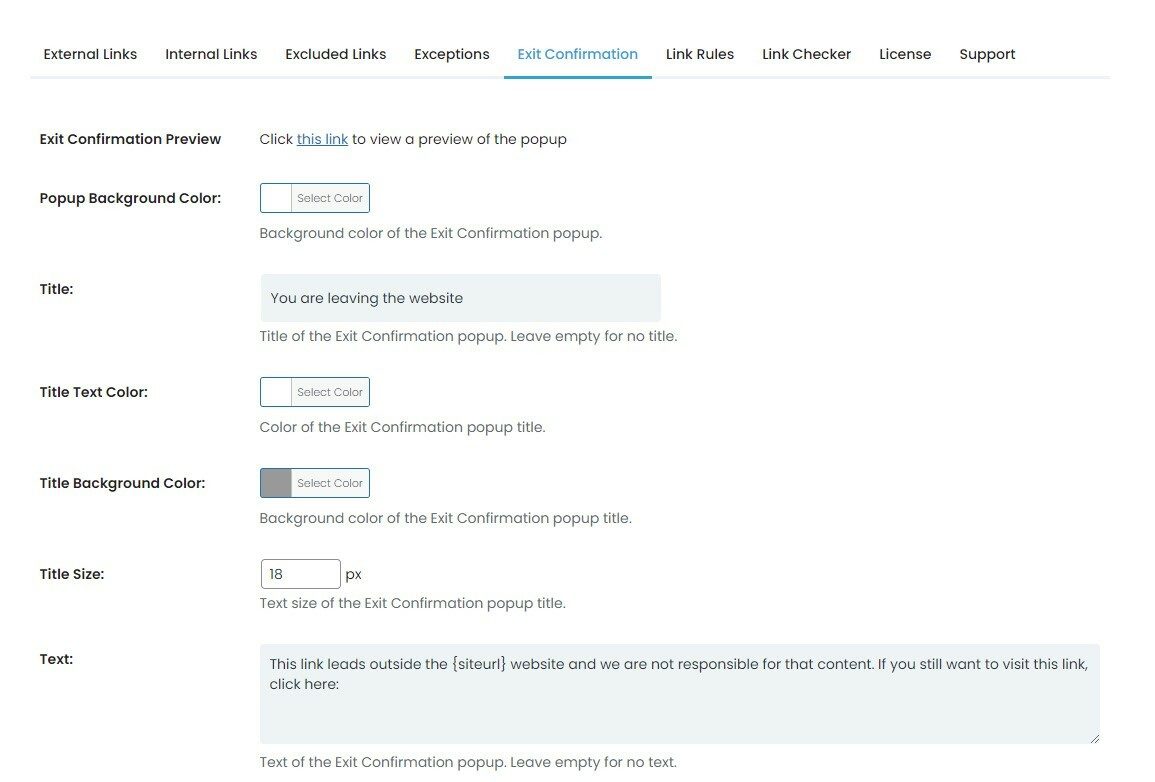 The exit confirmation tab is the next feature we would like to highlight as we are sure you will like it just as much as the previous one. The biggest problem is that you do not completely control where external links appear and are displayed. Because of this, you need to keep in mind that you need to secure your website through those outbound certificates.
However, these links do not appear immediately when exit confirmations are used; elsewhere, a popup warning appears in the language you can specify. Using them, you can protect yourself and anyone from possible dangers and harmful links that could appear anywhere and at any time. It is truly one of the features every WordPress website should have, and so should you. Being able to replace outdated or broken links means that one act of carelessness will result in many problems.
You can change the color of the popup background, the title, the title's text, and the title's background color. If the title size is too small for you, you can easily increase it and adjust it to exactly what you want. In addition, you can customize your exit confirmations and see them before you publish them so they are visible to everyone.
Link Rules

The last thing we would like to point out is the Links Rules. Trying to promote specific items? Here you will be able to set different rules just for that. You can create a rule using the information specified here in any way. Here, in just a few clicks, you can add certain words or icons that will be associated with your link and add as many rules as you want.
In addition, links to specific keywords can be recorded by the plugin, which can then be used to establish the above rules that suit you. You will be able to instantly produce a visual for every link and the URL if somehow the URL contains the word "kitchen" as it will be recognized.
When used in combination, all three features will empower you to edit external links on your WordPress website. All you have to do now is try them out for yourself.
Conclusion
The popularity of every website depends on how well existing links are maintained. After reading this post and seeing what WP Links offers, we hope you have a firm understanding of why you need this plugin on your WordPress. Search engine optimization is managed by links, which is also the main factor in improving website ranking.
It allows you to use the links on your website in various ways and provide your visitors with a wonderful experience. It should also be noted that you can accomplish all of this without any previous knowledge of coding, which is an added benefit.