It may be pretty intimidating to consider all the work that social media marketers have to perform daily, from content production and publishing to analytics and reporting. Social media marketing is more complicated than it appears at first look.
It's not only about publishing business-related information regularly. If you truly want to profit from the usage of social media and build a dedicated following for your company, you must always be present on your profiles and consistent in your updates. Fortunately, you have many excellent social media management solutions at your disposal.
Many solutions are available to assist you in managing your social media platforms easily. These tools can help you optimize your operations, save time, and even ensure that your material is delivered to the correct audience at the right time. It is critical to track the effectiveness of your campaigns and analyze the results gained, all with the goal of better directing the effort and resources invested.
1. Postly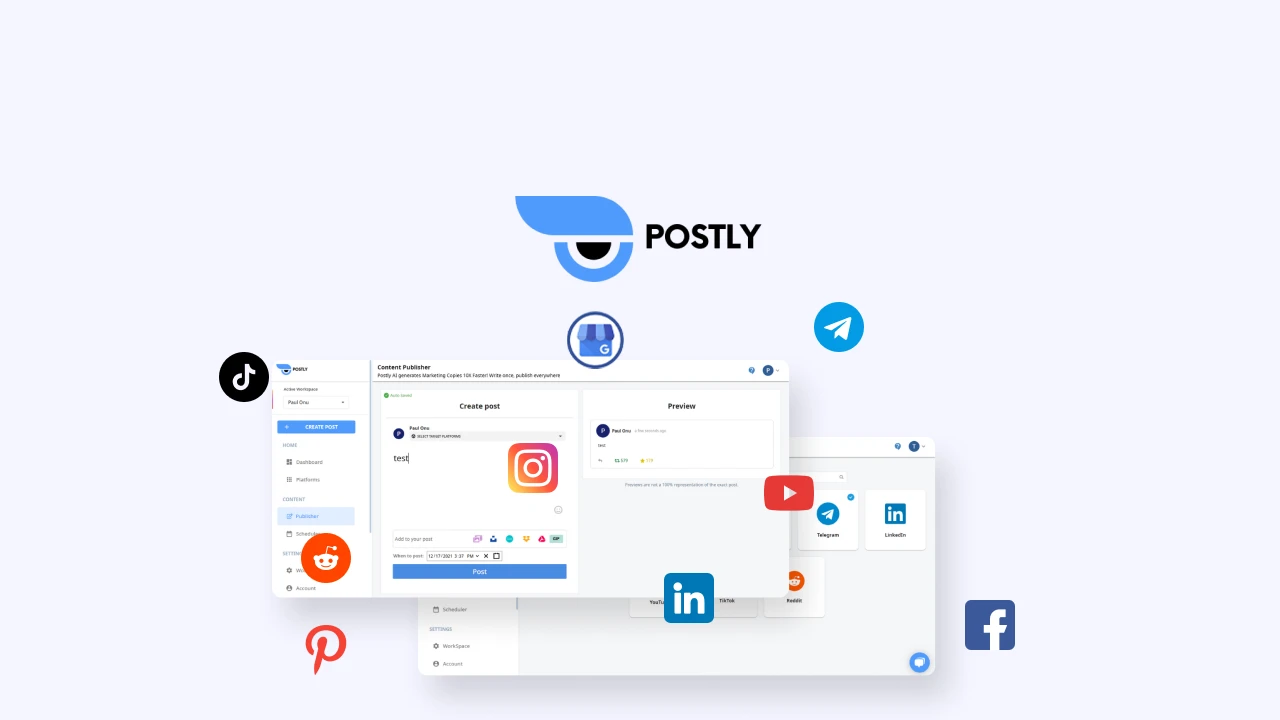 Postly is an artificial intelligence-powered social media management tool. It can help organize, interact, and post content on all prominent social media channels. Postly makes it simple to work with your team, plan content, examine analytics, and discover more about your audience.
It has a simple-to-navigate dashboard. You can be more efficient and prepare weeks of content ahead of time. Manage, organize, arrange, and publish your social media content across all channels in one place. This is an excellent substitute for Buffer.com, Hootsuite, and other similar social media management tools. It is simple to use, requires no installation, and has AI market data, collaboration, and a stunning UI/UX.
That is one feature that makes it stand out from all the other similar tools. This social media management tool is ideal for freelancers, entrepreneurs, smaller companies, and agencies looking to expand without losing too much time and energy. It can help you use your social media platforms to the fullest.
2. Hootsuite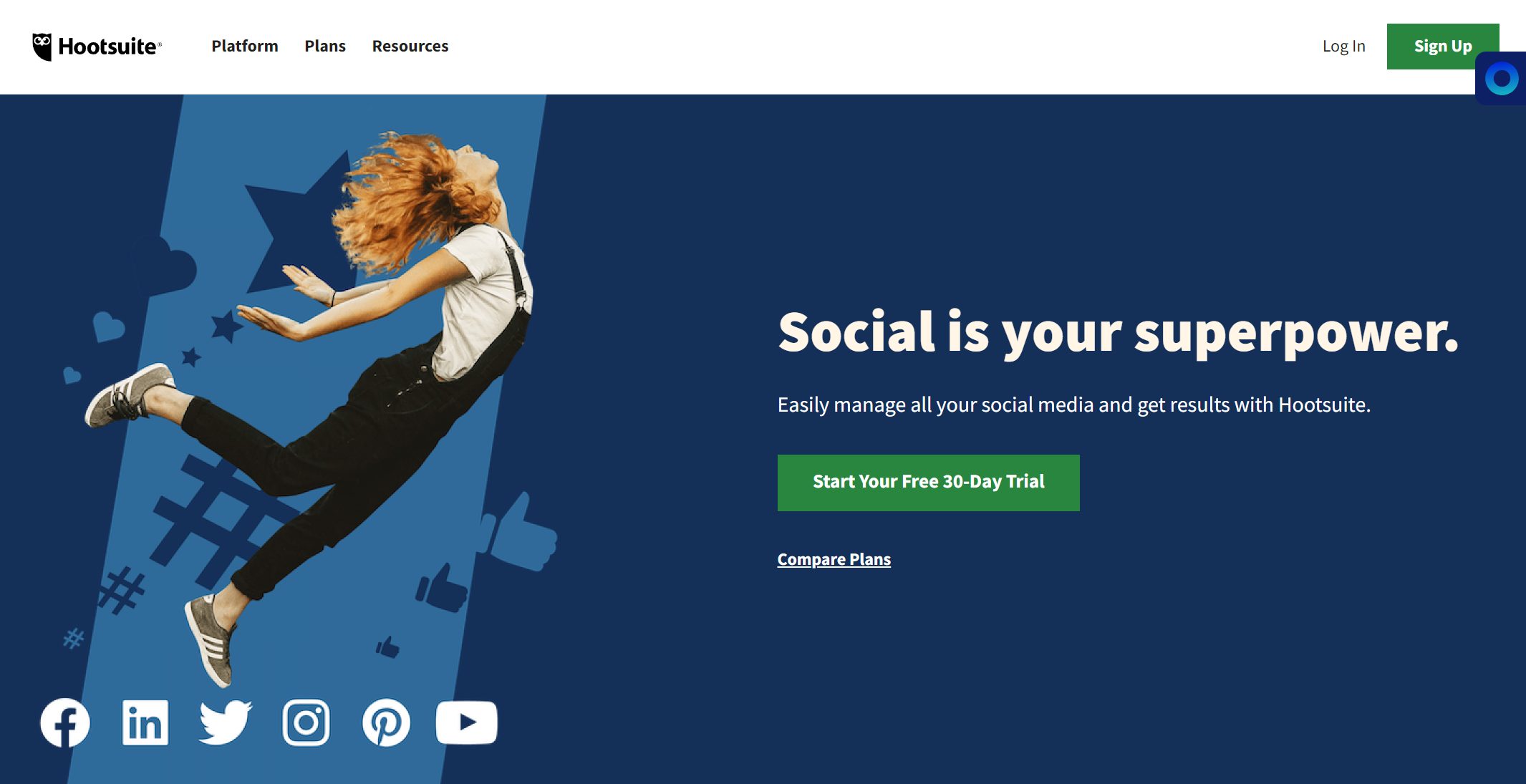 Over 15 million people use Hootsuite, possibly the most popular social media management platform. There's a reason for their success. It's an all-in-one platform that allows you to curate and plan content, monitor ROI on social networks, and offer advertisements.
Hootsuite is a free application for managing social networks that is both effective and popular. People like Hootsuite because it's an all-in-one platform that allows them to track numerous keywords and keywords, connect to over 35 social networks, and plan social postings together.
3. Mention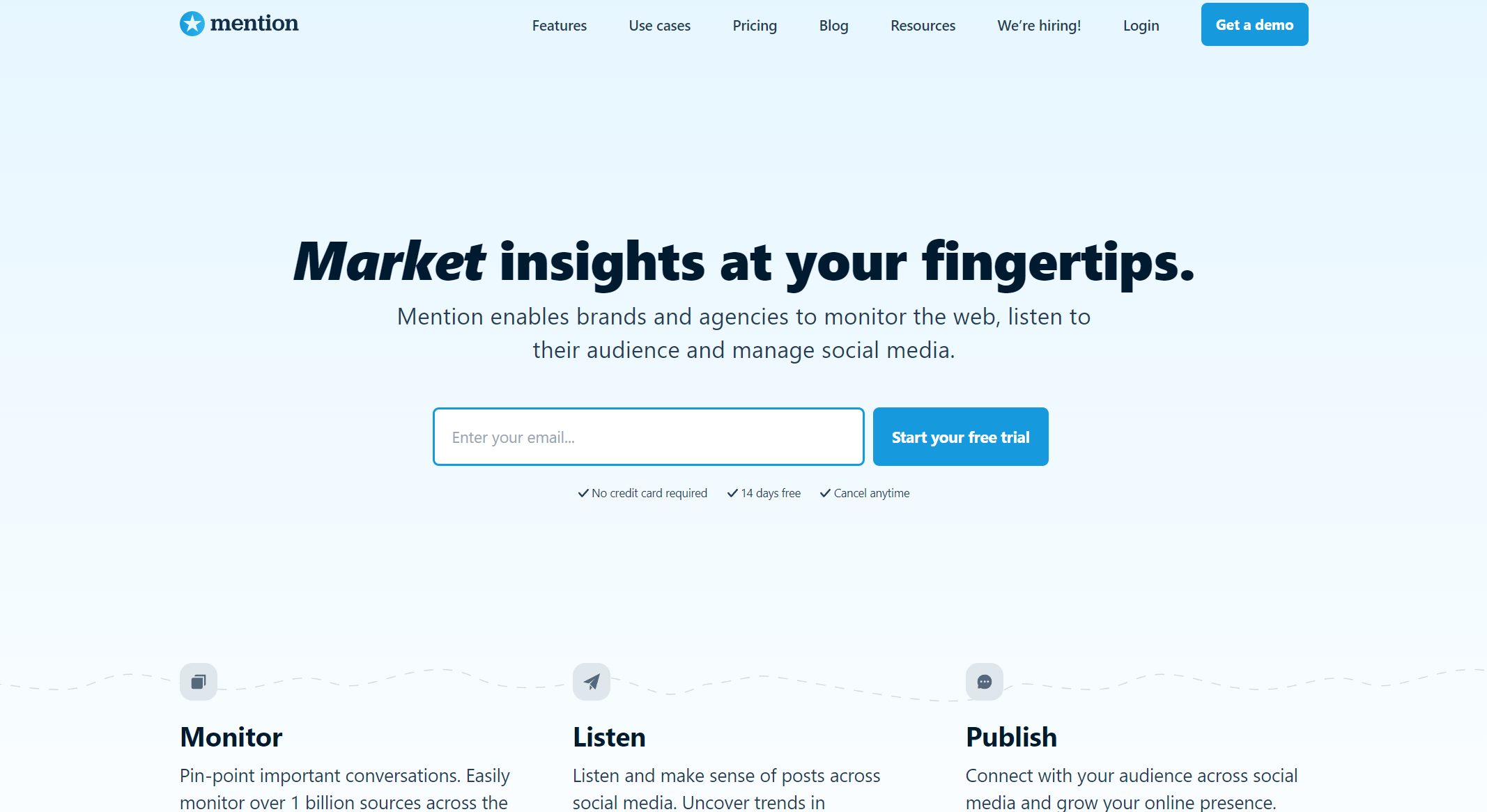 This tool functions similarly to Google Alerts. However, Mention does not warn about news and information connected to specific keywords. Still, it does provide the option of following over 80 social channels, including Facebook, Twitter, LinkedIn, YouTube, Pinterest, and others.
You can choose whether you want daily or weekly reports on the selected keywords during that period, which you will receive via e-mail. This feature can also be included on your website. Mention measures your brand's influence based on the frequency, variety, and persistence of its mentions on social networks.
4. Addict-o-Matic
Addict-o-Matic is a straightforward tool you can quickly incorporate into your social media marketing strategy. You can use this tool to look for new subjects currently trending on the Internet or follow channels where your brand is referenced.
This search tool will monitor sites such as Facebook, Twitter, WordPress, and Flickr for mentions of keywords that are relevant to you. Addict-o-Matic is an excellent tool for actively monitoring social media situations and discovering new subjects to discuss with your followers.
5. Socialbee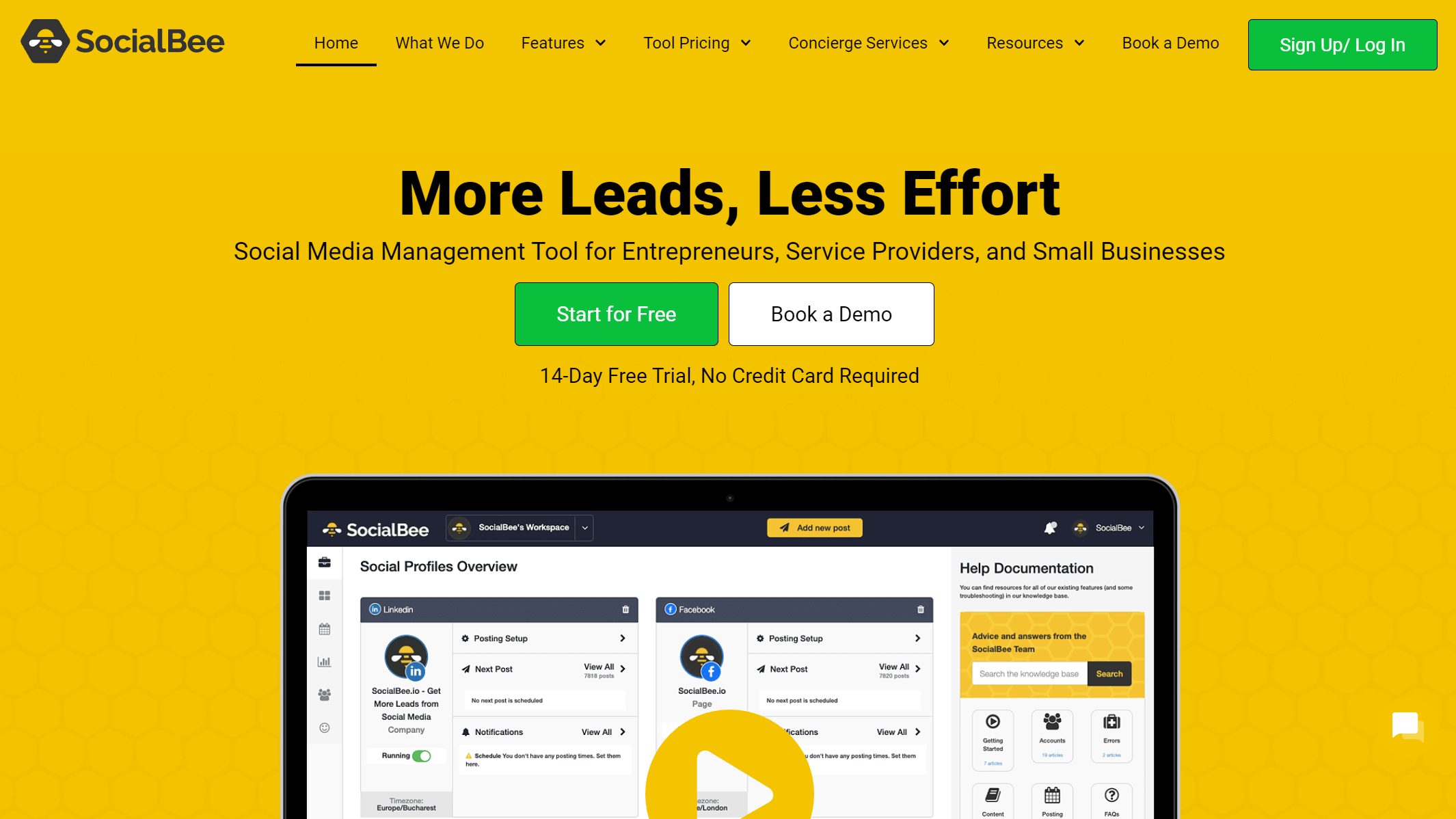 Sociablee is a social media management application that claims to generate more leads with less work. Its basic features enable users to add, organize, and share material across many social platforms from a single location, including Facebook (Pages, Profiles, Groups), Twitter (Profiles), LinkedIn (Profiles, Pages), Pinterest (Boards), Instagram (Profiles), and Google My Business.
It's even compatible with Buffer. The ability to recycle evergreen content while keeping it fresh through post changes is one of SocialBee's most popular features. You can use SocialBee to post regularly while maintaining a balanced mix of information in each area. Furthermore, the quality of support is a significant asset of SocialBee.
6. Post Planner
Post Planner is designed to assist social media marketers with three main tasks: finding high-quality content, planning the ideal posting calendar, and posting consistently. It processes and assesses content ideas and allows you to construct schedules depending on content (more below).
Post Planner's Identify function makes it extremely simple to find content that has been shown to engage people. In addition, rather than simply selecting time slots in your schedule (to shape your sharing plan), you can choose a content category for each time slot, and Post Planner will fill the slots with the desired content. You can also schedule posts that are not part of this plan.
7. Tailwind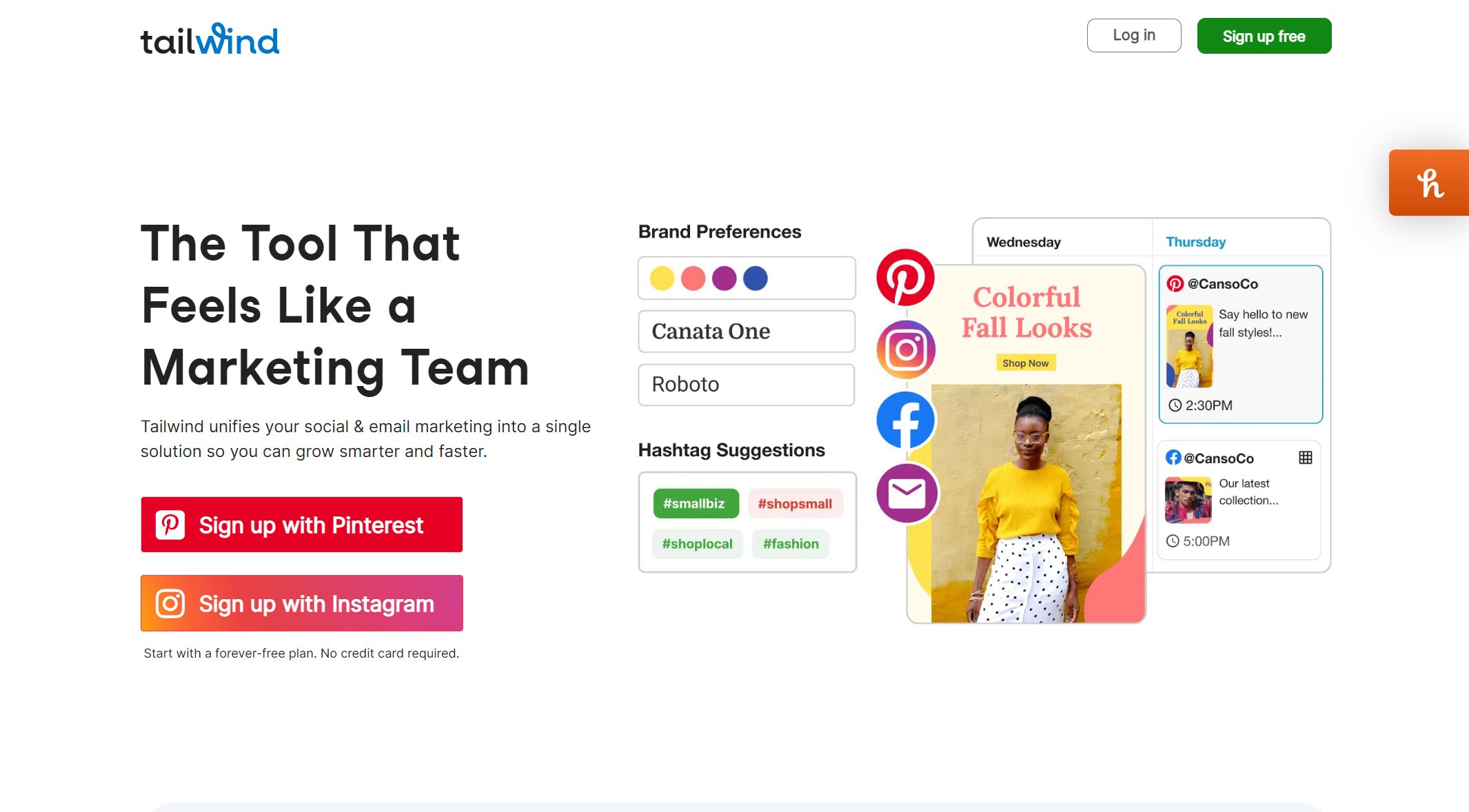 Tailwind is one of the most popular Pinterest and Instagram social media management platforms. Tailwind can help improve your Pinterest and Instagram success and assist you with scheduling posts, tracking conversations, and measuring results.
Tailwind is ideal for Pinterest and Instagram marketers because it offers capabilities tailored to these visual platforms, such as Pinterest content promotion and Instagram UGC content management. Tailwind was designed to be completely adaptable by developers. It has a default configuration that you can easily alter in your project's tailwind.config.js file. This file allows you to change everything from the colors to the space and fonts.
Summary
Social media management tools exist in various sizes and forms, and what works best for you is determined by your social media goals and needs.
I hope I was able to recommend at least one tool that would be useful to you. Postly has some of the best features to help you and your brand get noticed on all social media platforms.