WordPress is a great platform for making websites, offering many possibilities and varieties for unique websites. Choosing the right WordPress theme with its features can improve your business and website traffic. Yet, customizing WordPress themes can be challenging for a user without any coding skills.
That is why there is Drag and Drop WordPress Page builders available. These WordPress plugins offer a simple editor over which you can drag and drop different elements to create a custom website. In addition, it helps with creating unique WordPress layouts and landing pages. Many popular builder plugins can help you improve your website.
In the next paragraphs, we will mention the top five free drag-and-drop WordPress page builders.
1. Elementor Website Builder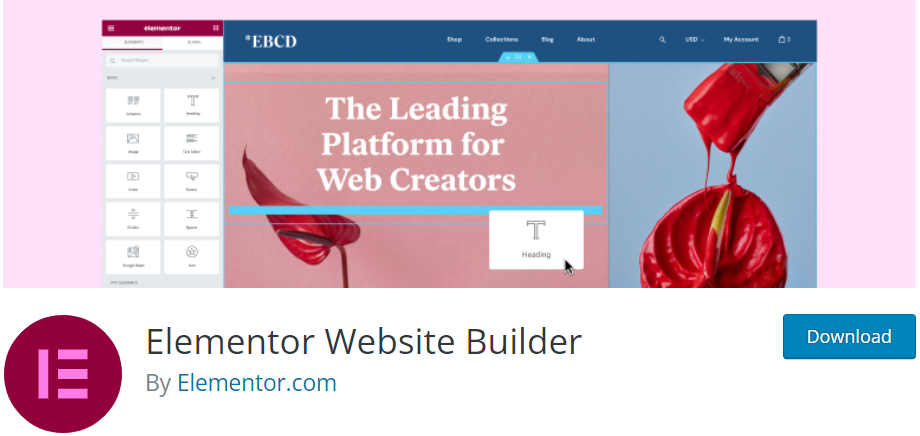 Elementor is a simple, powerful website builder plugin with over 5 million satisfied users. It is for beginners and developers who want to try something different. It has an intuitive drag-and-drop editor, which guarantees advanced and unique design.
Elementor shows fast and instant results. It features live design and inline editing that allows users to drag elements over the page and track every change simultaneously. Plus, it allows users to make changes fast without the need to slow loads.
This plugin has predesigned templates which are customizable and can be included in any WordPress theme. With it and its exclusive toolset, you can ensure that your website is responsive and perfectly visible on all devices and sizes.
2. Page Builder by SiteOrigin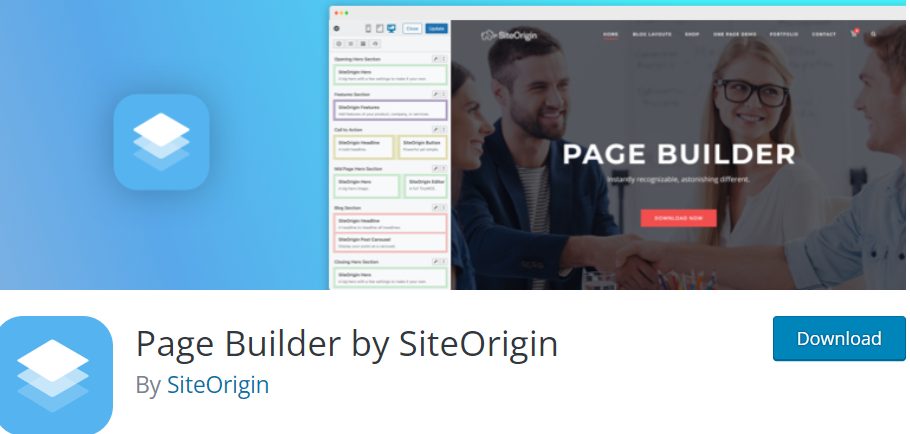 Page Builder by SiteOrigin is one of the most popular website builder plugins for WordPress. It has over 1 million users, and its network keeps growing. It has a very simple interface with available building blocks, making website building simple and easy.
Its interface lets you drag the wanted element and drop it where you want on the webpage. It does not require any coding skills, yet it creates well-organized and designed web pages and layouts. In addition, it is flexible and applicable to any WordPress theme.
SiteOrigin plugin offers live editing, and it shows changes while you are making them. It helps you easily see how your content is adjustable to the new setting. Also, the plugin allows you to see all webpages changes and updates you made before. You can add as much as you want building blocks. Finally, you can add your custom CSS to make your website more special if you have coding skills.
3. WordPress Page Builder – Beaver Builder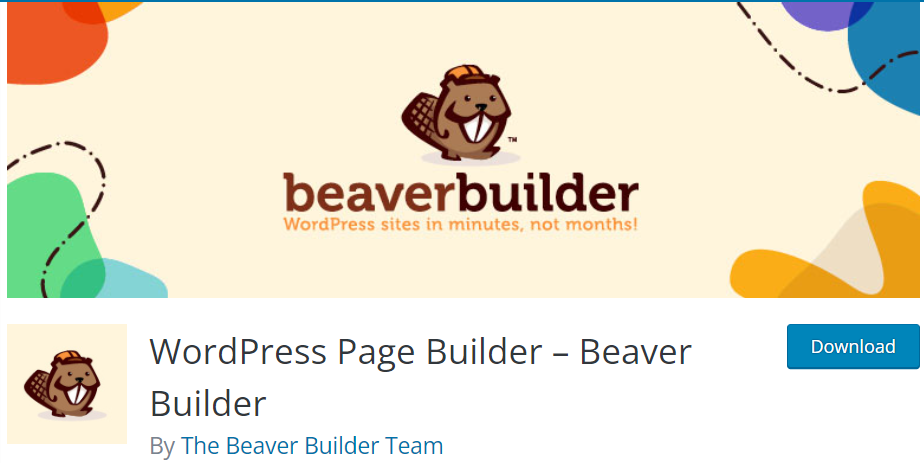 The Beaver Builder is used among beginners and professionals who want to work with simple and flexible drag-and-drop page builders. It has a very simple editor that offers all major and important content modules and blocks. A user can drag them over until the perfect spot is found.
Those blocks are professionally positioned, emphasizing the focus on the website. The Beaver Builder offers many customizable templates which make your website unique and stand out. Also, you can add your CSS or include other WordPress widgets for more professional design. If created with this builder, your website will be responsive and perfectly displayed on any device.
4. Page Builder Gutenberg Blocks – CoBlocks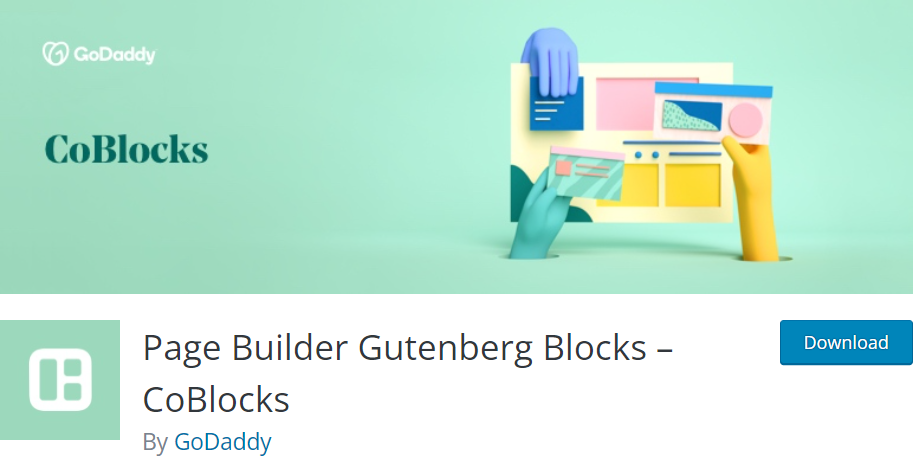 Page Builder Gutenberg Blocks – CoBlocks is another very powerful yet simple page builder with a long list of features. Its drag-and-drop editor contains important WordPress blocks and elements that guarantee webpage functionality. Every block can be moved and customized over custom controls and settings.
Also, its Custom Typography control feature allows you to design pages with typographic elements. Anything can be changed and adjusted to your design and wish. You can add this page builder to different WordPress themes, but the Gutenberg theme shows its full potential.
It allows the creation of more blocks for more beautiful responsive websites. The Page Builder Gutenberg Blocks is a functional and easily adaptable plugin to any WordPress theme or other plugins and widgets. Its functionality makes this plugin so popular for almost 1 million users.
5. Page Builder: Pagelayer – Drag and Drop website builder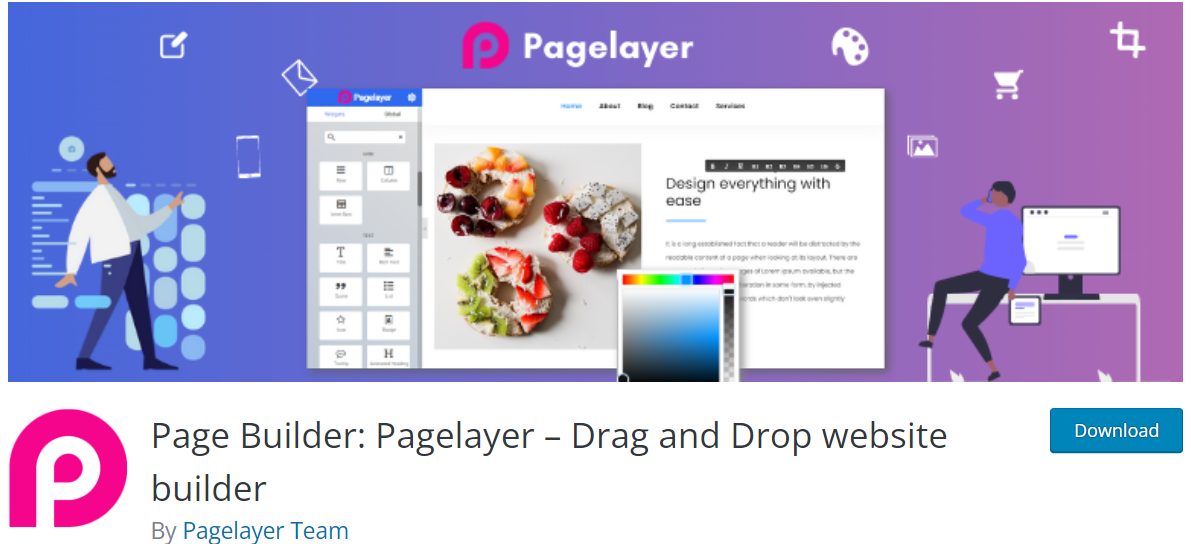 Pagelayer is a very simple WordPress page builder used by beginners and professionals. It is applicable to any WordPress theme. Pagelayer lets you design your own pages through a simple and user-friendly editor within just a few clicks. It allows you to select elements and customize them by your preference.
You can easily change and edit any widget available and preferred element, by selecting different sizes, decorations, or animation effects. Then, you can easily select that customized element and drag and drop on the wanted position of the page.
The main advantage of this plugin is the speed of performance: it lets you make changes and it automatically shows it in your editor over the preview window. This feature saves your time and excludes countless reloads. Also, Pagelayer guarantees responsiveness and errorless design on all devices.
Conclusion
This article presented the top five drag and drop WordPress page builders. Each of them has free versions for easy use and a unique design. They are great for people who are starting to dwell in a website-building world.
In addition, they offer multiple useful features that can satisfy many business presentation requirements. Hopefully, this list will ease your choice and help you build a successful website.