Are you looking for one of the best WordPress slider plugins for your website? When you make a perfect choice for the plugin, WordPress sliders can do wonders to your site. Your site will be more attractive, more engaging and interactive, more appealing and fun to your readers.
However, there are a few too many choices when it comes to choosing the best WordPress slider plugins at the disposal. This is especially overwhelming for new WordPress developers or website owners.
Fortunately, you can now relax because we have handpicked some of the Slider plugins. You can comfortably pick one and use it.
How to Select the Best WordPress Slider Plugin for Your Website
WordPress sliders are some of the best eye-catching tools that you can use to attract your audience. However, some slider plugins can let you down with funny rendering, compromised functionalities, speed, and other issues.
This means that you need to be extra careful when settling for the right one. There are three most important considerations that you need to make when choosing the right slider plugin for your website. These are as follows;
Speed. It is common knowledge to WordPress developers that slider plugins take a toll on the overall loading speed of the website. Speed is the most important thing to consider when choosing slider plugins. Search engines do not like slow-loading websites. So if your slider plugin is affecting the speed of your site, stay away from it. Fast loading site is not only good for SEO but also increases user experience and increases your website worth. So, only go for fast and light.
User-friendly. There are many plugins in the market today. However, not all of them are easy to use. Some slider plugins are too complicated to use especially to the new site owners or developers. Some of them would require you to essentially go back to school in order to use them properly on your site. Why waste time with such?
Responsive. It is common knowledge that sites are created on the desktop (mostly) but oftentimes accessed through mobile devices. This is the reason why your choice for the best WordPress slider plugin should be responsive. Users are increasingly going for smaller screens like tablets and mobile. Why would you waste time with a slider that cannot render on these smaller devices?
In a nutshell, ask your developer or choose the WordPress slider plugin that is fast, user-friendly and 100% responsive. Or pick one from the following list of 10 of the best.
Best WordPress Slider Plugins to Use
1. Soliloquy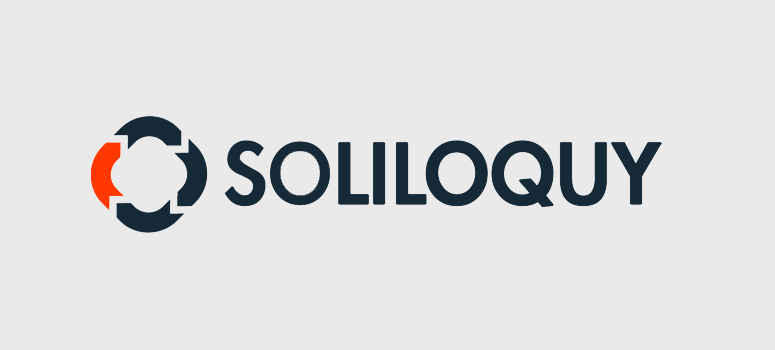 Soliloquy is one of the best and most popular WordPress slider plugins in the market today. The plugin performs exceptionally against considerations of speed, user-friendliness, and responsiveness.
It offers some of the best features for a slider plugin that you can get in the market today. Additionally, Soliloquy is built a team of WordPress plugin experts using the best technology and coding expertise. This means that you do not need any coding knowledge of any special WordPress expertise to use this plugin.
You can create some of the best sliders without the need for any developer expertise. This is because the plugin provides a simple interface through which you can easily maneuver and create a masterpiece slider.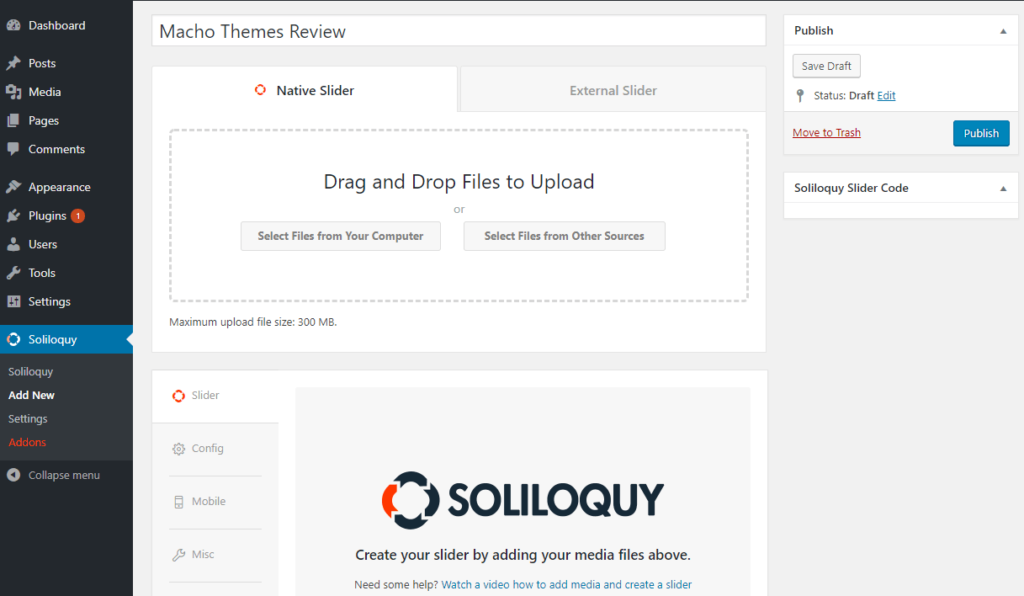 Once you install the plugin, it integrates perfectly with your WordPress interface such that you can access media from your WordPress library.
This means that the process of adding images from the library, configuring slider settings and publishing is simple, smooth and straightforward.
Upon creating a slider, the plugin gives you an opportunity to add it to your post or page using the "Add Slider" feature button on your editor.
Additionally, the plugin allows you to add sliders on different areas of your website via widgets, shortcodes and template tags.
Pricing:
Except for the free version at WordPress.org, there are also four paid plans for Soliloquy. Each tier affects:
Which add-ons you get access to
How many sites you can use Soliloquy on
Soliloquy Pricing Options: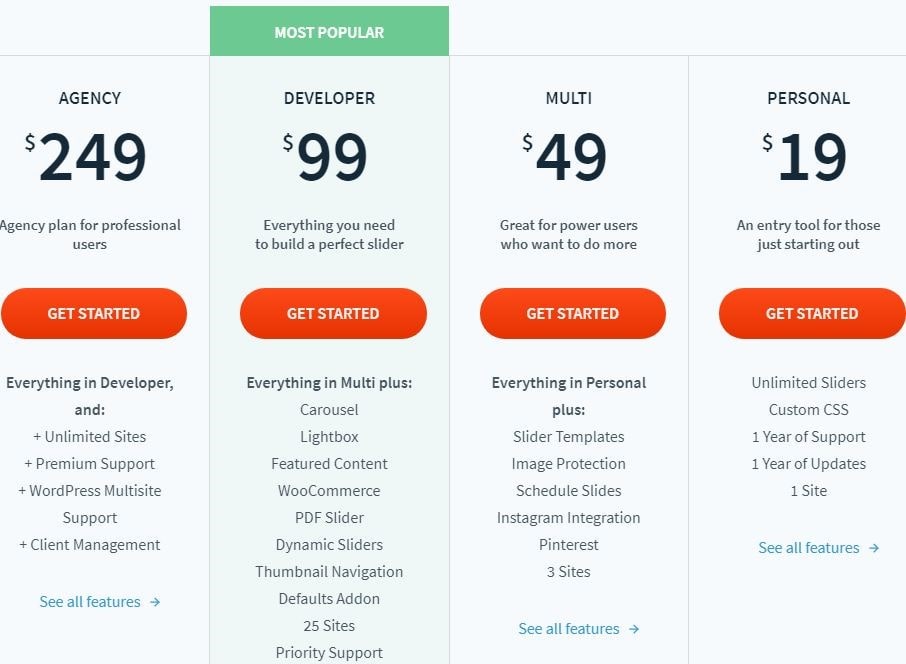 In Case if you are not completely satisfied with Soliloquy after 14 days, you can request a refund and they will give you 100% of your money back.
Soliloquy Pros
Simple to setup
Comes into two versions (free and pro).
Drag-and-drop slide builder
Disabling right-click feature on slides to prevent illicit downloads
Share to Pinterest button
Instagram imports
Timed (scheduled) slides
CSS
Hooks for further developer steps.
Affordable
Drag and drop builder
Woocommerce product slider
Life-time master plan for $249
Soliloquy Cons
Cheaper plans do not have essential features like multisite support and Woocommerce.
---
2. Slider Revolution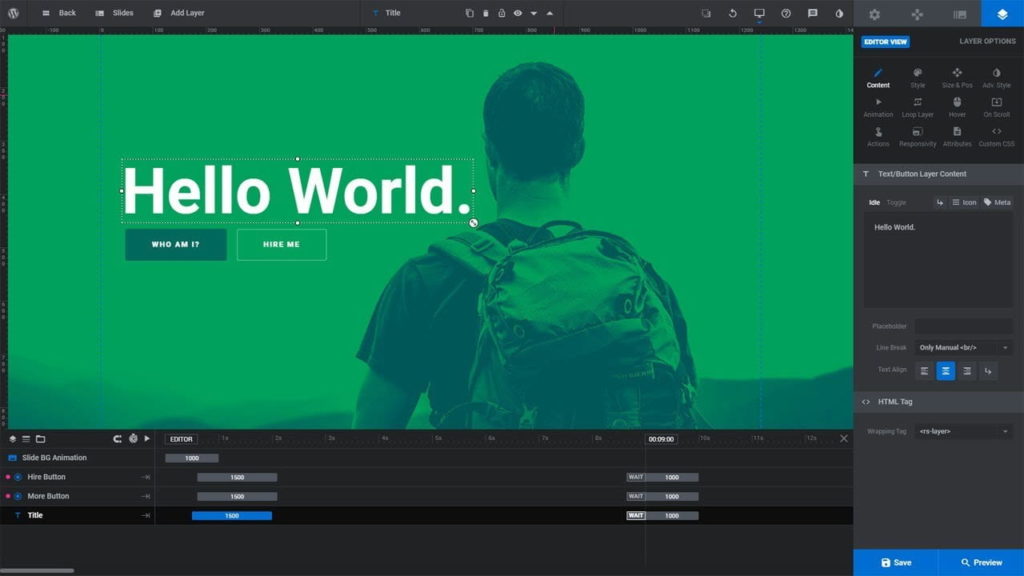 Slider Revolution Responsive WordPress Plugin is not just a slider plugin but also an essential WordPress builder tool. This is the best selling slider plugin by CodeCanyon in the market today.
If you are looking for an opportunity to build rich and dynamic, responsive content for your website, this is the plugin to choose. It comes with a great visual editor that you can use to create beautiful and modern web designs with no coding experience needed.
With this slider plugin, you can create responsive sliders and carousels, Hero headers, content templates, bursting websites, dynamic solutions and other special FX using amazing add-ons for the plugin.
What's better? The plugin comes with more than 200 specially designed templates that you can choose from on the online library.
Slider Revolution is as we have indicated, 100% responsive. This means that it renders beautifully on desktop screens, smartphones, notebooks, tablets, and other screens. In addition to this, the plugin supports multiple media.
For this reason, you can use videos, images, custom posts and social media feeds on your sliders. Another thing that makes this plugin the choice of many is because it is highly affordable.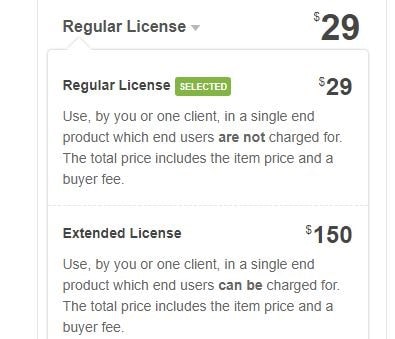 You only need to cough $29 and get the plugin together with all its add-ons. You can get our detailed version on this exciting Slider Revolution Review.
Slider Revolution Pros
All in one WordPress solution
Content blocks
Featured posts sliders
Hero blocks and front pages
Image Sliders and carousels
Media galleries
Social media feeds
Slider Revolution Cons
It lacks "Slider" button on the post editor.
A different user interface from the native WordPress.
---
3. MetaSlider

MetaSlider is by far the most popular and best WordPress slider plugins for all time. With this plugin, you can create some of the most powerful and SEO friendly slideshows in a matter of minutes.
The plugin is one of the most user-friendly too. This is because it provides just one page where you can do all the slider configurations for your use.
On the single page, you can pick images from your WordPress media library, drag and drop them where you desire, and then set slide captions that you want. Still, on this page, the plugin allows you to set the links to your sliders, configure SEO fields and then run your slides.
Once you select the slider that you want to use, the plugin will give you the shortcodes to insert it wherever you want on your site.
With more than 800,000 active installs, MetaSlider appeals to quite a number of users. This is because it has all of the most important features that a slider plugin should have. When you install this plugin, you get four jQuery sliders straight out-of-the-box.
These four include responsive Nivo Slider with 16 transition effects and four themes and Coin Slider with four transition effects. The plugin also gives you a responsive Flex Slider 2 with two transition effects and carousel mode. Lastly, you get lightweight Responsive Slides with only fade effects.
Pricing:
Except for the free version at WordPress.org, there are also four paid plans for Meta Slider. Each tier affects:
How many site License you get
Premium support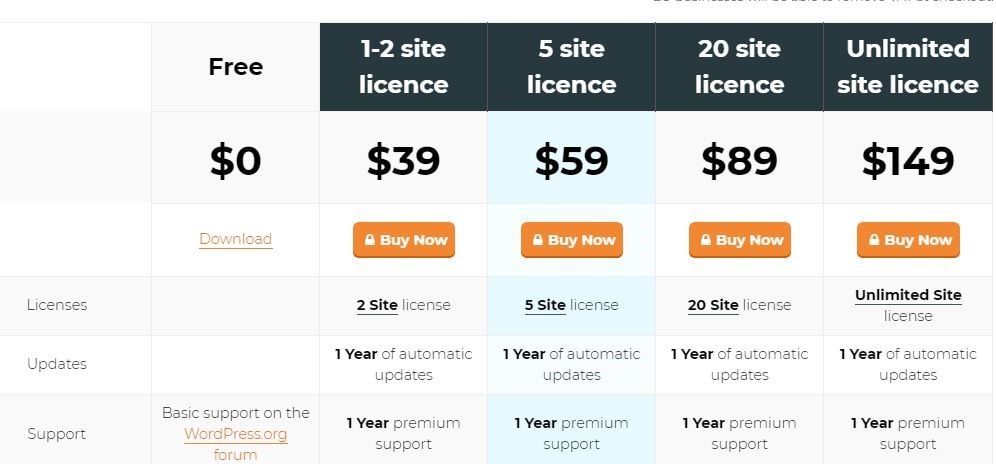 If you decide MetaSlider is not for you, you can request a refund within 30 days and they will happily refund 100% of your money. So Try MetaSlider risk-free.
MetaSlider Pros
Comes in two versions, free and pro for added features
Lightweight
Freedom of choice in terms of slider display
Four-in-one plugin
Compatible with all plugins and themes on WordPress
Access to free images through Unsplash.com
Drag and drop slide reordering
11 free professional slideshow themes
MetaSlider Cons
Some exciting features are accessible on the paid version.
---
4. Smart Slider 3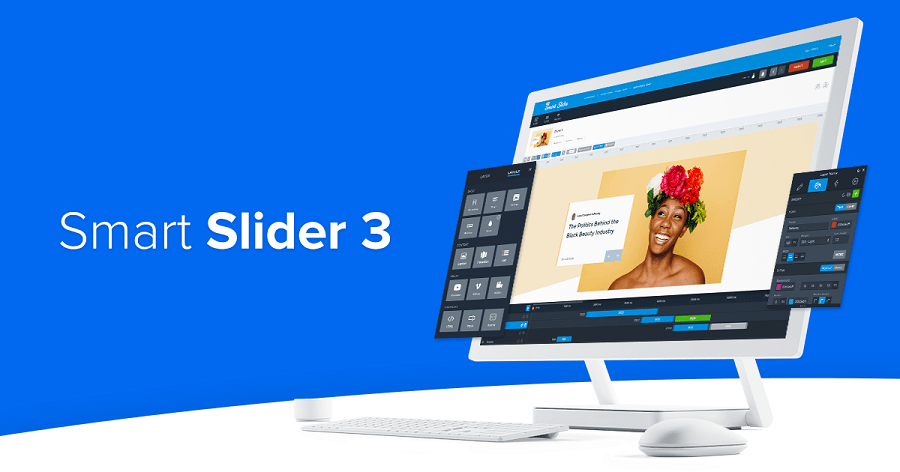 Smart Slider 3 is the second most popular slider plugin in the market today. This is in terms of the number of downloads and active installations on the WordPress plugin repository that is clicking more than 600,000+ mark.
The plugin is fully responsive, fast, optimized fully for SEO and integrates with any WordPress theme. Like all other best WordPress Slider plugins in this list, you do not need any coding knowledge to tell a beautiful story with this plugin.
Once you install and activate Smart Slider 3 plugin, it will create a menu section on your admin dashboard. This is where you will perform all your slider steps. What does this mean? The plugin is user-friendly from the onset.
Using the menu, you can configure all the settings that you need for your use-case. These include global plugin settings, fonts, responsive mode, item defaults, and framework settings.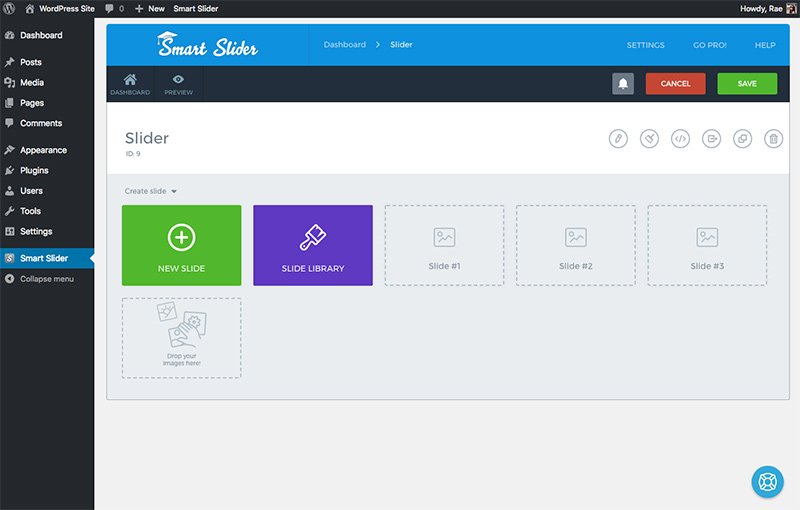 To create your slides, you need to either use the preset default slide sizes or customize your own. You then need to access your media library for images. The plugin will then allow you to order your slides through drag and drop feature. Using this plugin, you can insert your sliders wherever you want using three means. These are by way of inserting shortcodes, pasting a PHP code into your website template files and clicking on the insert menu button.
Pricing:
Smart Slider comes with free both and paid options as follows below and you don't need to pay annually, it's a One-time Payment.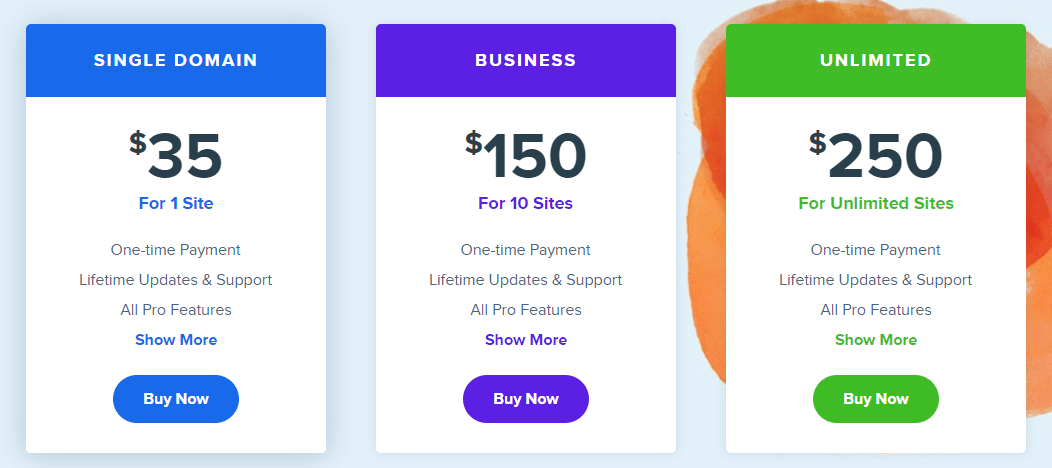 Single Domain:- This plan will cost you $35 and give you Single site access to this plugin.
Business Plan:- This plan comes with a price tag of $150 and you can use this plugin on upto 10 sites.
Unlimited Plan:- With this plan you get unlimited site activation to this plugin at a cost of $250
Not happy with the product after purchase? No worry, they will happily refund 100% of your money if you complain within a 14-day.
Smart Slider 3 Pros
Canvas and content slide builder
Pre-built slides library
Highly responsive and friendly on tactile screens.
Tens of exciting features
Smart Slide 3 Cons
The free version only provides basic features
You need to upgrade to the paid version to enjoy premium features and support.
---
5. Slide Anything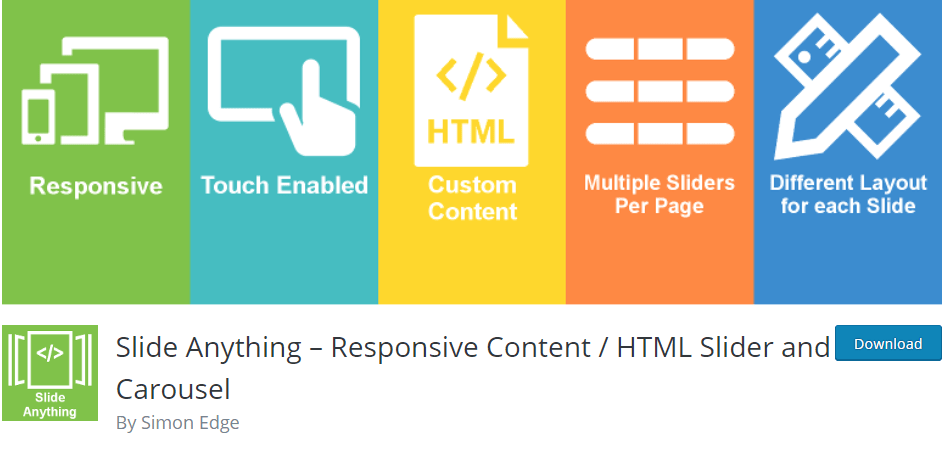 Slide Anything – Responsive Content / HTML Slider and Carousel is another exciting tool in the list of best WordPress slider plugins of all time. The best part about this plugin is the fact that it is actually free. True to its name, the plugin lets you create sliders from pretty nearly anything. You can create sliders from images, texts, shortcodes among others, all of them being tactile friendly, responsive sliders and carousels.
Like all other good slider plugins, Slide Anything offers you an opportunity to choose different transition effects for your sliders. You can also use the drag and drop feature to reorder your slides for the best performance according to your preferences.
In addition to other features, the plugin provides touch and drag features, lazy loading of images, endless carousel loops, and the capability to add a hovering link button to your carousel slides. To make your slider publishing even easier, the plugin lets you insert using shortcodes and insert button on the post editor.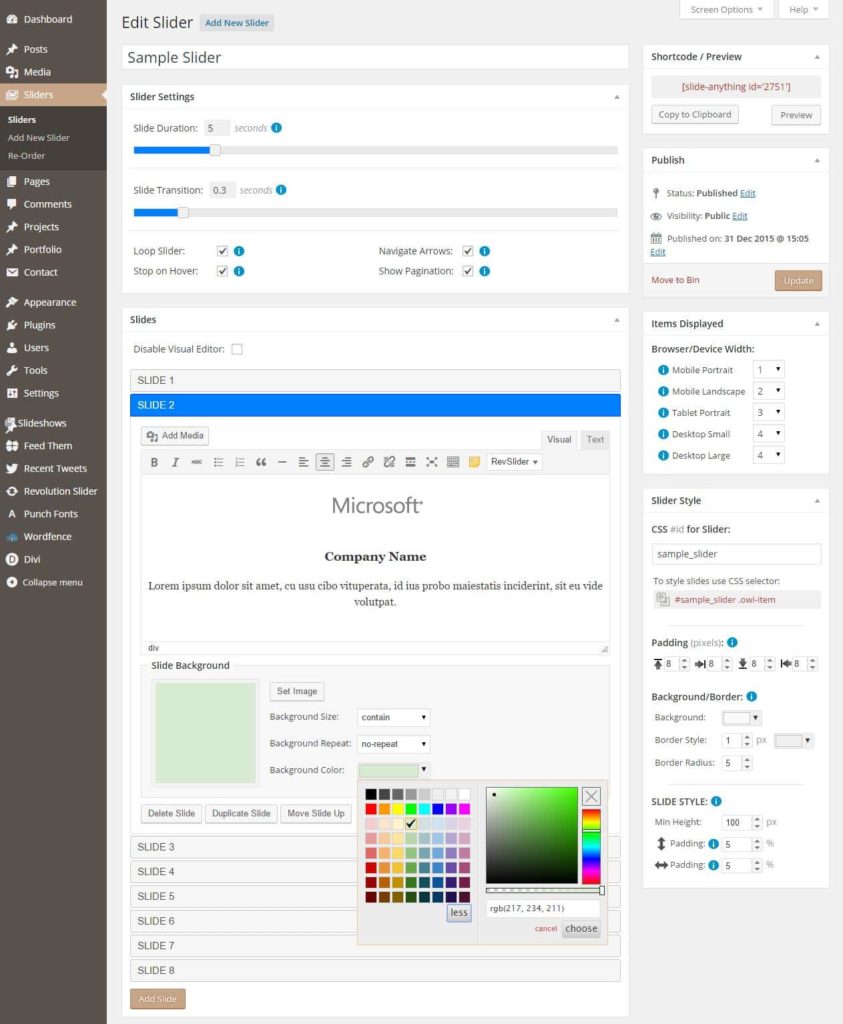 If you are looking for additional and exciting features, you may consider going for the pro version of the plugin. This is because you will get hero sliders, thumbnail pagination, modal popups, and the capability to show your carousels.  Due to the fact that this plugin is built using the Owl Carousel 2 jQuery plugin, as a developer you can add more complex layouts.
Pricing:
If you go with Slide Anything pro, you will get the following extra features. It costs $10 for one website.
Extra features with pro version:
Modals Popup: Allows you to open a modals popup, which can be an IMAGE popup, a VIDEO EMBED popup (YouTube/Vimeo).
Hero Slider: A Hero Slider is a slider that always is 100% of the width/height of the device it's being viewed
Thumbnails Pagination: Allows you to add an area of small clickable thumb images
Showcase Carousel: A Carousel with a width exceeding the width of the container that it's placed in, which results in the left/rightmost visible slides becoming partially visible.
Slide Anything Pros
Touch and drag support
New lazy load images
New transition effects
Infinite looping
Free version
Slide Anything Cons
Exciting features bundled on the pro version.
---
6. Slider By 10Web

Slider By 10Web is another popular, free and best WordPress slider plugins of all times. The plugin provides you with an intuitive drag and drop interface where you can create fast loading, SEO optimized and responsive slider for your website.
Using this plugin, you can easily use images, videos and other media to create unlimited sliders for your use. While creating your art work, you can use swipe controls as well as preview your designs before finally saving them for the final draft use.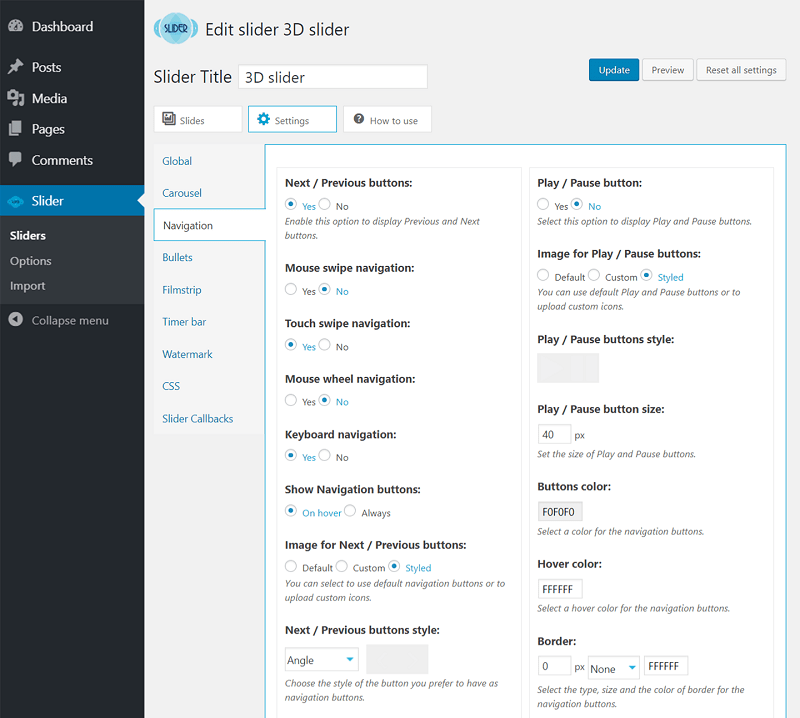 To display your sliders, the plugin lets you use shortcodes, PHP codes into your template files or use widgets.
Pricing:
If you are looking for more features, you need to get the pro version. It will offer you added functionalities like multi-functional sliders, social media button layers, watermarking images, custom styles, and fonts among others.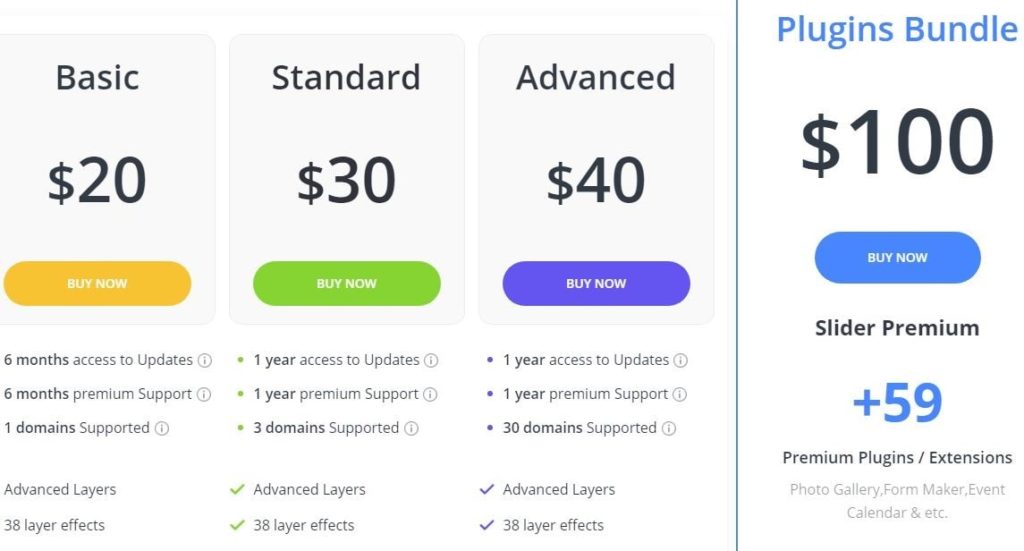 You can choose a basic plan for $20, with this you can access six months of updates and support, as well as 27 transitions and 38 additional effects.
Slider By 10Web Pros
Easy to set up, use and customize
Premium support
Appealing to users (sliders)
Stylistic
Slider By 10Web Cons
Few transition effects on the free version compared to the pro version.
Many essential features are only accessible on the paid version.
---
7. Slider – Ultimate Responsive Image Slider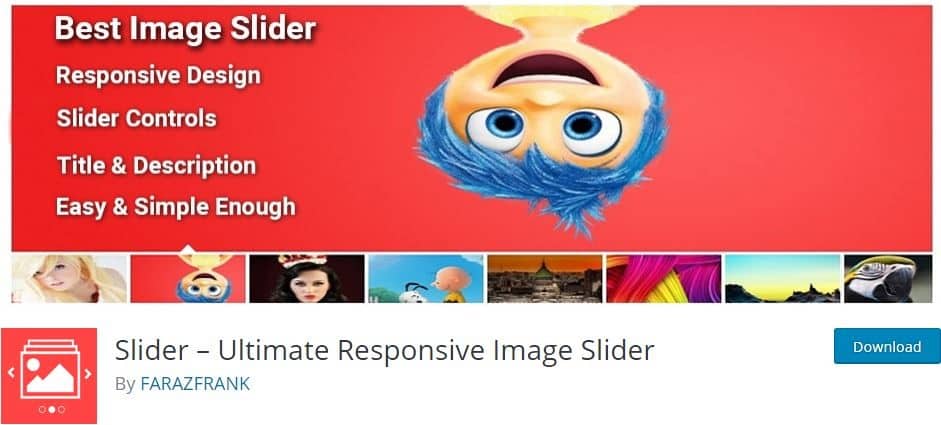 Ultimate Responsive Image Slider is one of the easiest-to-use and responsive image slider plugin you can get for your WordPress website. True to its name, you can add endless images in one slider as well as publish as many sliders as you want.
If you are looking for a plugin that will allow you the freedom to use infinite images and publish infinite sliders for free, then your best choice should be this one.
Using the Ultimate Responsive Image Slider plugin's beautiful and simple interface, you can create sliders for your use, quickly and effortlessly. Remember that the plugin provide you with just a single page where you can do all these settings and configurations for your sliders.
To do all this, you need to first upload your images if you have not done that already. You can then order your slides using the intuitive drag and drop feature provided.  You can customize issues such as heights, widths and auto-plays of your sliders. Additionally, you can tweak just about anything you wish. This is for example, the title descriptions, font styles among others.

For those looking for more additional features, the pro version provides just that. With this version, you get more than 500 Google fonts for your use, additional design layouts, effects and color settings, lightboxes and many more features and settings.
Ultimate Responsive Image Slider Pros
Auto height options
Compatible with all major browsers
Image slider settings dashboard
Multiple image uploader
Unlimited image slides into single slider
Ultimate Responsive Image Slider Cons
You need the pro version to access all features
8. WP Slick Slider and Image Carousel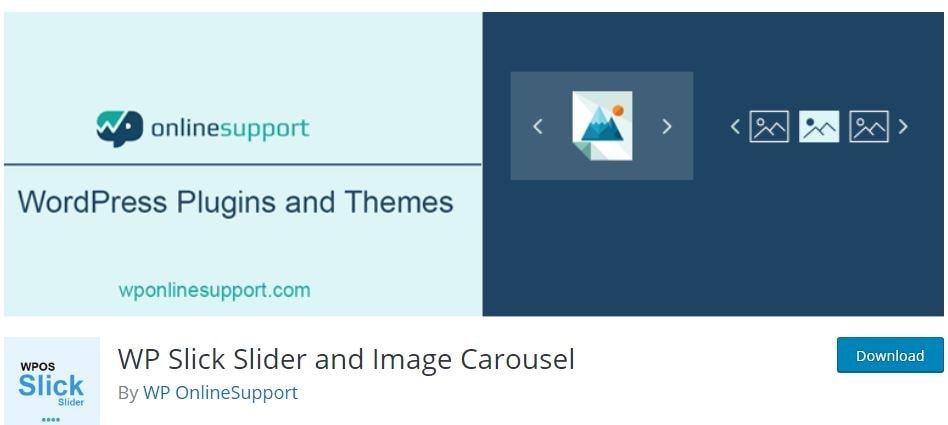 WP Slick Slider and Image Carousel is another exciting plugin. It is among the best WordPress slider plugins of all times not just because it is free, but also because it is super user-friendly. The plugin comes with dozens of features that let you create beautiful sliders and carousels for your website.
The free version of WP Slick Slider gives you five different slider designs for your use. Additionally, it provides you with one carousel design. Using the provided ten shortcodes, you can display sliders on any area of your website. What more? You can even display sliders based on particular categories only.
The pro version of this plugin is even more revolutionary. This is because it comes with more than 90 different slider designs, more than 30 shortcodes and custom CSS.
Others include images with links in carousel mode, Multilanguage support, read more links and many other exciting and premium slider features. To make the matters even better, both versions support RTL and provide automatic plugin updates for life.
Pricing: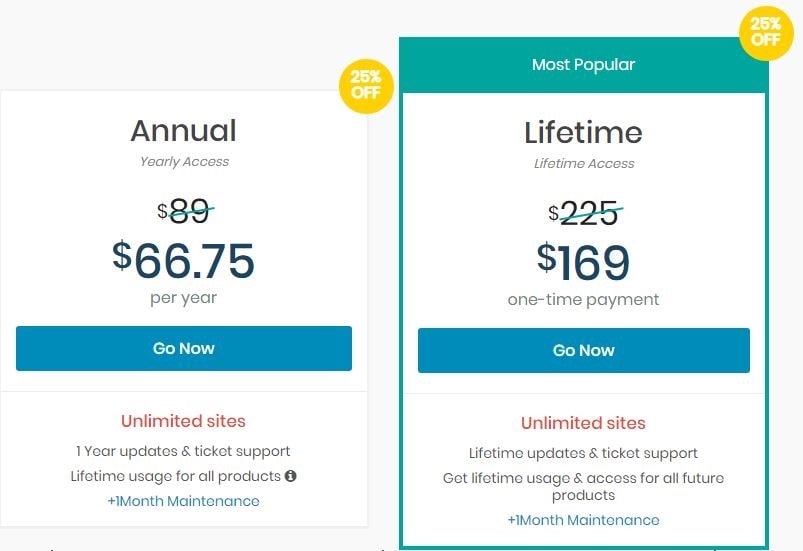 WP Slick Slider Pros
100% fully responsive
Infinite-looping sliders
Navigation support
Swipe-enabled
WP Slick Slider Cons
Gutenberg and drag and drop features only for paid version users.
Too many shortcodes
---
Wrapping up: The Best WordPress Slider Plugin
In conclusion, there are quite a number of plugins in the market today that you can use for your slider needs.
However, choosing the best WordPress slider plugins for all time's sake can be a daunting task. However, with this list, it is now easy to settle for one. This is because you can refer to your circumstances such as affordability and scope of use to settle for the best.
I hope this article answers all questions regarding the best WordPress slider plugin in terms of performance and quality.