When it comes to the Best WordPress hosting there are some things that you just must know, like which WordPress hosting platforms are best for you. Especially if you are a beginner, WordPress hosting can be a complicated thing
Check this GreenGeeks Coupon Code 2022!
One of the most crucial decisions in any online entrepreneur has to make is getting a reliable hosting solution. With the advent of the WordPress content management system (CMS), getting a reliable hosting service has become even more complicated.
While creating this list of 3 classes of best WordPress hosting services, we have undergone in-depth thorough research.  We have kept various factors determining the quality like speed, uptime and customer support in mind.
Top-tier WordPress Hosting​
Mid-tier WordPress Hosting​
Low-tier WordPress Hosting​
How to use our best WordPress hosting guide
For starters, this guide will rely on the following variables: uptime count, customer care relations, performance & speed, and something that customers are always complaining about; the infamous hidden charges. With this in mind, we will review the individual hosts while classifying them into their respective classes.
Top-tier WordPress Hosting
The top-tier class will include the best performing hosts with at least 99.9- 100% uptime count and best in class hardware capabilities. These hosts are also more likely to be much expensive compared to other ranks due to the additional performance and speed boosts.
Mid-tier WordPress Hosting
The mid-tier is just like the name suggests; it's a collection of WordPress hosting packages that are best for a mid-tier site. These packages will mostly offer at least 99.8-99.9% uptime, and at least some performance guarantees that you usually wouldn't see in the cheap packages. This class will be the most competitively set due to the fact that almost 40% of the world's mid-tier hosting companies are owned by Endurance International Group (EIG) Hosting which gets to set the prices within its most profitable margins. This makes it harder for other independent mid-tier hosts to compete with such a large conglomerate. We will try to take into consideration the best host withstanding the price difference in this class.
Low-end WordPress Hosting
The lower-tier hosts will include some of the moderately priced WordPress hosts that either lacked in performance or their other variables such as hidden costs or the uptime count have been found wanting. Basically, these hosts are least recommended and should be avoided unless you cannot afford the other hosts. Or there's a specific feature in them that you are interested in and it cannot be found in any of the other hosts.
Top 10 Best WordPress Hosting Providers (with Pros and Cons)
Each of the following 10 hosting provider descriptions includes details about what makes them unique as well as a few key takeaways. We tested out 10 most popular WordPress hosting providers and checked their uptime.
So Let's jump to the best hosting providers then move down the list to see which ones you should avoid. Without further ado, here are the 10 best web hosting services for WordPress in 2019:
Top-tier WordPress Hosting Providers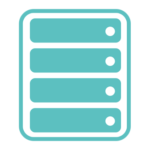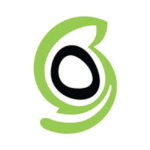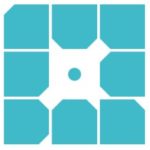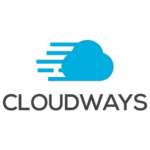 1. Kinsta​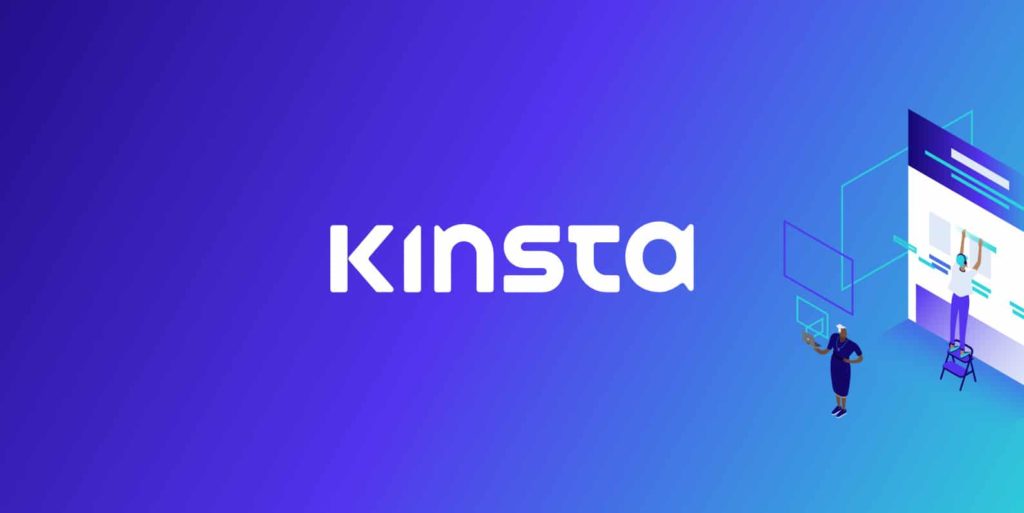 Kinsta boasts of over ten years' worth of experience with WordPress. The firm's model revolves around managed WordPress hosting solutions.
While the WordPress engine is not resource-intensive, there's the need to invest in fast architecture so as to keep up with visitor count even during heavy traffic.
For this reason, Kinsta relies on up to date tech such as Nginx, LXD software containers, PHP 7 and MariaDB. Unlike other hosts who depend on a shared architecture to host CMS websites, Kinsta utilizes complete resource isolation with high resource availability and scalability. Even with Kinsta, you can manage multiple WordPress sites with MyKinsta
This ensures that your site never has to compete for resources from a shared pool.
Kinsta is powered by the Google Cloud Platform giving its WordPress hosting an upper hand over the competing firms.
What this means for your site is that you can host it in any of the 19 global data centers available on the Google Cloud Platform.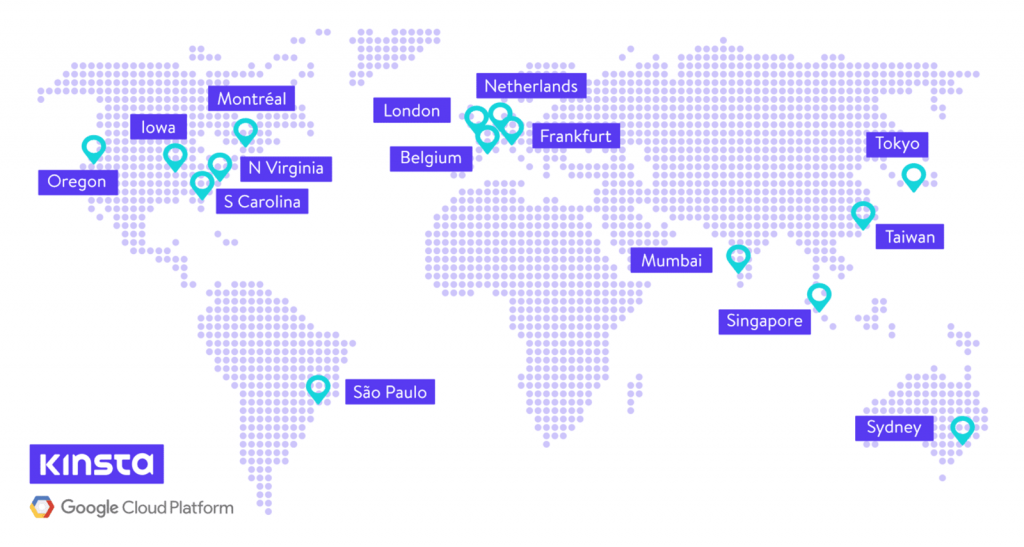 These data centers are interconnected through a premium-tier network meaning any data transfers to and from your site are secured.
The platform also relies on Cloudflare railgun which speeds up the connection between Cloudflare CDN and your origin server. Kinsta also utilizes Redis which is an open source in-memory data storage which is used as a database, message broker and cache.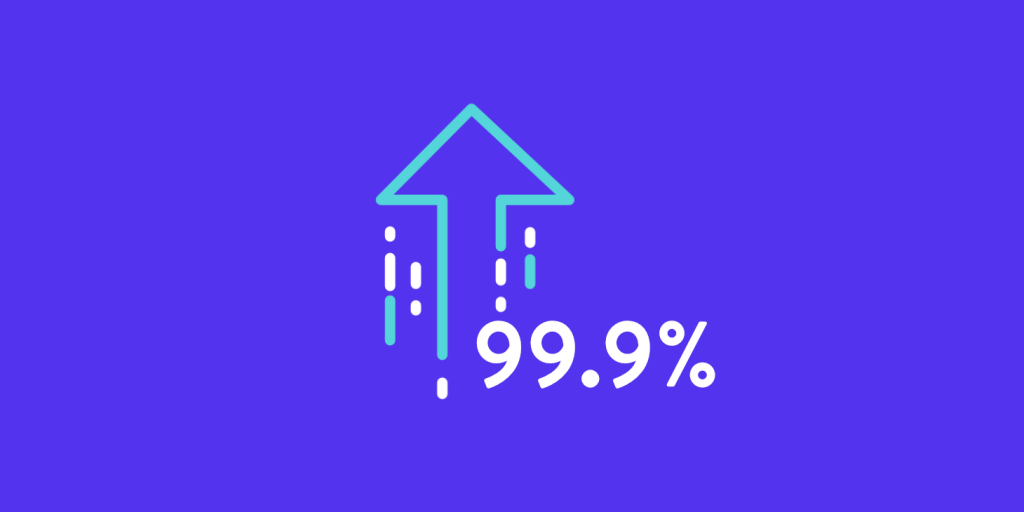 Having your site online at all times ensures that all visitors and regular customers get to enjoy your content without any delays.
For this reason, Kinsta is offering regular uptime monitoring on all sites hosted on its platform. The in-house team of engineers ensures that any case of downtime is fixed immediately. The firm currently offers a 99.9% uptime guarantee in its Service Level Agreement (SLA).
This means that for every 1 hour of consecutive downtime you will receive a 5% credit on your monthly bill. However, it's important to note that this guarantee is subject to terms and conditions so make sure that you go through the fine print before requesting a refund.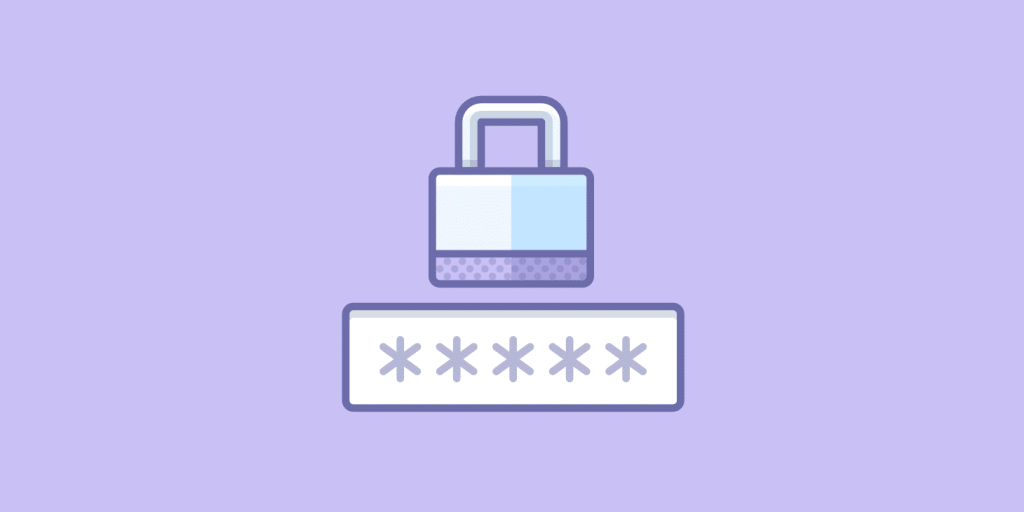 Kinsta offers an impressive suite of security solutions for all WordPress accounts hosted on its platform.
These range from two-factor authentication which secures login credentials for your account and Geo-IP blocking which allows you to specify which IP addresses can access your site based on their geolocation.
The platform also automatically bans any IPs that have tried and failed to login to your site for up to 6 consecutive times. The firm utilizes hardware firewalls to protect your data as well as active and passive security.
Does Kinsta provide daily backups?
Yes, Kinsta offers automatic backups for all sites hosted on their servers, and the backups are maintained for up to 2 weeks meaning any sites hacked or defaced can be restored within a few minutes.
Where will my site be hosted if I use Kinsta?
Kinsta relies on Google Cloud data centers with over 17 locations globally. This allows you to choose where you wish your site to be hosted from so the service is closer to your target audience.
Pros:​
Access to multiple top-tier data centers across the globe
Fully managed WordPress hosting allowing you to concentrate on enriching your content and dealing with your customers while the host company takes care of the technical details
Cons:​
The firm charges premium prices for its managed hosting costs making it almost impossible for first-time website owners
2. Siteground​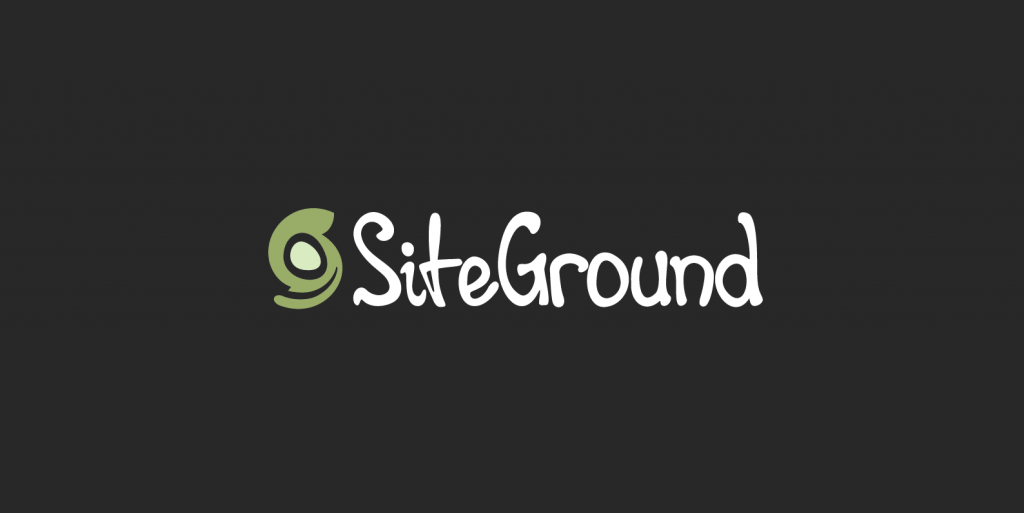 No list of best-performing WordPress hosting could complete without SiteGround being apart.
This company is famous and has made an excellent name among WordPress users for some time now. The main reason for their popularity is not only for having high quality managed WordPress optimized servers but also for their cheaper services.
To top off their worth, SiteGround is one of the few web hosts that have been recommended by WordPress.org. This company has five state-of-the-art data centers around the world in Chicago, London, Singapore, Amsterdam, and Milan.
Just make sure that you choose the data center closest to your target customers for quick server response times.

SiteGround has datacenters in 5 countries, services more than 800,000 domains worldwide.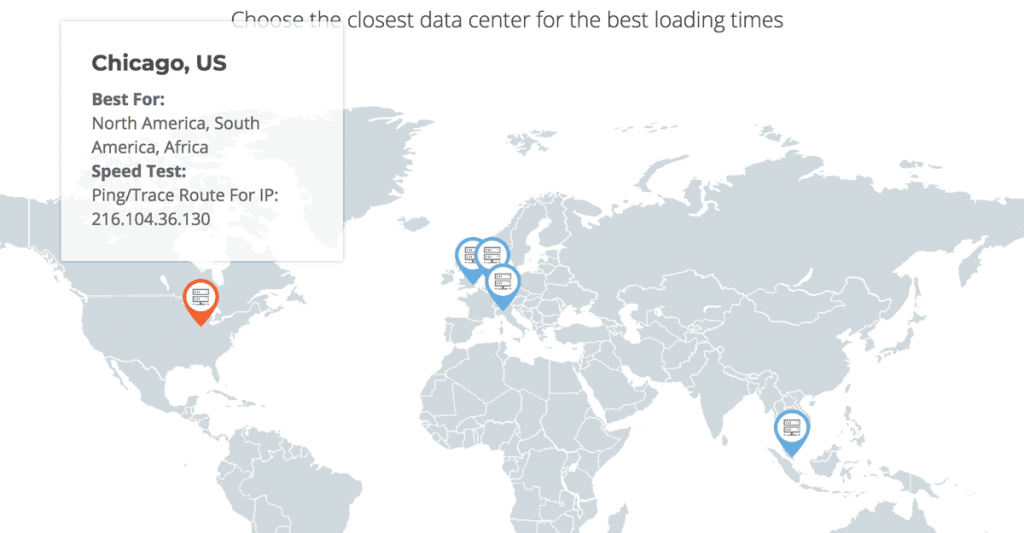 To ensure faster speeds for its customers, SiteGround updates its software regularly which provides compatibility with each other, thus decreasing errors and improving the efficiency of the server.
Moreover, their system is set up to apply the latest versions of the core software automatically without interrupting the servers.
The company offers a variety of speed optimization software to enhance data delivery from servers to screens. Among them is NGIX server, which is an advanced web server tech that improves the loading speed of content helping to boost overall performance.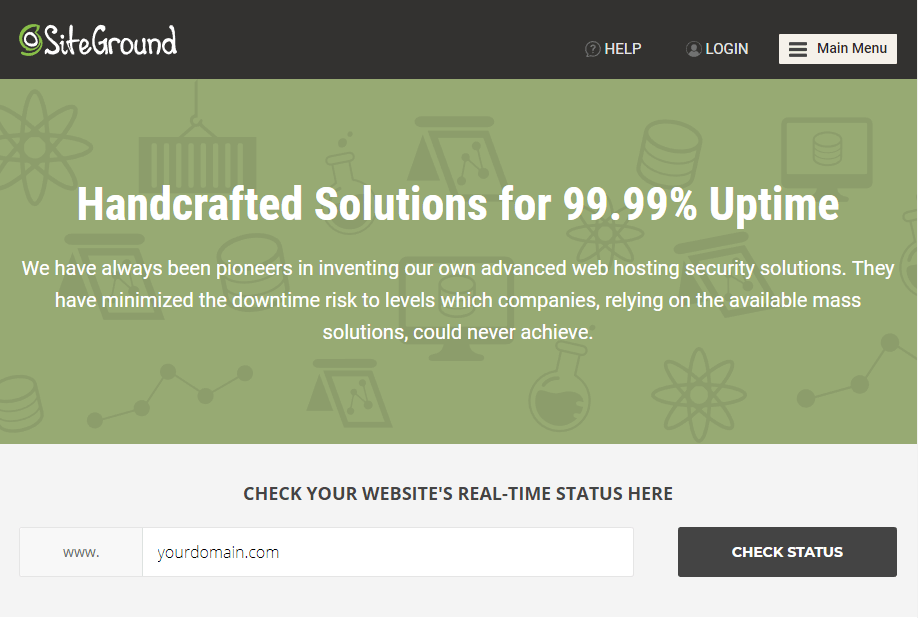 Regarding uptime, SiteGround guarantees 99.99 server uptime. The company uses handcrafted solutions and technology to avoid downtimes.
To begin with, they built the platform using Linux Containers Technology (LXC) which is stable enough to overcome any unexpected traffic surges.
Moreover, SiteGround's talented DevOps team developed a unique Pro-Active Monitoring system to foresee incoming complications and put the right measures in place to avoid them.
Are you worried about starting from scratch due to loss of data? Don't fret. SiteGround offers daily data backup for free, so you can go along with your business without spending time on backing up data yourself.
Shared hosting users have their data available for the past 30 days. Cloud users can rewind their accounts for up to 7 days.
To us, this is quite impressive! You do not need to worry about losing your site and data to brute force attacks, thanks to the Anti-bot AI which keeps the servers protected.
Additionally, the company has a custom firewall which detects WordPress-related vulnerabilities and patches them.
What are SiteGround nameservers?
You need to locate your DNS settings in case you want to use your existing domain name with SiteGround. To do this, log in to your cPanel and go to the "Customer Area." Then proceed to the "My Account" section and click on the "Manage" button to find the nameservers listed (i.e., nsi.xxx and ns2.xxx)
How is SiteGround support?
The support is available 24/7 using live chat, phone calls, and email. Support is offered in English, but they also offer a Spanish YouTube Channel.
Where are Siteground's servers?
SiteGround has data centers in 3 continents and four countries. They include Chicago (US), London (UK), Amsterdam (Netherlands and Singapore.
Pros​
The firm offers free daily site backups which are available for up to 30 days without any limitations on the restorations
The host operates data centers in 4 countries giving their clientele the freedom of choosing where they wish to host their site
Cons
There have been numerous complaints regarding hidden costs especially on annual subscriptions that come with offers
3. WPEngine Host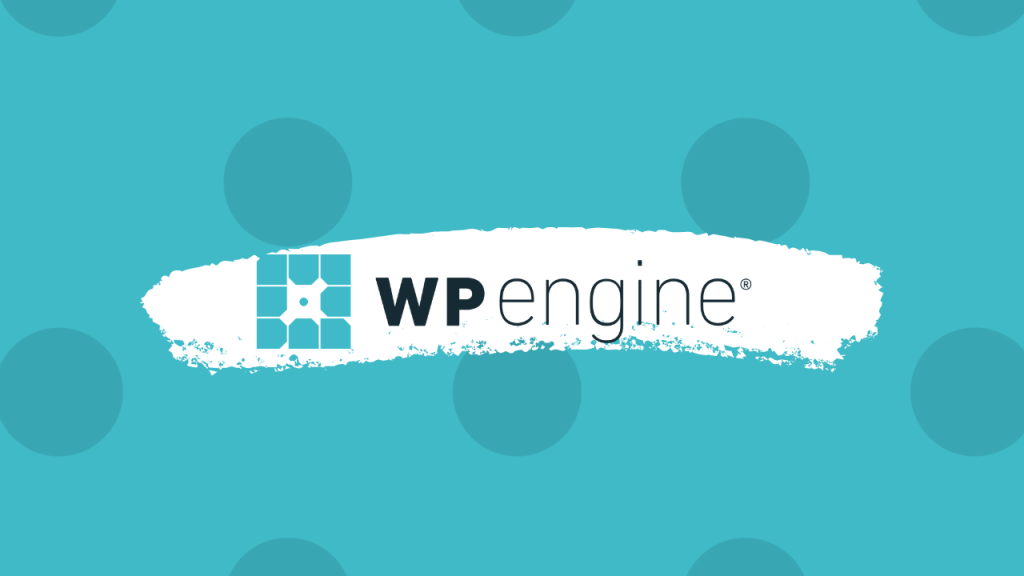 One of the largest and first managed WordPress Hosts, WPEngine scores high on our list.
If you want to move away from dealing with the complex nature of WordPress configuration, then WPEngine would give you complete peace of mind. This company specializes in creating hosting environments that are highly optimized for WordPress sites.
Not only can this improve the loading times but it also could ensure your site always runs smoothly. The good news is you don't need to worry about any WordPress installing on your own as the WPEngine teams take care of all that for you.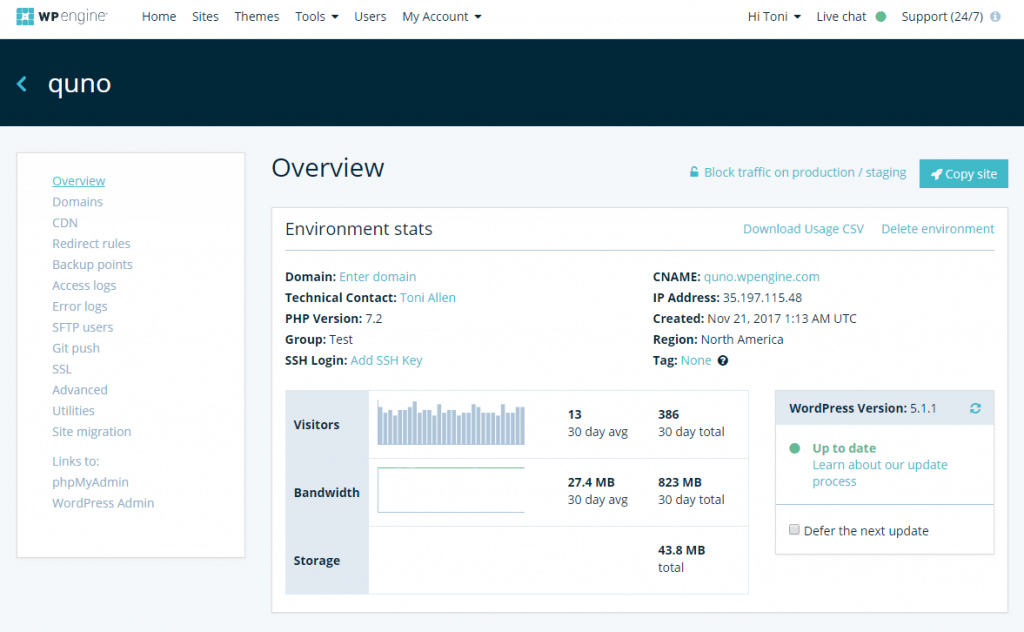 Site speed is a significant differentiator for WPEngine. In fact, it's the speed technology that WPEngine customers love the most.
The technology behind the blazing speed includes single-click CDN installation which drastically cuts time for processing of data and ensures resources are freed up for essential requests.
The platform also offers NGINX integration which enhances the experience for your site visitors by prioritizing human requests over automated system requests.
WPEngine also uses SSD technology which improves backend rendering and works to avoid RAM saturation. All customers can access the Page Performance Tool where you just need to enter your site's URL to see how well it's performing.
This company has 3 data centers in Tokyo, London, and Midwest USA. As a result, you can achieve better speeds by choosing a host that's closest to your target audience.
This company knows exactly how crucial site security is particularly for websites that are scaling. As a result, they offer premium security features to their customers to keep site data as secure as possible.
There are a threat detection and blocking system that inspects site traffic identifies any malicious patterns and blocks malicious attacks. Additionally, WP Engine's team of experts ensures that its customers get any WordPress Core patch that is developed whether they used managed hosting or not.
This is done, so you do not have to worry about vulnerabilities. For WordPress plugins, WPEngine handles them for you so that they can check any vulnerabilities or malicious activities.
The web host carries out daily automatic backups and creates restore points via the one-click option. This way, you don't have to worry in case there's a need to undo any changes on your website.
The best part is in case your WordPress site is hacked; they offer dedicated support which will fix it for free.
Does WPEngine offer logs on site performance?
Yes, WPEngine believes in actionable intelligence and, therefore, the clients have access to actionable data in terms of the performance of their pages, applications, and content
Does WPEngine offer unlimited WordPress Hosting?
No, WPEngine offers metered resources on all their packages meaning that if you exhaust your allocation, you will have to buy a booster pack. And that's the thing you will hate about this WordPress hosting firm.
Pros​
The platform is developer-friendly and offers a treasure-trove of developer tools
WPEngine includes page performance optimization for free with each package
Cons
The platform does not provide unlimited hosting; therefore, each package has a capped number of visits per month as well as limited bandwidth
4. CloudWays​

When it comes to providing flexible hosting solutions for individuals, e-commerce agencies and small businesses no other hosting company does it better than CloudWays.
CloudWays offers a secure and performance-oriented managed WordPress service to all its customers. This allows the clients to focus on the quality of their content and things that matter with the freedom that comes from knowing that their sites are in good hands.
The firm believes in teamwork and has invested a lot into providing a team-driven product that ensures consistent workflow thanks to the Git integration as well as SSH and SFTP access capabilities.
These come in handy when you have a team of individuals working on the site at the same time.
CloudWays relies on SSD based storage for super-fast data transfer rates. This reflects directly on your site's loading time as well as the speed at which various services are carried out.
The built-in advanced caches such as Memcached, Redis, and Varnish provide expedited responses across your entire site.
The firm utilizes the in-house CloudWaysCDN to improve server response time as well as delivering superior performance.
Cloudways has also developed a powerful tool known as the Breeze cache plugin which offers improved WordPress performance at no additional cost.
The Host partners with big names such as Digital Ocean, Google Cloud Platform and AWS to provide its WordPress hosting services.
For this reason, it's nearly impossible for the service to suffer any downtime. Currently, the firm is offering a 99.9% uptime guarantee to its customers, and there have been no complaints in terms of the availability of the service.
From a dedicated firewall to auto-healing servers Cloudways has invested a lot in the security of the platform.
The firm also includes a 1-click SSL installation that provides an extra layer of protection. You can also use the IP whitelisting feature to maintain restricted access to SSH and SFTP connections.
And In terms of backup, the firm offers automatic backups that can be scheduled to take place from every hour to every seven days depending on your needs. CloudWays also includes two-factor authentication which is excellent for keeping your server safe from intruders.
What is CloudWays service coverage?
Thanks to its partnership with significant firms the platform command 62 data centers in 15 countries ranging from South America, Europe, Asia to Australia.
Do I have to pay separately for the server infrastructure?
No, all costs involved in the managed WordPress Cloud hosting platform are spread out in the monthly bill.
Pros
Freedom of choice regarding where to host your site in the 62 data centers globally
Vertical scaling of all aspects of your server for WordPress sites on demand
Cons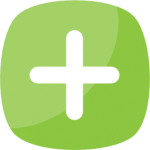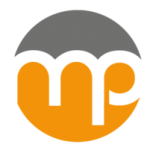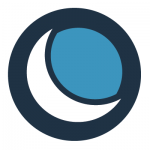 5. GreenGeeks​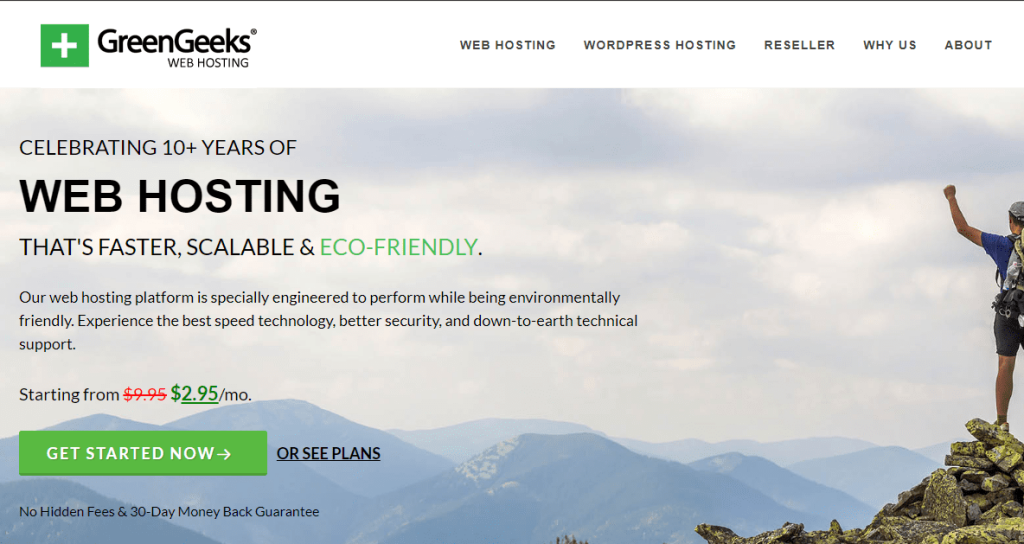 GreenGeeks is mainly recognized for its environmentally friendly hosting solutions. Behind this green drive is one of the best WordPress hosting services we have ever seen.
The firm has invested in more than just green hosting: their data centers are equipped with state-of-the-art servers that offer not only industry-leading speeds but also uptime reliability.
For starters, GreenGeeks operates data centers across North America and Europe. These are in Toronto, Amsterdam, Montreal, Chicago, and Phoenix.
This allows their customers to have comprehensive coverage as well as the ability to select the specific geographical region they want their site to be hosted in.
The firm also offers scalable computing resources allowing the clients to seamlessly scale up or down their resource allocation according to their needs. This comes in handy when you are expecting a sharp rise in traffic whereby you can scale up your resource allocation to ensure that your site remains responsive even under heavy loads.
A quick look at the latest uptime numbers from GreenGeeks will reveal a near-perfect consistency. The firm also offers a 99.9% uptime guarantee on all their hosting services.
This goes an extra step to safeguard the customer from losses that may result from downtime.
GreenGeeks utilizes Cloudflare CDN which serves two primary purposes.
First, it boosts your site's load time by caching your site across their network and the main benefit being it acts as a firewall between your site and any intruders or malware.
The firm also includes secure FTP access with each account allowing you and your team to transfer data to and from your site securely.
In terms of email security, the firm includes POP3 secure and IMAP secure email access for all your communication needs.
Is it possible to migrate an existing WP site to GreenGeeks platform?
Yes, if you already have an existing WordPress site, you can automatically integrate it to your new host thanks to the site import tool. The firm also has an in-house team dedicated to assisting clients in migrating their sites without any problems.
Does GreenGeeks offer a free site builder?
Yes, GreenGeeks includes a free drag and drop site builder with each WordPress hosting account.
Pros​
Environmentally-friendly hosting
Free cPanel account migration
Cons
The SSD storage options are limited, and you will have to scale up the allocation in case your site runs out of space
6.MidPhase​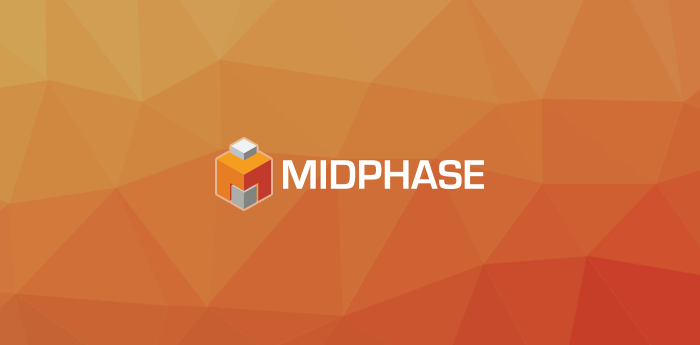 MidPhase is primarily recognized for its shared hosting packages.
The company has however consistently improved upon their WordPress hosting packages in order to offer a much more reliable experience across the board.
Their WP hosting packages are best recommended for blogging website building and e-commerce sites.
MidPhase utilizes SSD disk storage for all WordPress related servers in order to provide super quick loading times.
It's important to mention that this is not unlimited storage and will vary with each package depending on the pricing.
The firm also utilizes Cloudflare content delivery network to cache WP sites across multiple nodes so that your site will load up instantly as soon as a visitor request for it. Each package also includes 50 professionally built themes that have been optimized for SEO as well as flawless loading to ensure that your site remains smooth.
MidPhase has been in operation for over the last 20 years, and it, therefore, goes without saying that the firm has picked some tricks along the way.
One of these would be outstanding uptime. The firm goes an extra step to offer a 99.9% uptime guarantee that ensures that their customers get compensated in case of downtime exceeding one hour.
MidPhase servers are automatically monitored for any malicious code that might be running on one site that might end up affecting the performance of other sites hosted on the same server.
The firm also has an automated malware removal program that runs in the background without any impact on your website's performance. Other security features include automatic non-core updates to the software so that you can keep on enjoying your favorite programs without having to worry about manual updates.
Does MidPhase offer SSD cache or pure SSD storage?
The firm offers SSD disk storage on all their WordPress hosting packages not just for caching purposes.
Are there any limitations in terms of visitor count?
Yes, the firm allows up to 100000 monthly visits per account. If your site exceeds this, you are encouraged to upgrade to a more customized package better suited to your needs.
Pros
Pure SSD storage for quick loading times
Up to 50 professional email accounts with 10 GB storage per address
Cons
The firm does restrict the traffic flow if your visitor count exceeds the bandwidth limit
7. DreamHost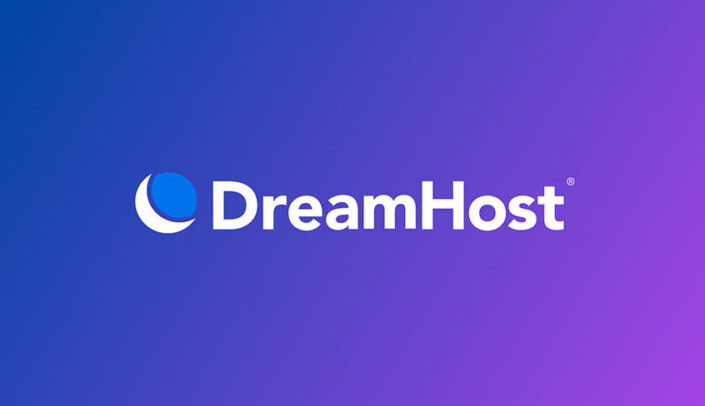 DreamHost has been in existence since 1996 and currently serves over 400000 customers from all around the globe.
The firm happens to be one of the only four CMS hosts that are officially recommended by WordPress Inc. As such its safe to say that their platform has stood the real test of time and has gained invaluable experience when it comes to WordPress hosting.
DreamHost also happens to be a favorite amongst developers thanks to its support for Redis, MongoDB, and Ruby on Rails.
For starters, the firm utilizes full speed SSD storage solutions on all of their WordPress servers.
Unlike other hosting sites that limit you in terms of database size, DreamHost offers unlimited MySQL databases with its WP packages.
This allows the client to add more functionality by creating as many databases as they wish. The firm also utilizes Cloudflare's highly integrated content delivery network (CDN) to cache sites on multiple servers ensuring that each bit of data gets delivered when needed.
Unlike other hosting firms that like to play it safe when it comes to uptime, DreamHost has gone all-in by offering a 100% uptime guarantee.
A quick look at their latest uptime numbers reveals that this isn't really an issue the firm has consistently upheld a 100% uptime availability on its WordPress platform for the last 18 months.
Having said that it's still important to note that their customers are still entitled to compensation in case the service availability ever drops below this high pedestal.
For starters, DreamHost offers private domain registration which ensures that your personal details are never tied to the domain.
This ensures that even if the registrar's database was compromised, your details would still be safe. With each WordPress package, the host also throws in a free SSL/TSL certificate.
Dreamhost also provides free domain updates to the antimalware tool that regularly scans your sites to identify and eliminate any malicious code.
In terms of backups, DreamHost offers the S3 Cloud plugin which allows you to save quickly, restore and synchronize data from your DreamHost Object storage to remote backup storage.
Which payment modes does DreamHost support?
DreamHost supports credit & debit cards, PayPal, electronic check/ ACH, and Amazon Pay.
Does DreamHost include a cPanel license with its WP packages?
No, the firm instead provides its custom-built in-house control panel.
Low-end WordPress Hosting Providers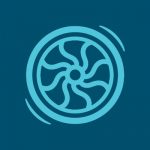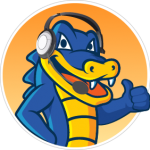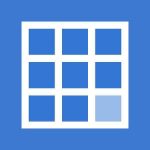 As I said earlier, these hosts are lacked in performance compare to above ones.
Basically, these hosts are least recommended and should be avoided unless you cannot afford the other hosts.
Or unless there's a specific feature in them that you are interested in and it cannot be found in any of the other hosts.
8. Flywheel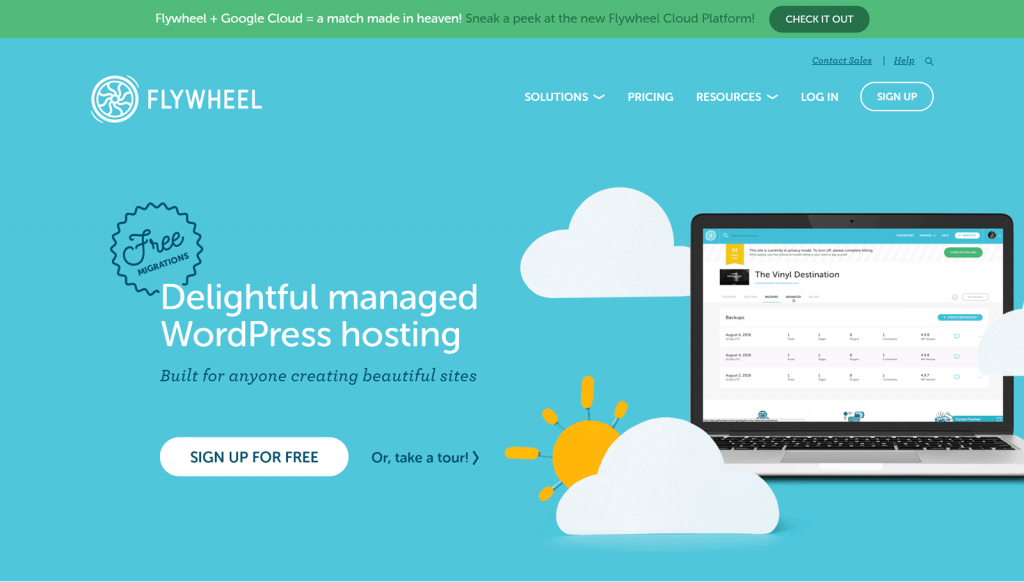 Flywheel's powerful WordPress platform prides itself in removing all the hassles of hosting by streamlining your site's processes allowing you to get back to doing what you do best.
To achieve this, the firm has invested in incredible infrastructure by partnering with Google Cloud. The result is a scalable resilient and fast hosting platform that is not only capable of handling heavy traffic but is also secure.
We all hate having to deal with bots, for this reason, Flywheel relies on real humans on all their support lines, these are WordPress experts whose job is to solve any problem that you might run into thanks to their advanced in-app experience.
Flywheel incorporates their streamlined collaboration tools with each account allowing you to share site access with your team and collaborators.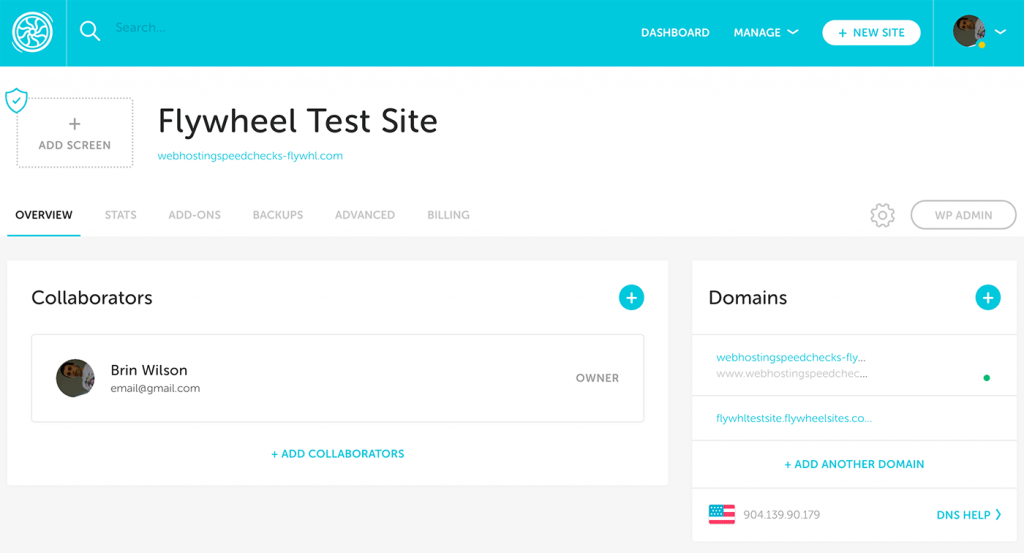 This allows your team to work more efficiently on the platform. The firm also includes a staging environment enabling you to create site templates and push live from the local development with lighting fast workflow.
Flywheel also relies on SSD storage solutions which provide faster read/ write speeds, unlike HDD drives. To ensure the availability of your site whenever needed, the firm relies on deeply integrated CDNs to cache resources on various servers globally.
Flywheel has a dedicated status page that indicates the current operating conditions of its data centers.
This level of openness goes a long way into legitimizing their claim of offering impressive uptime count. The firm currently offers a 99.9% uptime guarantee to all their customers which they are ready to uphold no matter how busy your site gets.
A quick look at their uptime count for the last six months reveals that indeed their service has maintained an average of 99.99% uptime availability.
Flywheel provides full access to error logs, access logs, and even slow error logs. These come in handy when you want to debug your site or identify any malicious code that might be running discreetly.
The reimagined SFTP offers one login to the control panel as well as file transfer protocol allowing you to keep a tight leash on who gets to log in to your backend.
The firm also provides built-in site stats giving you a look at the inner working s of your site in real-time. In place of the traditional APACHE Flywheel utilizes NGINX which is much safer and also much faster.
Does Flywheel offer freedom of choice in terms of where I want my site to be hosted?
Yes, currently the firm operates 7 data center locations globally allowing you to specify where you wish your site to be hosted from.
Yes, Flywheel does support PayPal thus no credit card required
Pros
Develop-per friendly hosting environment
Scalable resource allocation
Cons
The free migrations only apply if you are moving in and not while moving from their hosting platform
9. Bluehost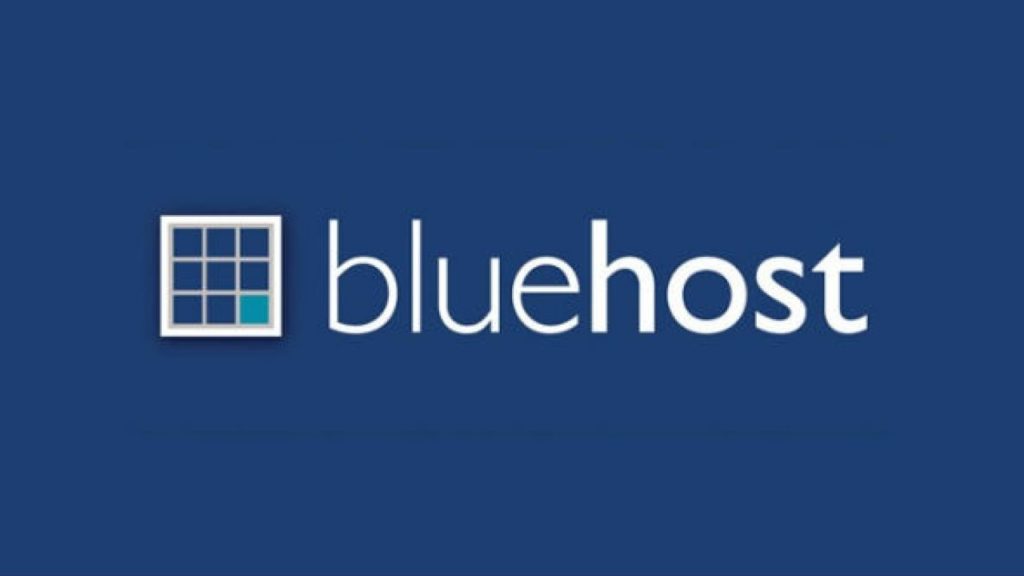 BlueHost happens to be one of the most popular web hosting companies still in existence.
The firm builds its WordPress hosting plans to offer the best performance and reliability. However, after its buy out by the giant conglomerate, EIG things seem to have taken a wrong turn, especially with customer relations.
The firm still does provide a free domain, instant WP installation, unlimited bandwidth, 4/7 WP expert support, automated updates & backups features. Well, let's take a detailed look.
Bluehost offers what is called 'unlimited' shared hosting on its WordPress hosting platform. This includes unlimited storage for your data needs and additional content.
There's also the unlimited bandwidth which means there will not be a data cap within the month to regulate how many visitors you can have on your site. And there are the unlimited databases so you can keep on creating more efficient DBs to add functionality to your site.
However, it should be noted that all these unlimited resources aren't unlimited in the actual sense as they are subject to the fair usage policy whereby the firm can even force you to scale down on your resource usage if it starts to affect other sites hosted on the shared server.
While BlueHost does offer a 99.9% uptime guarantee it is subject to their SLA and you should, therefore, read the fine print before requesting a refund.
A quick look at their latest uptime reveals some sudden spike especially in loading times which are unwanted in a system that's supposed to be stable.
The firm offers automated updates and patch installations on major software's in the platform to ensure everything is securely up to date.
Bluehost does also provides backups that are available for at least seven days so you can rollback your site whenever you want.
In case you are having any issues with your configuration you can always contact the 4/7 WordPress expert support line.
Which WP license does BlueHost offer with its plans?
The firm gives you the choice of either basic WordPress, WordPress Pro or the WooCommerce version; however, any additional license fees will be up to the customer to fulfill. (
Set up WooCommerce
)
Can I get a monthly subscription?
Yes, Bluehost does offer a monthly subscription but on an annual billing schedule
Pros
Provides unlimited shared hosting
Best Uptime
WordPress.org Recommended Host
30-Day Money-Back Guarantee
Cons
The billing schedule is only accessible in annual billing
Higher renewal rates
Site migrations ain't free
10. Hostgator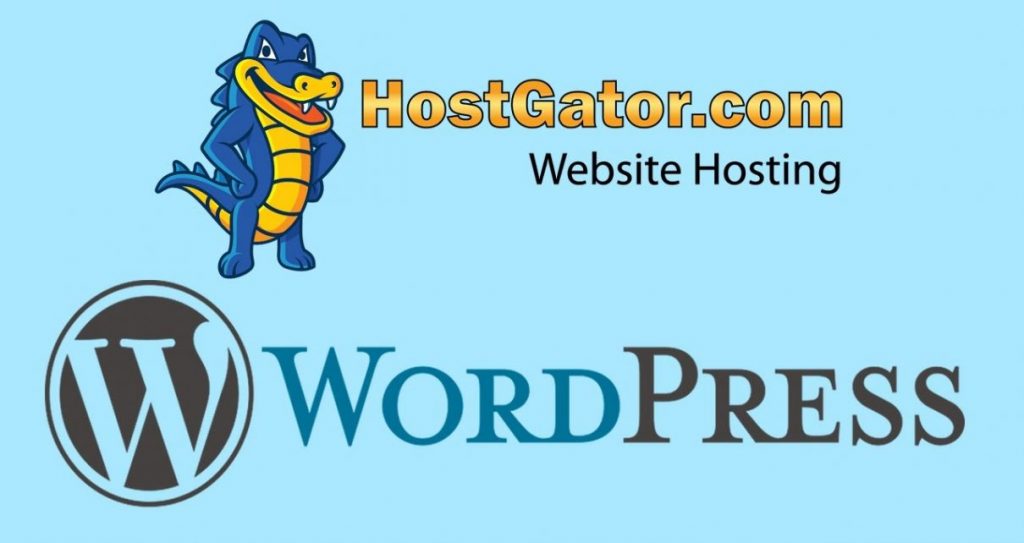 Hostgator offers what one might call average WP hosting. The firm says this platform can provide up to 2.5 times faster loading time for any WordPress web hosting.
HostGator also employs low-density servers and multiple caching layers on their WordPress platform.
In order to sustain lighting fast load times, HostGator relies on its system to manage each site's content thus enabling dynamic content requests handling in real-time.
Despite being one of the largest providers of web hosting, HostGator only has data centers in two locations: Houston, TX. – Provo, UT.
Their WordPress cloud hosting tech turbocharges your sites for near seamless response. In case you are experiencing heavy traffic on your site, you can rely on the one-click scalability option that automatically allocates more resources in order to handle traffic spikes as well as additional capacity requirements.
Depending on your package the firm even offers unlimited storage options which is great if your site relies on additional content on a daily basis.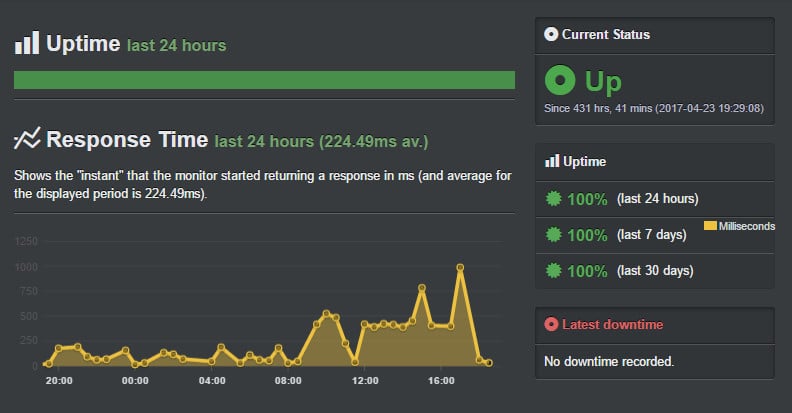 HostGator has seen quite some backlash from its clientele over numerous cases of downtime.
This is majorly associated with the fact that the platforms affordable pricing which leads to more and more sites being hosted on it. But it depends on the country to country also.
And in the end, this usually affects the platform's capability to handle all that traffic, especially during traffic spikes.
HostGator provides automatic malware removal across its entire platform.
This prevents infected sites from spreading the malicious code to other sites on the network. Hostgator also includes free SSL with its WordPress hosting packages.
Another advanced security feature is the real-time resource monitor that allows the client to see what's running on their host and quickly identify any resource leakages as well as allocate more resources to services that they deem more crucial
Does HostGator include additional features in their WordPress hosting plans?
Yes, the firm includes templates and plugins which are a great value compared to other platforms that actually charge extra for these additional features.
How is HostGator's support system?
HostGator has a real-time support system that ensures the client's queries are dealt with immediately to avoid backlogs. Their support is also available via phone 24/7/365.
But to be honest, their support is not much active. You have to wait at least 5-10 min for their reply on any certain queries
Pros
Up to $100 free Google Ad credits which one can use to improve their site's popularity further
Free SSL certificates with each WordPress hosting plan
Cons
Somewhat shaky uptime counts and the uptime guarantee is subject to terms and conditions
Article published on June 11, 2019