Are you looking for the best weather forecast plugins for WordPress? If yes, keep reading. We're going to take a look at some of the best weather plugins for your WordPress site
As you know, not every website needs a weather forecast. For example, online tech store visitors don't need to know the weather. Besides specialized weather portals, a weather forecast will fit in Local news, events, hotels, travel, or tourism websites.
If your website is one of those, you can consider adding Weather forecast in your WordPress site by these best weather plugins.
Read also :
However, there are hundreds of Weather Plugins or widgets in the market today. How do you choose only the best? Fortunately, you do not need to look any further. We have tested quite a number of plugins for you.
Best Weather Forecast Plugins for WordPress
Quick Table Summary:
1. Awesome Weather Widget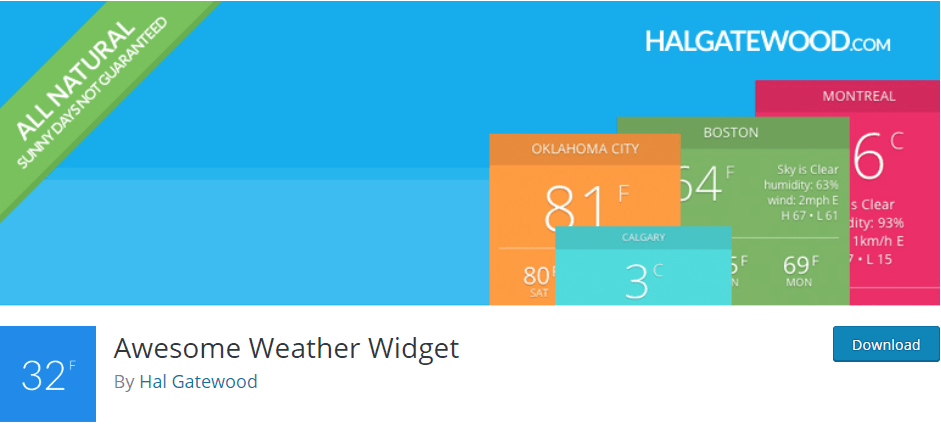 The name tells you itself, this Awesome weather widget will allow you to easily add super clean weather widgets to your site.
The cool feature about this tool is, it displays weather details on the website based on GeoLocation, IP, etc.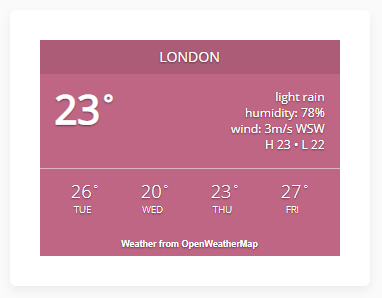 As the weather data is generated by OpenWeatherMap so it required a free API Key to access the data. Once you have the API Key, you can save it by going Settings -> Awesome Weather.
Another handy option is that this plugin provides simple and easy weather configuration on the widget side.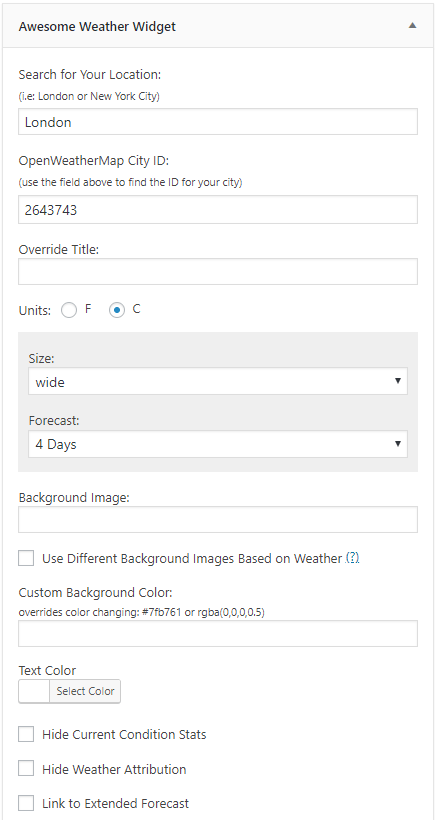 And about Translation, it provides 9 different languages which can be extended by editing a .po file.
To set up this plugin, use the built-in widget with all of its settings or add it to any page with the shortcode: [awesome-weather owm_city_id="4544349″] or [awesome-weather location="Oklahoma City"].
---
2. wp-forecast

wp-forecast is another popular free Weather forecast plugin. With this simple plugin, you can easily add weather forecast in the widget area.
It helps you display real-time weather updates, 7days forecast, and allows you to apply various customizations. Once you install and activate the plugin., you can head over to plugin dashboard to configure settings.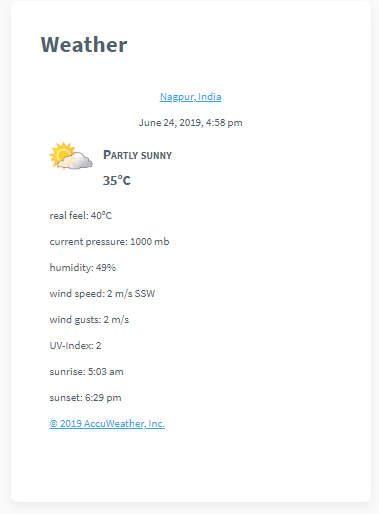 The main thing I like about this plugin is, it doesn't require an API key, it displays the weather data from AccuWeather.com and or WeatherBug.com.
And also it will let you choose the time after the weather data is refreshed and language (currently only English or German are available).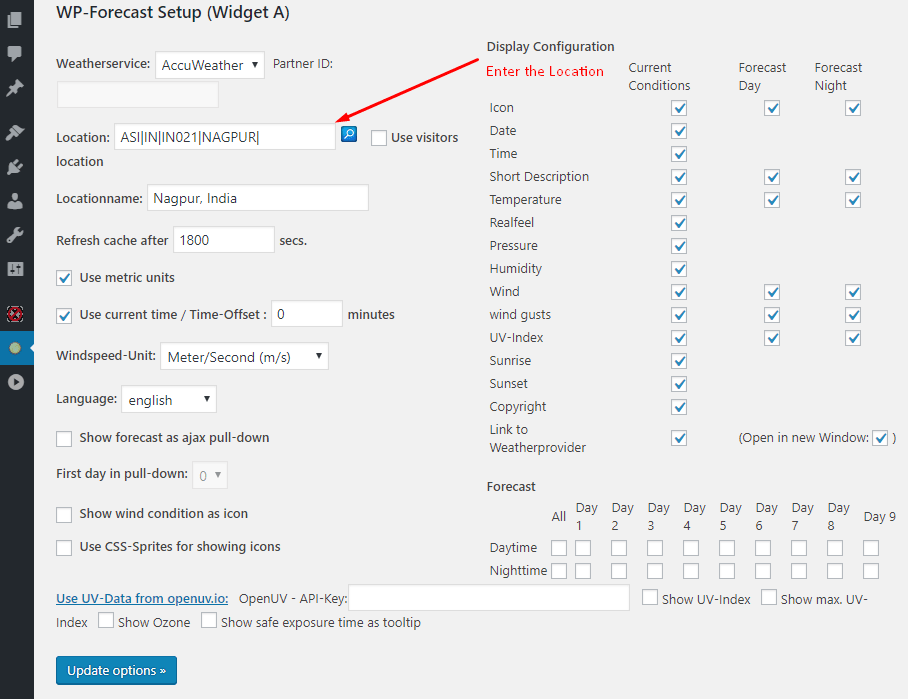 If you would like to add a new translation, just take the file wp-forecast.pot (in the wp-forecast directory) and edit it to add your translations with poedit.
---
3. Weather Atlas Widget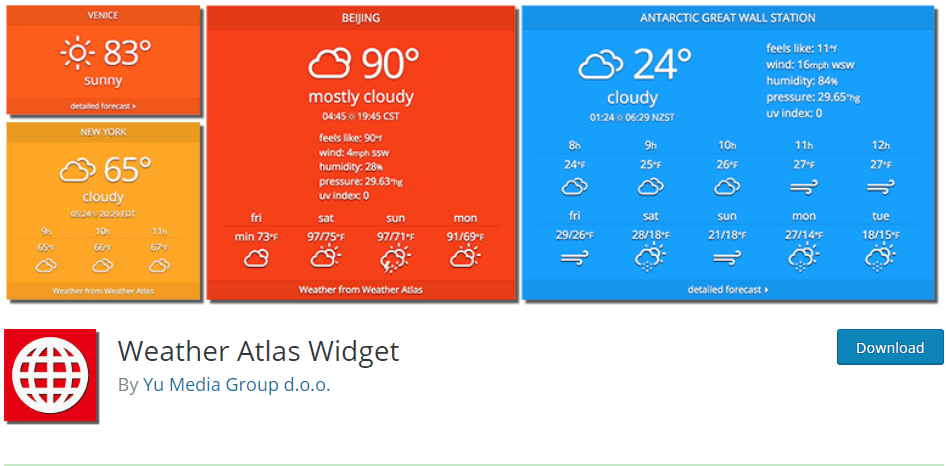 Weather Atlas Widget is another good choice for showing the simple weather forecast in widget side. By this plugin, users can select their preferred weather location just by typing location and it will show live search.
You can also define custom titles, borders, choose colors for text or background, etc.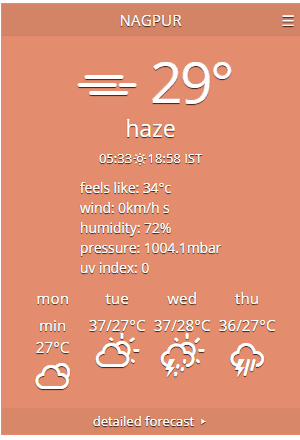 Also, this plugin is very responsive as it automatically adapts appearance for mobile displays easily with good customizable options.
It provides two predefined layouts (vertical and horizontal). Besides choosing between two of them, there are multiple options you can set in order to adjust the widget to your website.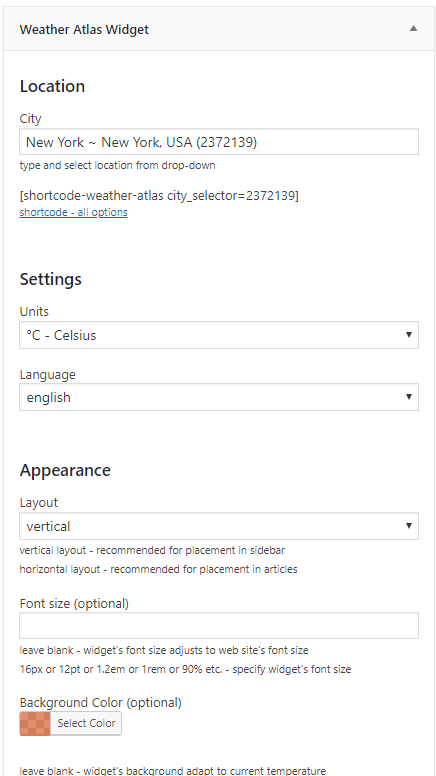 Weather Atlas Widget Features:
Doesn't required API key
Beautiful weather icons
Current conditions, hourly and long-term forecast
Detailed forecast
Users' ability to set preferred weather location
Any location worldwide
Multi-languages and units
---
4. Simple Weather Plugin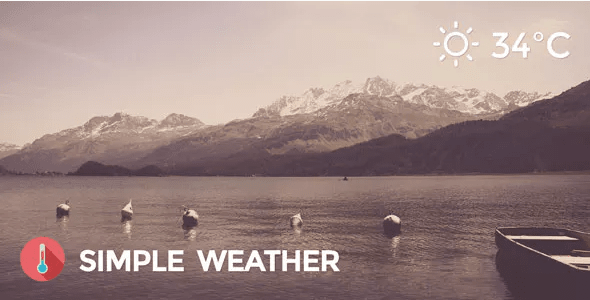 The Simple Weather WordPress Plugin will be an ideal option for you to show updates on current weather beautifully on your WordPress website.
With more than 1,700+ sales on codecanyon, the plugin is surely the best weather plugin in paid option.
Simple Weather Plugin Features:
Unlimited Color Options
Custom Date Format
Use Metric or Imperial Units
NEW: Customizable update interval
Can use your own API key from OpenWeatherMap.org
7 Days Forecast Options
Show Day / Night Temperature
Location / GSP Coordinates
Multilanguage
This plugin can useable in two ways, by shortcode and widget. If a widget works better for you, the plugin comes also with an easy to set-up widget, packing all the options you need.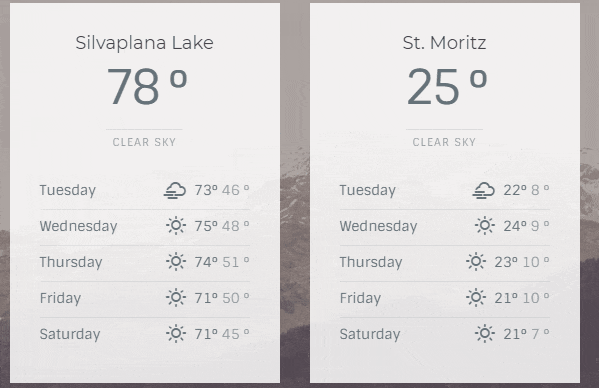 Pricing:
A regular license is priced around $14 and provides basic features and simple customizations.
---
5. Weather Underground

Weather Underground provides local & long range Weather Forecast, weather reports, maps & tropical weather conditions for worldwide locations.
If you want a great-looking weather forecast, you can consider to use this plugin. As it looks great on many different templates out of the box, including the default WP theme.
This plugin uses Wunderground.com API, it has the most accurate and in-depth weather information.
This plugin comes with 4 different layouts as below:
You can also choose different types of Icon set, number of Days in Forecast and it can display the percent chance of rain in a defined location.
---
6. Astero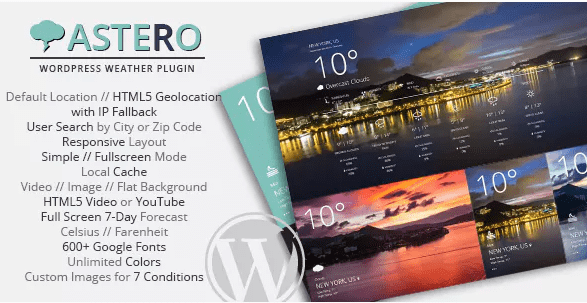 The Astero WordPress Weather Plugin is another popular plugin that includes much of what you'll ever want in a weather WordPress plugin.
With its clean lines, multiple sizes and styles, and solid feature set, your weather widget will be looking good.
It includes excellent features that making it a top choice for weather WordPress widgets and plugins with having 1k Sales on codecanyon.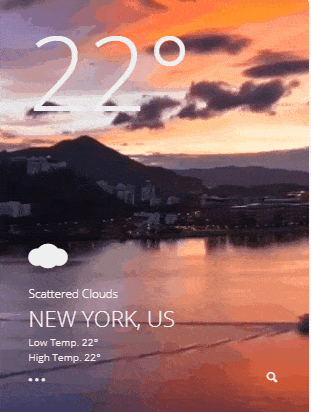 This plugin comes with 3 background types that are video, images or flat-style background color for the weather forecast.  Also, HTML5 and youtube  video are supported, and custom images for up to 7 weather conditions can be uploaded.
Astero Features:
Html5 Geolocation with GeoIP Fallback – required Google Map API Key
CSS3 Animations and Transitions for Better Mobile Performance
Supports Multiple Weather Displays on the Same Page
600+ Google Fonts
Unlimited Background and Font Colors
Pricing:
With the regular plan, you can purchase this plugin on one WordPress site by paying $19.
---
7. Always Sunny Plugin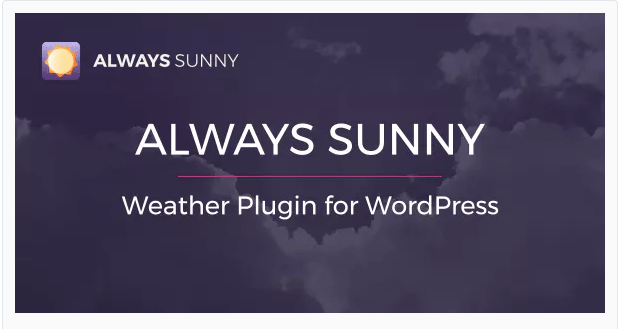 Always Sunny Plugin is one of the more in-depth weather plugins available in the market, as it gives a wide range of data and implementation options.
When it comes to adding this plugin to your site, you can place it in two ways: the first being as a widget, and the second as an embeddable shortcode. This mix makes it just as easy to show weather data in your sidebar as it is to drop it within a page's content too.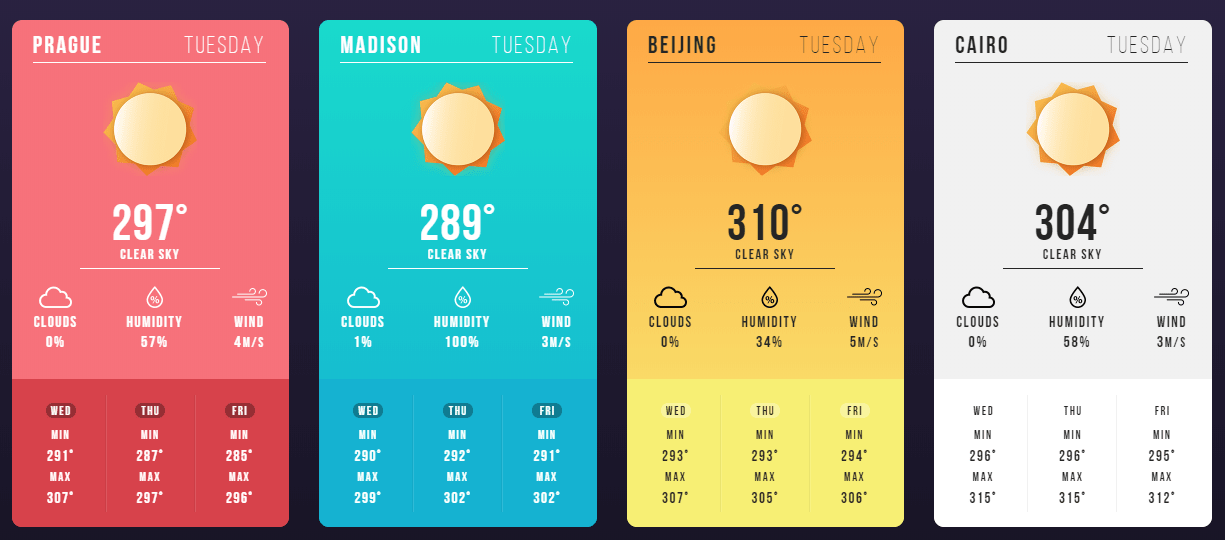 It is a beautiful and easy to use weather plugin as you can see on the above image. And this plugin based on OpenWeatherMap API, which provides reliable, up-to-date information about weather conditions in your area, or any location you define.
Always sunny Features:
Automatic Location Detection by User IP
3/4 Days Forecast Options
Custom Weather Icons
Detailed Documentation
Light and Dark Color Schemes
Translation Ready
Choose Metric or Imperial Units
Pricing:
Always sunny plugin can be purchased for a single website for $13.
---
8. Location Weather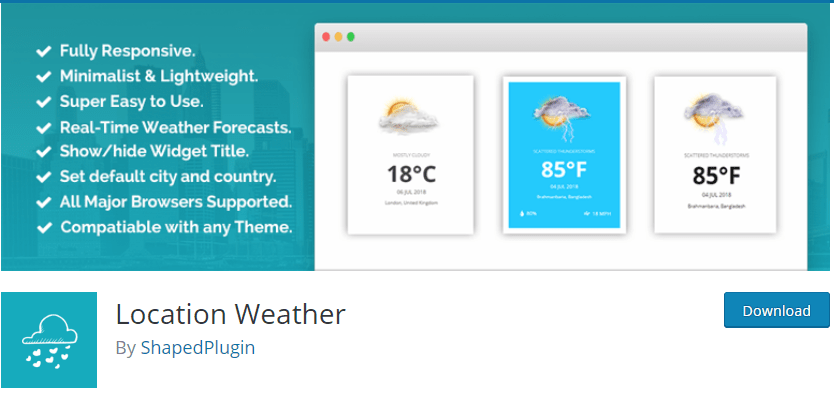 Location Weather is a very flexible and easy to use weather plugin that allows you to add weather widgets and get up-to-date weather information from Openweathermap.
The weather data is provided for free by OpenWeatherMap and they require an API Key to access their weather. Once you have the API Key you can simply add it in "Location Weather" -> Advanced Settings -> API Key and hit on save, you're ready to go.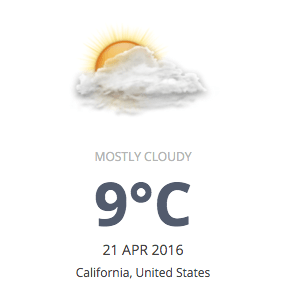 It comes with a clean and attractive widget that works without any problems. If you're having an issue, you can contact customer support. This plugin has very helpful customer support who can guide through the custom CSS if you needed.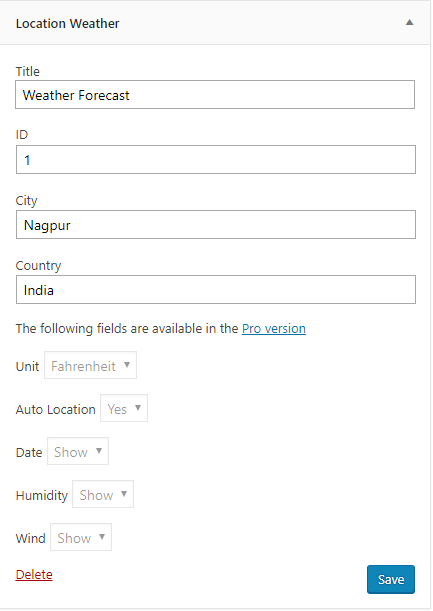 Location Weather Features:
Easy to use and fully responsive in design.
Provides unlimited background colors and border color options.
Automatically detects the location of the browser to display the weather.
Supports shortcodes for easy implementation.
Shows Real-time forecast with humidity, wind, and other details.
Pricing:
This plugin comes with both a paid and free version. Location Weather Pro can be purchased for a single website plan is priced around $15. And 5 websites plan will cost you $49 for all premium features.
---
Adding Weather forecast by Embedded method
If you don't want to add any extra plugin on your website to display the weather forecast. No worry, you can still display weather forecast without any plugin on WordPress.
Alternatively, you can just copy and paste some code into the preferable place on your page or sidebar. Now you may be thinking about Google Weather Widget, cause lots of people want to place a Google weather widget on their website. Unfortunately, Google does not create its own weather widget.
For this reason, we have collected some best sites to download weather widgets.
1. WeatherWidget.io: A Clean "No Ads" Weather Widget
Weatherwidget.io provides a free, customizable, responsive weather widget that will always match your website.
You can set the location, enter two additional lines of the information under the location, and choose whether you want to use metric or imperial units.
This site provides an easy-to-use tool that'll get the widget looking exactly the way you want it.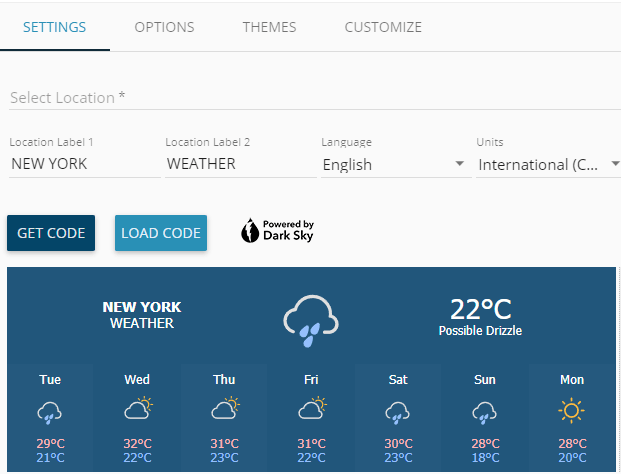 You just need to copy and paste the weather widget's HTML code on your site's page or sidebar.
2. Meteored: A Free Weather Widget
If you want more customization options, you should probably take a look at Meteored's weather widget for your websites. If you value simplicity, this could be the best weather widget for your site
About customization In the first column, you need to enter the location data, and then you move on to select the format of your widget, along with the content, style, and color.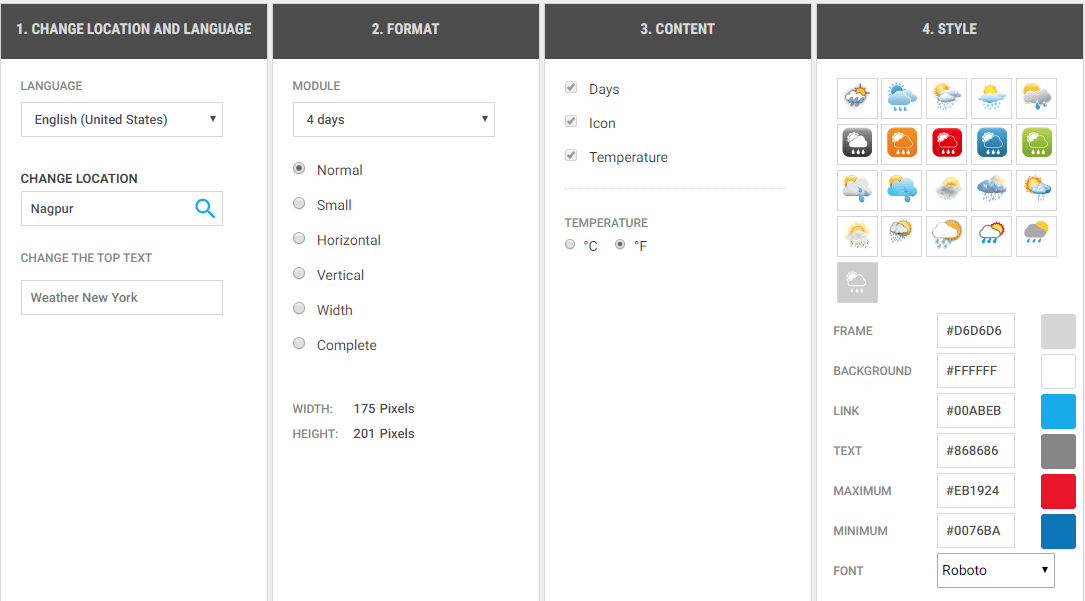 At the end of the settings, you have to choose whether you want to use the widget as a script or an image.
Once you got the code, simply go to the widget, drop and drag text widget in the sidebar and paste this code to effect.
---
Conclusion
Weather plugins are just one way you can get the latest weather data and forecasts but with these above sites, you can add weather forecast without a plugin.
If you want to test all these weather plugins, don't test it on live site. Try to test this on a local server because these plugins might leave their database strings on your precious database even after you delete the plugin.
Now, these are the top and recommend weather forecast plugins. If you feel I miss any tool, you can ask us to add your favorite tool anytime through the comment section below.